Pool Rules: Tips for Visiting Iceland's Thermal Swimming Pools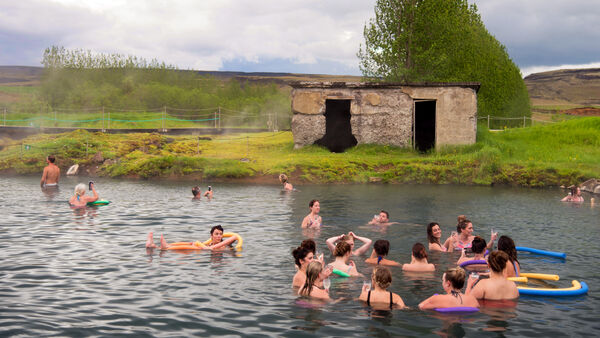 By Rick Steves and Ian Watson
Iceland has a wide range of options for enjoying its relaxing (and, yes, slightly stinky) thermal waters. Some bathing experiences cater primarily to tourists, chief among them the heavily advertised "premium baths." The most famous of these is the Blue Lagoon near Keflavík Airport, but a similar (if smaller) version is Mývatn Nature Baths in North Iceland — a must for those doing the Ring Road.
A less impressive premium bath is Fontana, which is handy to the Golden Circle route. And a new facility called Krauma is being developed at Deildartunguhver in West Iceland. Other tourist-oriented bathing experiences include the Secret Lagoon, a simple but cleverly marketed bath a short drive from the Golden Circle route.
While those baths have big marketing budgets and attract lots of international visitors, they're rarely frequented by Icelanders — who know that you can bathe in equally luxuriant 100°F water for a fraction of the price, albeit in simpler surroundings, at one of the country's many thermal swimming pools (sundlaug). Every community of even a few hundred people seems to have scraped together the funds for their own well-maintained pool complex, often with a (warm) lap pool and at least one or two smaller hot pools (called "hot pots"). Many have a wide variety of pools, saunas, steam rooms, and waterslides. In addition to being affordable, these provide a pleasantly authentic Icelandic experience, allowing you to rub elbows with Icelanders who come home from work or school, grab a towel, and head to the pool. (Not so long ago, it was common for Icelanders to live in apartments with no shower or bathtub — instead, they had an annual pass for the pool and went daily.) Various websites list Iceland's thermal pools, including Sundlaugar.is.
Of course, the big draw of Icelandic pools is their naturally steamy water, which is pumped right out of the ground. Even the lap pools stay at a warm temperature (around 85°F), while hot pots are in the 100°F range. Bigger pools have more facilities, which can be indoors, outdoors, or both. Very windy or cold weather makes indoor bathing attractive. But if it's not too bad out, there's something cozy about submerging yourself in hot water while the wind ruffles your hair and snowflakes settle on your nose.
Iceland's public bathing culture has its own set of customs, which locals take very seriously. You'll quickly get the hang of the system. Here's a step-by-step primer:
1. Bring a swimsuit and towel (rentals are available but expensive). Also bring any other gear you need: bathing cap, goggles, flip-flops (although most Icelanders don't bother with them), or toys for children (you can bring a bag into the pool area and stow it discreetly). There's no need to bring soap or shampoo — there are liquid soap dispensers in the showers.
2. Pay. Most towns have a shareable 10-visit discount card, which can save money with as few as five adult entries. At some pools, you'll be issued a locker key or an electronic wristband that will open a locker; at others, you'll find keys in the locks.
3. Change. Changing rooms are sex-segregated. Young children may go with a parent of either sex. Before entering the locker area, take off your shoes. (Many Icelanders leave them on public shoe racks, but I carry mine along and put them in my locker.) Find an available locker, disrobe and lock your clothes inside, and carry your swimsuit and towel with you to the shower area.
4. Shower. Store your towel in one of the cubbyholes provided (you'll leave it there until after you've showered on your way out of the pool) and keep your swimsuit handy. Soap down and shower thoroughly. Yes, you're expected to shower naked: Icelanders are relaxed about nudity, and showering is considered a (required) sanitary issue. (Only the Blue Lagoon, where almost all the visitors are tourists, has some frosted-glass stalls for bashful foreigners.) Note: Iceland's water is extremely soft. You don't need very much soap to get clean, and it can take a long time to wash it off.
5. Swim and soak. After showering, slip on your swimsuit and head for the pool area. Typically, people start out in the warm pools (usually a lap pool for swimmers, a shallower pool for recreation, and a wading pool for kids; these are typically around 29°C/85°F). Then they finish off with a soak in the hot tubs (38–40°C/100–104°F) or a visit to the sauna. Each tub is posted with the temperature; anything above 40°C is extremely hot. Stay as long as you want; if you feel dizzy or uncomfortable, take a break outside or in a cooler pool, and take advantage of the water fountain.
6. Finish up. When you're done, return to the shower room, take off your swimsuit, shower again, and retrieve your towel. Towel off before returning to the locker area (Icelanders like to keep locker areas as dry as possible). Many pools have a centrifuge to wick the water out of your suit. Back at your locker, get dressed, but don't put your shoes on until you exit the locker room. Return any keys or armbands to the counter.
7. Refuel. Most pools have tables and chairs in the entry hall where you can eat a packed lunch or snack. Most also have vending machines, snack counters, or even full-fledged cafés.
While pools are a social experience for Icelanders, they generally leave strangers alone. Everyone is polite and helpful, but don't expect to get into a long conversation. At some times of day, groups of local "regulars" (often senior citizens) may seem to take over one of the hot pots, but you're welcome to squeeze in, too.
---
Ian Watson is the co-author of the Rick Steves Iceland guidebook.