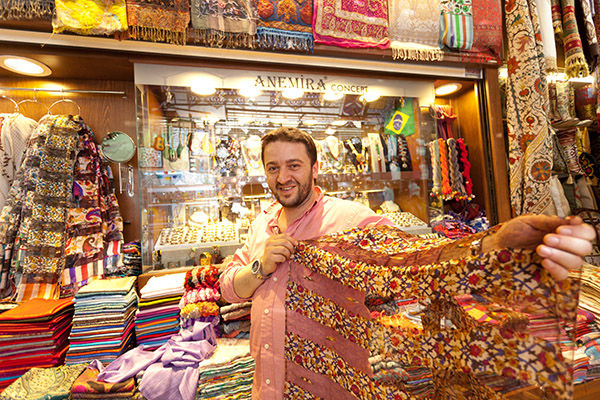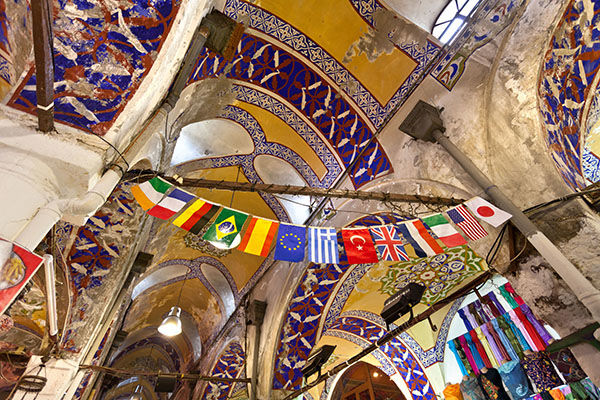 By Rick Steves, Lale Surmen Aran, and Tankut Aran
Sprawling over a huge area in the city center, Kapali Çarsi (kah-pah-luh chahr-shuh; "Covered Market") was the first shopping mall ever built. During Byzantine times, this was the site of a bustling market; when the Ottomans arrived, it grew bigger and more diverse. The prime location attracted guilds, manufacturers, and traders, and it grew quickly — its separate chunks were eventually connected and roofed to form a single market hall. Before long, the Grand Bazaar became the center for trade in the entire Ottoman Empire. At its prime, the market was locked down and guarded by more than a hundred soldiers every night, like a fortified castle.
The Grand Bazaar remained Turkey's commercial hub — for both locals and international traders — through the 1950s. Its 4,000 shops were bursting with everything you can imagine, from jewelry to silk clothing, and traditional copperware to exotic, Oriental imports. But then the Grand Bazaar was discovered by travelers seeking the ultimate "Oriental market" experience. Prodded by shopaholic tourists with fat wallets, prices and rents skyrocketed, and soon modest shopkeepers and manufacturers found themselves unable to compete with the big money circulating through the bazaar's lanes. These humble merchants moved outside the bazaar, displaced by souvenir and carpet shops.
Today's Grand Bazaar sells 10 times more jewelry than it used to. While tourists find it plenty atmospheric, locals now consider its flavor more Western than Oriental. And yet, even though the bazaar has lost some of its traditional ambience, enough artifacts remain to make it an irreplaceable Istanbul experience.
Throughout the Grand Bazaar — and just about everywhere in the Old Town — you'll constantly be barraged by people selling everything you can imagine. This can be intimidating, but it's fun if you loosen up and approach it with a sense of humor. The main rule of thumb: Don't feel compelled to look at or buy anything you don't want. These salesmen prey on Americans' gregariousness, and our tendency to respond politely to anyone who offers us a friendly greeting. They often use surprising or attention-grabbing openers:
"Hello, Americans! Where are you from? I have a cousin there!"
"Are you lost? Can I help you find something?"
"Nice shoes! Are those Turkish shoes?"
"Would you like a cup of tea?"
The list is endless — collect your favorites. If you're not interested, simply say a firm, "No, thanks!" and brush past them, ignoring any additional comments. This seems cold, but it's the only way to cover the market without constantly getting tied up in a conversation. Depending on my mood, sometimes I just look at them with great seriousness and declare, "Pay peanuts, get monkeys" and then walk away.
If, on the other hand, you're looking to chat, you'll find that many merchants are very talkative — but be warned that a lengthy conversation may give them false hopes that you're looking to buy, and could make it even more difficult to extract yourself gracefully from the interaction.
---
Lale Surmen Aran and Tankut Aran are the authors of the Rick Steves Istanbul guidebook.