Lisbon's Gold Still Shines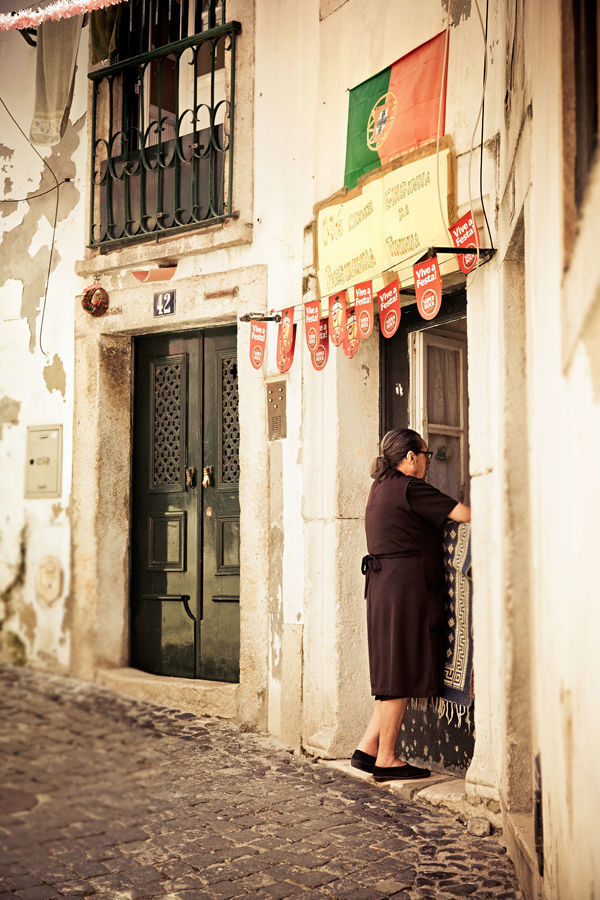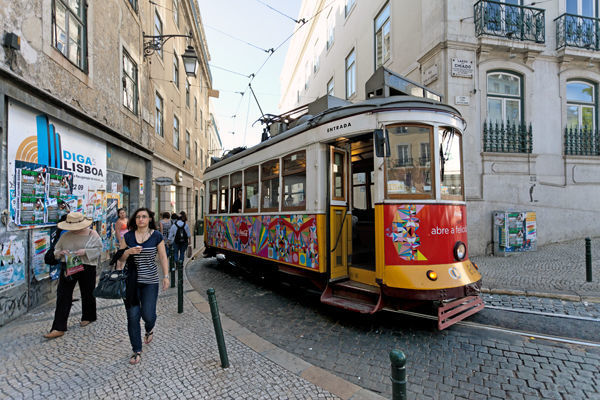 By Rick Steves
Barely elegant outdoor cafés, glittering art, and the saltiest sailors' quarter in Europe, all at bargain-basement prices, make Lisbon an Iberian highlight.
Romans and Moors originally populated Lisbon, but the city's power peaked in the 15th and 16th centuries, when explorers opened new trade routes around Africa to India, making Lisbon one of Europe's richest cities. But on the morning of All Saints' Day in 1755, while most of the population was at church, a tremendous underwater earthquake occurred off the southern Portuguese coast. The violent series of tremors were felt throughout Europe — as far away as Finland. Fires — started by cooking flames and church candles — raged through the wooden city center, and a huge tsunami caused by the earthquake blasted the waterfront.
Two-thirds of Lisbon was leveled. The city was eventually rebuilt on a strict grid plan, symmetrically, with broad boulevards and square squares. But the grandeur of pre-earthquake Lisbon survives in three neighborhoods: Belém, the Alfama, and the Bairro Alto. Follow me through a day exploring the heritage of LIsbon.
After breakfast, grab a trolley or taxi to Belém. This district, four miles from downtown, is a pincushion of important sights from Portugal's Golden Age, when Vasco da Gama and company made her Europe's richest power.
The white Belém Tower, built in pure Manueline style (ornate Portuguese late Gothic) has guarded Lisbon's harbor since 1520. Today it symbolizes the voyages that made Lisbon powerful. This was the last sight sailors saw as they left and the first one they'd see when they returned, loaded down with gold, spices, and social diseases.
Nearby, the giant Monument to the Discoveries honors Portugal's Prince Henry the Navigator and the country's leading explorers. Across the street, the Monastery of Jerónimos is Portugal's most exciting building — with my favorite cloister in Europe. King Manuel erected this giant, white limestone church and monastery — which stretches 300 yards along the Lisbon waterfront — as a "thank you" for the discoveries made by early Portuguese explorers. It was financed in part with "pepper money," a 5 percent tax on spices brought back from India. Manuel built the church on the site of a humble chapel where sailors spent their last night ashore in prayer before embarking on frightening voyages. The Manueline style of this giant church and cloister combines late Gothic and early Renaissance features with motifs from the sea — the source of the wealth that made this art possible.
Before leaving Belém, take your taste buds sightseeing at a famous pastry shop, Casa Pasteis de Belém. This is the birthplace of the wonderful cream tart called pastel de nata throughout Portugal. But in Lisbon, they're called pastel de Belém. Since 1837 locals have come here to get them warm out of the oven. Sprinkle on the cinnamon and powdered sugar, get a café com leite, and linger.
Spend the early afternoon in your choice of Lisbon's fine museums waiting for the setting sun to rekindle the action in the Alfama. A colorful sailors' quarter, this was the center of the Visigothic town, a rich district during the Arabic period and now the shiver-me-timbers home of Lisbon's fisherfolk. The Alfama is a cobbled cornucopia of pre-earthquake Old World color.
Wander deep. This urban jungle's roads are squeezed into tangled stairways and confused alleys. Bent houses comfort each other in their romantic shabbiness, and the air drips with laundry and the smell of clams and raw fish. Get lost. Poke aimlessly, sample ample grapes, avoid rabid-looking dogs, peek through windows. Make a friend, pet a chicken. Taste the branco seco — the local dry wine.
Gradually zigzag your way up the castle-crowned hill until you reach a viewpoint, the little green square called Miradouro de Santa Luzia. Rest here and survey the cluttered Alfama rooftops below you. A block away is Largo Rodrigues Freitas, a square with several scruffy, cheap, very local eateries. Treat yourself to the special: a plate of boiled clams.
If you climb a few more blocks to the top of the hill, you'll find the ruins of Castelo de São Jorge. From this fortress, which has dominated the city for more than 1,000 years, enjoy the roaming peacocks and a commanding view of Portugal's capital city.
In the late afternoon, for a quintessential Lisbon drink, duck into one of the funky hole-in-the-wall shops throughout town and ask for a ginginha. Sold for about €1 a shot, it's a sweet liquor made from the sour cherry-like ginja berry, sugar, and schnapps. The only choices are: With or without berries (com or sem elas — that's "with them" or "without them" ) and gelada if you want it from a chilled bottle — very nice. In Portugal when someone is impressed by the taste of something, they say, "Sabe melhor que nem ginjas" ("It tastes even better than ginja").
For a good lowbrow Lisbon evening out, visit the Feira Popular (open nightly until late, May-September, Avenida da Republica at the Entrecampos metro stop). On summer evenings, this popular fair bustles with Portuguese families at play. I ate dinner surrounded by chattering locals ignoring the ever-present TVs, while great platters of fish, meat, fries, salad, and lots of wine were paraded frantically in every direction. A 7-year-old boy stood on a chair and sang hauntingly emotional folk songs. With his own dogged clapping, he dragged applause out of the less-than-interested crowd and then passed his shabby hat. All the while, fried ducks drip, barbecues spit, dogs squirt the legs of chairs, and somehow local lovers ignore everything but each other's eyes.