Market Day in France: Shop, Savor, Slow Down
By Rick Steves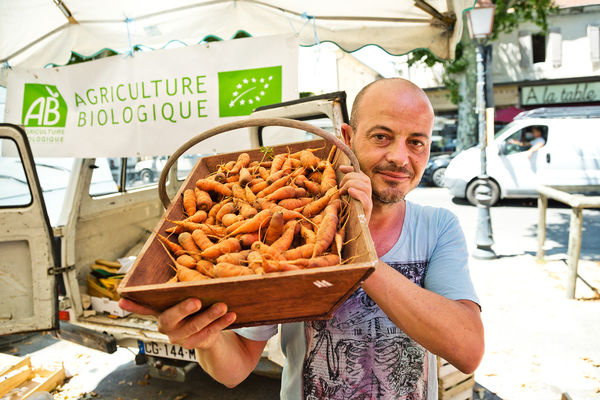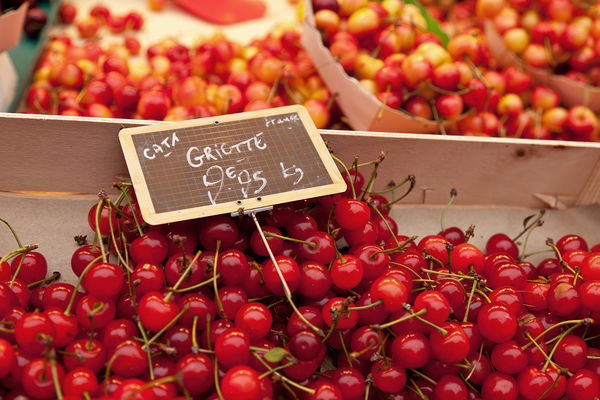 France is a cultural bouillabaisse that surprises travelers with its varied, complex flavors. To experience the tasty and fragrant wonders of its edible diversity, head to a street market. No single "sightseeing" activity better connects you to the French preoccupation with fresh products and their strong ties to the soil.
Markets combine products from area farmers and artisans, and offer a mind-boggling array of choices, from the perishable (produce, meats, cheeses, breads, and pastries) to the nonperishable (kitchen wares, inexpensive clothing, brightly colored linens, and pottery). But more than just a place to shop, markets are a window into how the French relate to each other.
Most markets take place once a week in the town's main square; larger markets spill into nearby streets. Usually, the bigger the market, the greater the overall selection — particularly of nonperishable goods. Bigger towns (such as the Dordogne's Sarlat-la-Canéda, Burgundy's Beaune, and Arles, in Provence) may have two weekly markets. The biggest market days are usually on weekends, so that everyone can go.
It's a joy to assemble picnics at an open-air market. Most perishable items are sold directly from the producers — no middlemen, no credit cards, just really fresh produce (du pays means "grown locally"). You may very well meet a widow selling a dozen eggs, two rabbits, and a wad of herbs tied with string. Most vendors follow a weekly circuit of markets, showing up in the same spot every week, year in and year out. Notice how much fun they have chatting up their customers and one another.
Markets begin at about 8 a.m., with setup commencing in the predawn hours. They usually end by 1 p.m. — in time for lunch, allowing the town to reclaim its streets and squares. Wares are displayed with pride. Generally, the rule is "don't touch" — instead, point and let the vendor serve you. If self-serve is allowed, the seller will hand you a biodegradable bag. Many vendors speak enough English to assist you in your selection.
Displays shift with the seasons. In April and May, look for asparagus (green, purple, or the prized white). In late spring, shop for strawberries, including the best: fraises des bois (wild strawberries). Soon after, you'll see cherries and other stone fruits, plus the famously sweet Cavaillon melons (resembling tiny cantaloupes). From July through September, vegetables — eggplant, tomatoes, zucchini, and peppers — come straight from the open fields. In the fall, you'll see stands selling game birds, other beasts of the hunt, and a glorious array of wild mushrooms. After November and throughout the winter, look for little black truffles (or big ones, depending on your wallet size). Truffles preserved and sealed in jars can safely be brought back to the US, and make great gifts.
For more immediate consumption in any season, look for local cheeses. These can range from very fresh (aged one day) to aged for weeks or months. The older the cheese, the more dried and shrunken it looks. Some may even be speckled with edible mold. Cheeses come in many shapes (round, logs, pyramids) and various sizes (from single-bite mouthfuls to wheels that could feed you for several meals). Some are sprinkled with herbs or spices. Others are more elaborately adorned, such as those rolled in ash or wrapped in leaves.
After perusing the cheese, move on to the usually huge selection of sausages (many also rolled in herbs or spices). Samples are usually free — try the boar (sanglier). Be on the lookout for locally produced wines and ciders (free tastings are standard), and see if you can find samples of foie gras, which is usually available in take-it-home tins. When teamed with a crusty baguette, these all make perfect picnic fare.
Local shoppers know that where there's fresh produce and competitive prices, there's likely characteristic seasonal food in the eateries nearby. If you don't feel like turning your purchases into a picnic right away, you should have a good range of restaurant options after your market visit.
Market day is as important socially as it is commercially — it's a weekly chance for locals to resume friendships and get the current gossip. Here neighbors can catch up on Henri's barn renovation, see photos of Jacqueline's new grandchild, and relax over un café. Dogs are tethered to café tables while friends exchange kisses. Tether yourself to a table and observe. It's bad form to be in a hurry on market day. Allow the crowd to set your pace.
I love the marketplaces of France. To me, they're as important as the museums. When you visit a French town, find out when market days are held and plan to be there. You'll feel the energy, and you'll enjoy the local push and shove. I can't imagine a richer French sightseeing experience — one that brings together an unforgettable ensemble of local ingredients, culture, pride, and people.