Fierce Castles in Friendly North Wales
By Rick Steves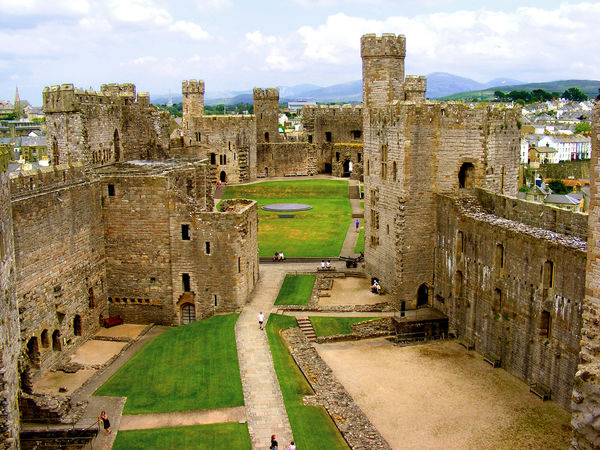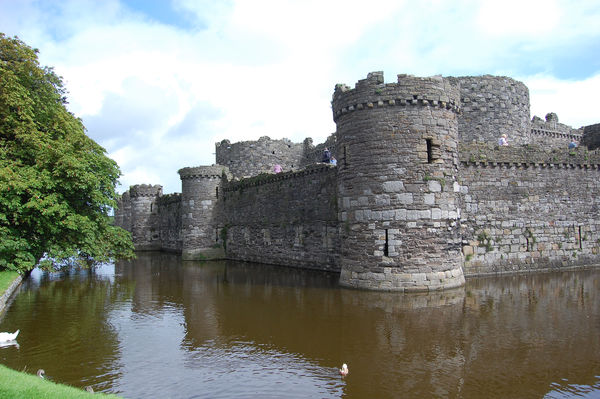 Humble, charming little Wales is a land of lusty men's choirs, salty harbors, slate-roofed villages, stunning mountains, and stout castles.
For many travelers, these mighty castles alone are reason enough to visit, and Wales is slathered with them. During the late 13th and early 14th centuries, English King Edward I started building these awe-inspiring fortresses — arguably the most breathtaking you'll find anywhere in Europe — to subdue the rebellious Welsh. These castles were masterpieces of medieval engineering, built with state-of-the-art castle technology, with sea access to restock from England.
In the Middle Ages, the standard castle was a simple stone building ("keep") on a hill ("motte"), surrounded by a wall that enclosed a yard (or "bailey") where the people lived. This mound-and-yard ("motte-and-bailey") pattern was the basis of the typical medieval castle. Later castles were much bigger, with more rings of walls as much as 20 feet thick, once whitewashed and gleaming in the sun, flags flying high. Outside the wall was the moat, a ditch occasionally filled with water (they put alligators in them only in fairy tales).
Edward I's castles were English islands in the middle of angry Wales. Most were built with a fortified grid-plan town attached and then filled with English settlers.
If you want to visit some Welsh castle towns but don't have time for the whole region, head for North Wales, where my preferred home base is the town of Conwy. Built in the 1280s to give Edward I a toehold in Wales, it also served as a busy port, back when much of England was roofed with Welsh slate. Today it boasts the best medieval walls in Britain, an appealing harborfront that locals treat like a town square, and a protective castle strikingly set on a rock overlooking the sea. It's my favorite of the Welsh castles, with plenty of climbable ramparts and towers, a scale model of the town as it might have looked in 1312, and fantastic views.
While not located in as charming a town, the most famous Welsh fortress is half an hour's drive away at Caernarfon Castle, where the last two Princes of Wales were invested. (An "investiture" is a royal ceremony similar to a coronation; Prince Charles had his in 1969.) Like Conwy, Caernarfon is an Edward I garrison town — the city still follows the original medieval grid plan laid within its well-preserved ramparts. Modeled after the striped, angular walls of ancient Constantinople, the castle, though impressive, was never finished and never really used. Despite its unfinished state, it's fun to climb around, especially its huge Eagle Tower.
South of Caernarfon, fronting Cardigan Bay, are two smaller castles worth knowing about. Criccieth, while the least impressive of Wales' "big five" border castles, is perched on a hilltop over the pretty seafront town of the same name. There's very little to see inside, but the views from the castle are magnificent. Built by the Welsh around 1230, it was later seized, beefed up, and added to the castle ring by the English. Its visitors center has a well-presented exhibit on the castle's history, and you can hike up and prowl the ruins, with great 360-degree views over Tremadog Bay and deep into Snowdonia National Park. On a nice day, you can see all the way to…
…Harlech Castle, farther south, which is even more dramatically situated and fun to explore. When it was built by Edward I in 1283, the sea lapped at the base of the castle wall. During the War of the Roses, Queen Mary of Anjou hid out here for a time, and it was the last castle in Britain to fall (after a nine-month siege) during the Civil War. To reach this compact castle you cross a footbridge and enter through a fortified gatehouse, where you can climb a tower for panoramic views to the sea. From another tower you can reach a wall-top walkway that encircles the whole castle. (The village of Harlech is cute and worth a wander.)
For one of Britain's most beautiful castles, visit the romantic little village of Beaumaris on the Isle of Anglesey, about a 30-minute drive northeast from Caernarfon. Beaumaris originated, like other castle towns, as an English "green zone" in the 13th century, surrounded by Welsh guerrillas. Today, it feels genuinely Welsh, with a fine harborfront, lots of colorful shops and eateries, a fascinating Victorian prison (now a museum), and the remains of an idyllic castle.
The site has no natural geological constraints like those that encumbered the castle designers at Caernarfon and Conwy, so its wall-within-a-wall design is almost perfectly concentric. While Beaumaris shows medieval castle engineering at its best — four rings of defense, a moat, and a fortified dock — problems in Scotland changed the king's priorities before his vision could be completed. Construction stopped by 1330, and today it looks ruined (and rather squat) — but it was never ransacked or destroyed it's simply unfinished. The site was overgrown until the last century, when it was cleaned up to create a park-like space, with pristine lawns and a classic moat. Because it's harder to get here, it's less crowded, making your visit feel more authentic.
Wales has a fierce loyalty to tradition and a distinct and thriving local culture. And, even with literally hundreds of once-fierce castles glaring down on any visitor, it offers among the warmest welcomes you'll find anywhere.