Conwy
North Wales
Wales' top historical, cultural, and natural wonders are found in its north. From hulking Mount Snowdon to lush forests to desolate moor country, North Wales is a poem written in landscape. For sightseeing thrills and diversity, North Wales is Britain's most interesting slice of the Celtic crescent. It's also remarkably compact: In a single day you can lie on a beach, conquer a castle, spelunk in a slate mine, hike on a mountain slope, ogle a grand garden, and settle in for dinner in Conwy, one of Britain's most pleasant small towns.
At a Glance
▲▲▲ Conwy Strollable coastal town surrounded by the best medieval walls in Britain, with both Wales' oldest house and Britain's smallest, and crowned by Wales' best castle — one of the most purely delightful British towns of its size.
▲▲ Caernarfon Salty, scruffy town worth visiting just to explore Wales' most famous castle, featuring fine exhibits and the spot where the heirs apparent to the British throne are traditionally crowned as the Prince of Wales.
▲▲ Snowdonia National Park Home to hobbit-cute villages (Beddgelert, Betws-y-Coed), the excellent National Slate Museum and a tourable working slate mine, several historical railways, the dramatically set Harlech Castle, and tall-by-British-standards Mount Snowden.
▲▲ Llangollen Picturesque red-brick village perched just over a rushing river gorge and featuring the fascinating 18th-century manor home of Plas Newydd.
▲ Portmeirion Oddball, flower-filled faux-Italian-Riviera resort nestled between Snowdonia National Park and the sea.
▲ Bodnant Garden One of Britain's best gardens, with 80 acres of flora amidst a craggy mountain backdrop just inland from Conwy.
Beaumaris Charming workaday town on the Isle of Anglesey boasting a never-finished moat-ringed medieval castle.
Ruthin Low-key, untouristy market town that's appealing in its ordinary Welshness.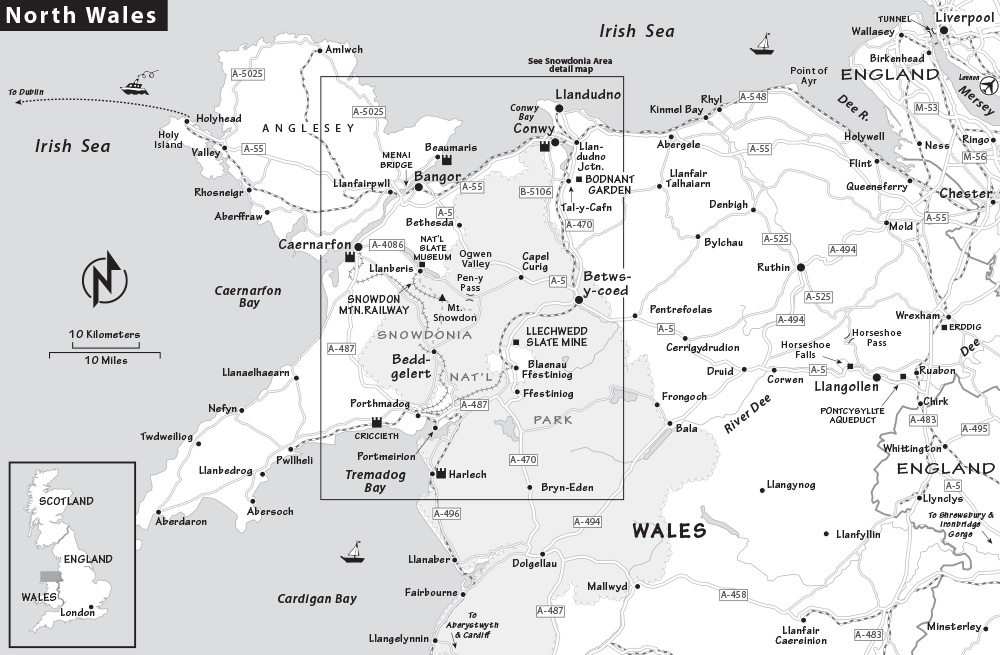 Plan
Photos
Watch
Read
Listen