Become a Bavarian at Oktoberfest
By Rick Steves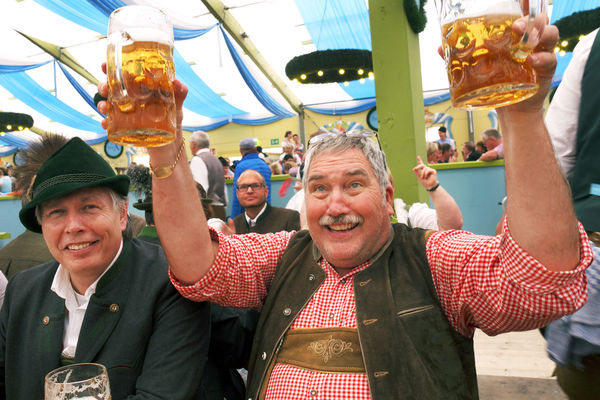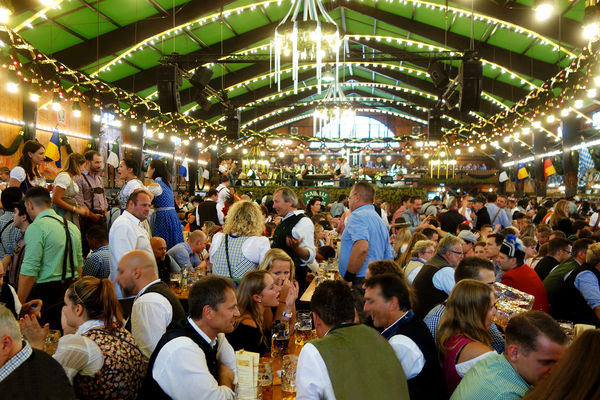 On a recent visit to Munich, I joined the planet's biggest kegger — Oktoberfest. With my fellow revelers, we swayed our beer steins and toasted to Gemütlichkeit (the cozy and convivial atmosphere). At the "whop" sound signaling the tapping of a classic old wooden keg, everyone knew they were in for a good fresh mug — and another round of Oktoberfest cheer.
Oktoberfest dates back to 1810, when the Bavarian king threw a grand public wedding reception for his son, the future Ludwig I. It was such a hit that they decided to do it again the next year. And the next, and the next. More than two hundred years later, it's become one of Europe's best-known festivals — a beer-fueled frenzy of dancing, music, pretzels, and amusement-park rides, with over seven million visitors consuming nearly seven million liters of beer every year.
Despite its name, the party gets underway in mid-September and ends on the first weekend of October. From the ceremonial tapping of the first keg at the festival's opening until the celebration's final evening, the huge fairground outside Munich's city center is a slap-happy world of sausages, fancy hats, and maidens with flowers in their hair. For a visitor, there's no better place to see (and join) Germans at play.
The Breweries Parade, held on the first Sunday of the festivities, brings a seemingly endless string of marching bands and troupes dressed in colorful traditional costumes. Leading the parade is the festival queen — the "Münchner Kindl," a young woman on horseback, wearing the robe of a medieval monk. Massive, elaborately decorated draft horses clop by, pulling wagons filled with gigantic kegs of draft beer. Each of the city's main breweries enters a beer-themed float to entertain the crowds as they make their way from downtown Munich to the festival grounds — a meadow known as the "Wies'n."
Men sport lederhosen — leather shorts with suspenders once worn by peasants working the fields — accessorized with long stockings and a hat with a feather in it. Women wear dirndls — single-piece dresses that include a skirt and low-cut blouse, covered with a bodice. These traditional Bavarian clothes are not mere party costumes, nor worn ironically. Locals treasure them, and break them out on special occasions.
Once the festival is in full swing, the atmosphere is infectious. Admission is free (you pay for food, rides, and beer). Revelers can choose from around 15 main tents and a few smaller ones, all of which operate like pop-up beerhalls. Filled with row after row of wooden tables and benches, the main tents are vast — the largest holds 11,000 people. Some offer traditional oompah music — an ensemble of brass, woodwinds, accordion, and drums. Other tents cater to younger folks with rock bands. Some are family friendly, with kids' menus. In all the tents, beer is sloshed from morning till night, and everyone is open and friendly. Between beverages, people stroll the happy central promenade, giant gingerbread cookies in hand, enjoying the loud-and-proud celebration of all things Bavarian.
Munich's local breweries each have their own tent. The famous ones (Augustiner and Hofbräu) can have long waiting lines and are the most touristy. At the Hacker-Pschorr beer hall, a barmaid with two painted German flags flanking her cleavage asked for my order. When I asked if I could get a half-liter (eine Halbe), the barmaid said, "Why don't you go home and come back when you're thirsty?" A full-size liter beer (about a quart, eine Mass in German) costs about $13, and most of the barmaids can carry 10 at once. You can order a Helles (light beer), Dunkles (dark beer), Weissbier ("white" wheat-based beer), or ask for a Radler (half lemon soda, half beer).
While it's always filled with plenty of tourists, Oktoberfest is still very much a local scene. It's estimated that 90 percent of the attendees are Bavarians. The festival is busiest late and on weekends, but weekday afternoons and early evenings are a delight, when it's easier to find a spot inside a tent, and the grounds are filled with happy kids (Tuesdays are official family days).
These days, since Oktoberfest would be an ideal target for terrorists, security is tight. Each tent has its own security and a new fence surrounds the festival grounds. There is a heavy police and security presence at each entrance, and no large bags are allowed in. In spite of all this, my recent visit felt relaxed and fun. The security and organization were typical of German efficiency. Munich's downtown also felt manageable while the bulk of tourists were out at the fairgrounds, making it a good time to sightsee.
First-timers might find all the chaos a bit daunting. But Oktoberfest is, by its very nature, open and friendly. Take a seat at any table that can fit an extra rear end, dive into the conversation with a clink of the glass and a hearty shout of "Prost!" — and become part of the buzzing Bavarian hullabaloo.