Paris' Riverside Bouquinistes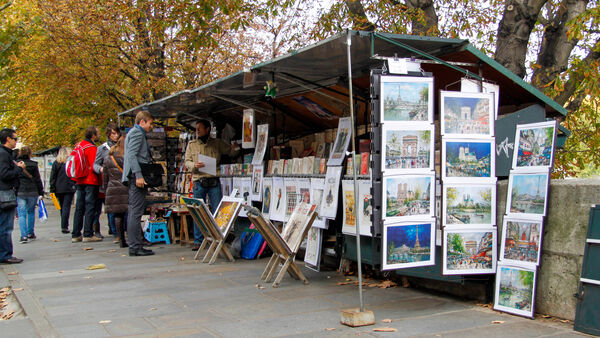 By Kristin Kusnic Michel
The used-book sellers (bouquinistes) you see along the Seine around Notre-Dame are a Parisian fixture. These literary entrepreneurs pride themselves on their easygoing style. With flexible hours and virtually no overhead, they run their businesses as they have since the mid-1500s, when shops and stalls lined most of the bridges in Paris. In 1557, these merchants were labeled as thieves for selling forbidden Protestant pamphlets during the Wars of Religion (Parisians were staunchly Catholic).
The term bouquinistes (boo-keen-eest) probably comes from the Dutch word boeckin, meaning "small book." First using wheelbarrows to transport and sell their goods, these hardy entrepreneurs eventually fastened trays to the parapets of the bridges with thin leather straps. After the Revolution, business boomed when entire libraries were liberated from nobles or clergymen and wound up for sale cheap on the banks of the Seine. In 1891, bouquinistes received permission to permanently attach their boxes to the quaysides. Today, the waiting list to become one of Paris' 250 bouquinistes is eight years.
Each bouquiniste is given four boxes, all of a specified size, and rent is paid only for the stone on which the boxes rest (around €100 per year). The most coveted spots are awarded based on seniority. Maintenance costs, including the required vert wagon paint (the green color of old train cars), are paid by the bouquinistes. With little overhead, prices are usually cheaper than in most shops. Bouquinistes must be open at least four days a week, or they lose their spot. Wednesdays are best (when school is out), and warm, dry days are golden (notice that every item is wrapped in protective plastic). And yes, they do leave everything inside when they lock up at night; metal bars and padlocks keep things safe. Though their main items may be vintage books, these days tourists prefer posters and magnets.
---
Kristen Kusnic Michel is a veteran Rick Steves tour guide and guidebook researcher.