Parties and Processions in Andalucía
By Rick Steves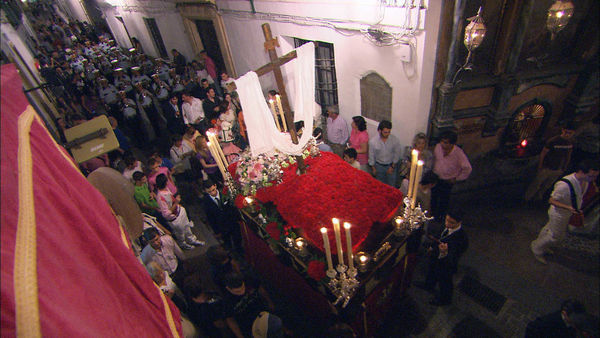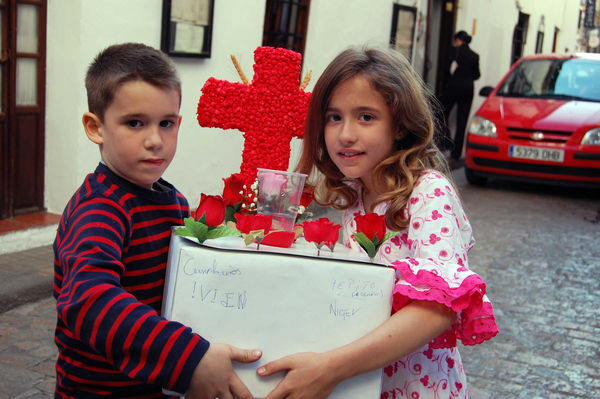 In Spain's Andalucía region, revelry and religiosity go hand in hand: The same passion and energy dedicated to partying is put into long, solemn, religious processions that clog the city's narrow streets.
I discovered this when I was filming an episode of my public television show in one of my favorite restaurants in Córdoba. I was working with Isabel, a charming local guide who talks about food with the passion of a mother talking about her children. Every plate seemed to shine. The meal was made-to-order for TV: a montage of Spanish delights from the roasted almonds and spicy green olives that hit the table automatically, to the local salmorejo (like a super thick, bright orange gazpacho), boquerones (anchovies), fried eggplant, and "Arab Salad" with cod and delicate orange sections.
The rabo de toro (bull-tail stew) was as dark as meat can be...almost inky in flavor. The jamón ibérico — a gift from the restaurant — is the best ham in Spain and very expensive. Our portion was glistening with taste; eating it was the culinary equivalent of pinning a boutonniere onto a tux. The wine was the kind they bring out special glasses for.
Feeling underdressed for the filming, I called a taxi and zipped back to the hotel between courses. On the way, we passed a square thriving with people partying. On the way back, the same street was blocked by a religious procession; I had to get out and walk. One minute I was thrilled to be in the restaurant filming all that wonderful food; the next I was amazed we were missing parties in the squares and an exotic religious procession in the streets.
Excited, I asked my two-person TV crew to film the procession. Seeing alcohol-fueled partying around a towering red cross — followed by a somber procession — was poignant and powerful. Everyone runs to the streets to be a part of the religious ceremony. Trumpets blare a fanfare, children carry a float, and candles jostle in unison as the marchers glide in the dark of the night.
Travel in Andalucía is like this. There's always something going on. We were in Córdoba for the Festival of the Crosses, where each neighborhood parties around its own towering cross made of red carnations. Church bells ring not only a call to prayer, but a call to fiesta. Locals enthusiastically use this special day on the church calendar as a springboard for a community party.
The next day, the parties were basically over. We finally found one square in town that was lively. It was their first year entering the contest, their cross had won first prize, and it seemed they'd been celebrating ever since. It was a scene of exhausted, hung-over happiness — as if they'd been eating, drinking, and dancing for 24 hours (which they probably had). Now the cross was abandoned — missing carnations like a six-year-old misses front teeth — and the dancing was over. The last of the revelers gathered around a makeshift bar that seemed to provide physical support for those determined to carry on. I had wanted to film people dancing around the cross for our TV show, but our guide, with a look around, confirmed the obvious: They were finished dancing. However, this was still Spain. With a simple request, I was able to rouse the gang, and the yard was once again thriving with slinky flamenco.
We'd been in Andalucía for a week, and I realized it's a hair-trigger flamenco society. I like hair-trigger cultures. Just as Austria is a hair-trigger waltzing society, Andalucía is just waiting for the simplest excuse to put castanets into motion and start a new dance.
On that little plaza in Córdoba, I exhorted the exhausted gang to dance around their tired carnation cross. Within seconds the energy and magic of the previous night's party had reignited. Sinuous arms, toned and leggy legs, heels with attitude, flowing hair...everything churned with a silky Andalusian soul. Like crickets rattling their wings in a mating ritual, Andalusian women — dressed in their peacock finery — clicked their castanets.
With enough dancing filmed, I let the fake party die, and everyone resumed their positions — propped up by the bar. They filled a bottle cap with a ritual shot of firewater and gave it to me. As two dozen onlookers watched, I downed it. With my head thrown back, knowing that the camera was rolling and all Andalusian eyes were on me, I was plunged into what seemed like a long silence. I wanted to say something really clever or meaningful. But I could only come up with a cliché — "Olé!" No problem. Everyone cheered.