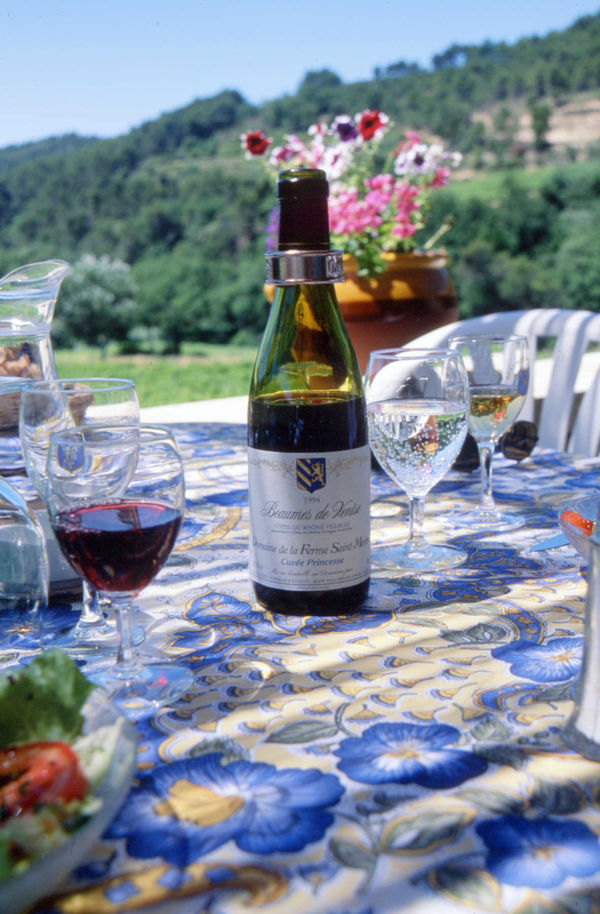 By Jayne Cain
The antique table was set at the base of an old tree and was dappled with sunlight that filtered through the leaves. A crystal chandelier hung from one of the branches arching over the table. This outdoor room held delicate linens, silver, and treasured art pieces. Around the table sat eight people enjoying the food and wine and each other's companionship.
This scene could have been a staged photo from a glossy magazine such as Gourmet or Bon Appetit. It wasn't. It was an authentic picnic in Provence and I happened upon it as I wandered the stalls of the Sunday outdoor antique market in Isle-sur-la-Sorgue.
Whether sharing a meal with neighboring antique dealers, celebrating family with a fête in the garden, or enjoying an intimate meal for two among the vines, people from Provence have raised the outdoor meal to an art form.
Simple yet elegant. Robust, but with subtle flavor nuances. Delicate. Earthy. These are the foods you will find on the Provençal table.
The sun shines for much of the year in this southeastern part of France. The growing season is long and vegetables such as tomatoes, eggplant, and red peppers thrive. Olive trees stand ready to offer their fruits for the revered oil they produce. Even the rocky scrublands are home to wild herbs such as thyme, rosemary, and sage. And the endless rows of lavender not only perfume the air but also add a delicate essence to the honey gathered from hives set among the blooms.
Herbs play another important role in Provençal delicacies. Fed not on lush green grass but on the wild herbs and small fragrant bushes found in the hills, goats and sheep from this region are especially prized for the wonderful cheeses that their milk produces and for their tender, flavorful meat.
Figs and melons, apricots and nectarines, too, develop their lush flavors from the French sun. So lush, in fact, that they are considered a dessert, enjoyed simply alone or with a splash of a sweet wine such as Beaumes-de-Venise.
As for the wines, what would a picnic in Provence be without a glass of Côtes du Rhône wine? Whether enjoying a slightly chilled glass of rosé as an aperitif or complementing the meal with a fuller bodied Châteauneuf-du-Pape, the French savor the layers of their wines flavors and characteristics.
I never did get close enough to the joyous midday meal at the antique market to see exactly what delicacies were being shared but I do know that the adjoining farmers market probably supplied some tasty items. Stalls overflow with vibrant red tomatoes, sunny yellow zucchini blossoms; deep purple eggplant, mountains of garlic bulbs and baskets upon baskets of earthy mushrooms. Vendors offer tubs filled with dozens of olive varieties. The cheese cart is filled with specialty cheeses produced locally. The farmers make these by hand, sometimes wrapping the small discs in oak or chestnut leaves and then soaking them in wine or eau-de-vie before aging.
Air-cured ham and sausages from the Hautes-Alpes and fresh fish caught in the nearby Mediterranean are wonderful. Delicate greens and young, tender shoots of escarole, chervil, and frisee are the ingredients for a simple salad-de-mesclun, ready to be lightly dressed with a fine, fruity extra-virgin olive oil. Glistening jars of honey, each gently infused with the aroma and taste of orange blossom and lavender, line the market's tables. The beekeepers move the hives into the fields to take advantage of the various floral nectars. And of course, the herb mix for which this area is so noted: Herbes-de-Provence. This blending of savory, fennel, rosemary, thyme, oregano, and lavender flowers finds its way into many of the foods. Sprinkled on roasted meat or poultry or mixed with olive oil for a rub, it imparts a rustic flavor that is truly Provençal.
When these basic ingredients are used in cooking, magic happens. Ripe vegetables are slowly simmered together to make a delicious ratatouille or are hollowed out, stuffed with various fillings, and roasted for a filling side dish. Daube Provençal is a typical and hearty dish in the region. Meat (usually beef) is marinated in wine and then slowly braised in the tightly covered cooking vessel known as a daubière. When the lid is removed, the perfume of the meat, the wine, the herbs, and the orange peel seduces your senses, and your hunger. Young shoots of asparagus find their way into a frittata. Onions, olives, and anchovies adorn a French version of pizza, pissaladiere. Meats are roasted over open fires. Wild fennel branches are often added on top of the coals to add another layer of flavor and aroma to the succulent meat. Tree-ripened fruits play counterpart to a flaky pastry crust in the various fruit tarts.
But a picnic need not be so lavish to be enjoyed. Dining on a simple pan bagna or fougasse while enjoying the Provençal countryside is just as special. The former is a sandwich in which the crusty bread is drizzled with olive oil before filling with tomatoes, tuna, olives, anchovies, and capers. The sandwich is allowed to rest so that the flavors meld and complement each other. Loaves of fougasse are found throughout Provence. Mostly oval or oblong in shape, the dough has been slit several times and resembles a large leaf. The slits create a crunchy crust and the loaves can be plain, topped with olives or herbs, or stuffed with a filling before being baked. Add a glass of local wine and these simple foods take on an unmatched sophistication.
The opportunity is there. Buy a colorful tablecloth in a pattern so typical to this area. Spread it on a park bench or on the ground beside a lavender field. Fill your picnic with a variety of tastes and textures. Savor each bite of this region's bounty.
You don't have to be rich with the kind of worldly goods found in the antique market. Nature has provided Provence with the riches of the earth. Is there anything finer?
---
A long-time member of the Rick Steves staff, Jayne Cain also assisted on many Rick Steves tours.