Sicily's Spicy, Slice-of-Life Street Scenes
By Rick Steves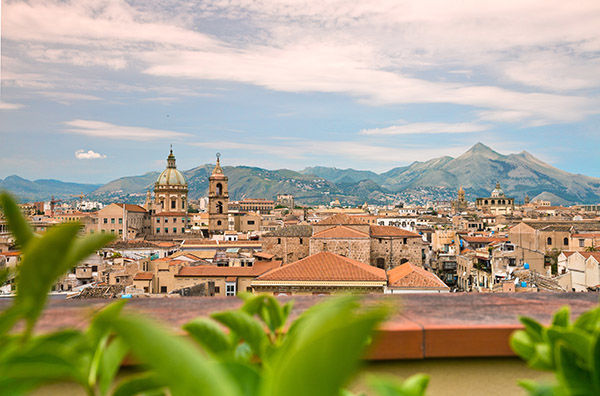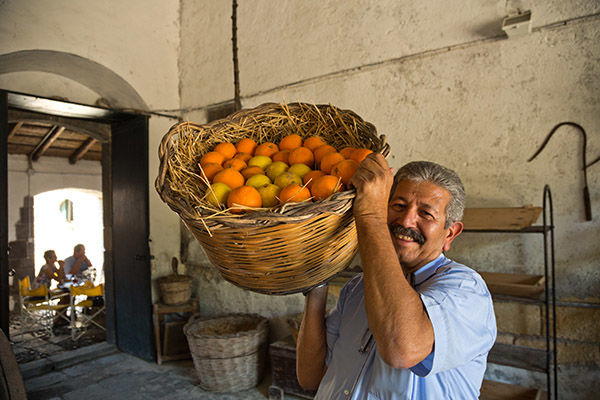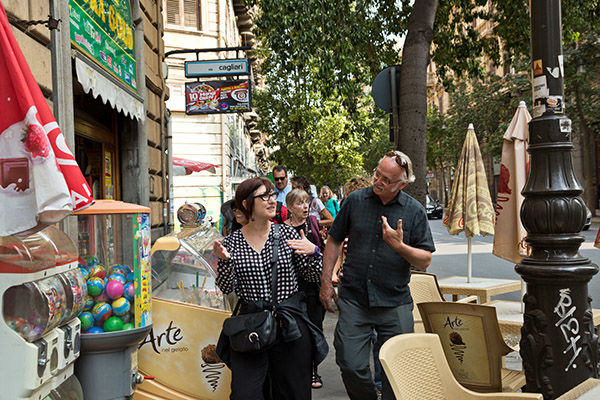 It took me seven trips to Italy before I ever made it down past Italy's "boot." But when I finally made it to Sicily, I was richly rewarded. I discovered that — aside from the street thieves — the Sicilians are tied with the Irish as the warmest and friendliest Europeans I've met.
The overnight train ride south from Rome or Naples drops you right into this rich culture, which lives in peaceful oblivion to the touristic bustle that takes such a toll on Venice, Florence, and Rome. On this spirited island, despite pressure from the Italian government and European Union to conform to modern standards and protocols, the siesta persists and motorbikers' hair continues to fly in the Sicilian wind.
Most travelers land right in Palermo, Sicily's intense capital. Lavish art, skilled purse-snatchers, boisterous markets, lousy showers, divine pizza, and grueling heat conspire to drain and boost your energy in equal amounts.
Palermo has very few tourist "sights" — which means it lacks tourist crowds. But it has a way of life that, in its own way, offers the tourist more than any monument or museum ever could. Don't tour Palermo — live in it.
Thriving marketplaces abound in nearly every neighborhood. Here, animals hang like anatomy lessons, sliced perfectly in half. Fichi di India, the fist-sized cactus fruit that tastes like a cross between a kiwi and an orange, are peeled and yours for less than a euro.
If you've ever wondered what it would be like to be a celebrity, go on a photo safari through the urban jungles of Palermo. The warmth and excitement will give you smile wrinkles. Scores of merchants, housewives, and children compete for your attention. Cries of "Photo?" come from all corners as you venture down busy alleys.
Visit a vertical neighborhood. Small apartments stack high above the side streets. If you stop to chat, six floors of balconies will fill up, each with its own waving family. On my first visit here, I remember finding a wobbly stack of tenements facing one another, a faded rainbow with lots of laundry and people hanging out. One wave worked wonders. Walking around, craning my neck upward, I felt like a victorious politician among hordes of supporters. They called out for pictures and wouldn't let me go until I had filmed each window and balcony full of people: Mothers held up babies; sisters posed arm-in-arm; a wild pregnant woman stood on a fruit crate, holding her bulging stomach; and an old, wrinkled woman filled her paint-starved window frame with a toothy grin. I was showered with scraps of paper, each with an address on it. A contagious energy filled the air. It hurt to say "ciao."
But it's Cefalù that might be my favorite spot on the island. Steeped in history and bustling with color, it's dramatically set with a fine beach on a craggy coast under a pagan mountain. Sure, you can tour Cefalù's museum and cathedral…but the real attraction is on the streets.
The scene gets especially vibrant in the evening, when the air cools and Sicilians reemerge outside en masse. On one visit, as I watched the sun grow red and heavy, the old women — still in bathrobes it seemed — filled their balconies as the young people clog the pedestrian (and Vespas)-only main drag. Tsk-tsking at the age-old flirting scene, the women gossiped about the girls below.
But my Sicilian friend — ignoring the girls — interrupted my eavesdropping to tell me of the motorbike he lusted after. "It's a classic Vespa from the 70s...with a body that's round like a woman's." Just then a guy galloped up on his very round and very blue classic Vespa. He declared, "It's the only Vespa I've ever owned. I got it when I was 14. That was in 1969. The year man first walked on the moon, that was the year I first rode this Vespa." My friend and a few other guys gathered almost worshipfully around. To them, the old women in the balconies and the mini-skirted flirts no longer existed: Nothing mattered but that very round and very blue Vespa dripped in Sicilian testosterone.
Nearby, I stopped at a café overlooking the beach. I sipped my latte di mandola (almond milk) with locals who seemed to be posted there on duty, making sure that big red sun went down. Little wooden boats, painted brightly, sat plump on the beach. Above them, the fisherman's clubhouse filled what had been a medieval entry through the town wall. Finishing my drink, I decided to wander in.
I was greeted warmly by the senior member, "Il Presidente" — the men go by nicknames and often don't even know their friends' real names. Since the 1950s, Il Presidente has spent his nights fishing, gathering anchovies under the seductive beam of his gas-powered lampara. As he took the pre-Coleman-stove-vintage lamp off its rusty wall hook, I could see tales of a lifetime at sea in his face. As he showed me the ropes he wove from local straw and complained that the new ropes just weren't the same, I lashed him to the rack of memories I'd take home from Sicily.