Sauerkraut — and Yodlers to Boot — in Italy's Alpine Village of Kastelruth
By Rick Steves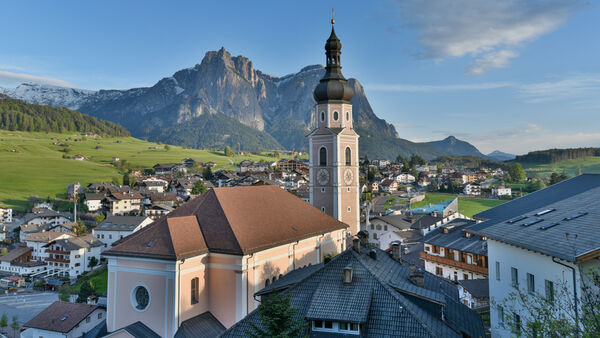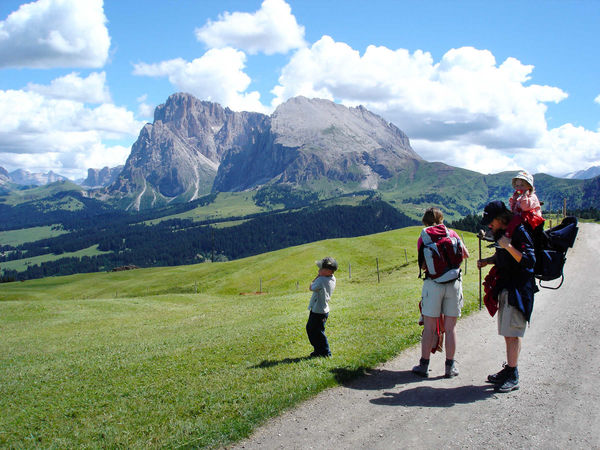 The Italian town of Castelrotto — called "Kastelruth" by its German-speaking residents — lies tucked away in the Dolomites, the Alps of northeastern Italy. It's my favorite hideaway in "South Tirol," a region of Italy that gives visitors a strong dash of German culture. My chalet in town — sturdy as a bomb shelter, yet warmly woody — comes with a generously fluffy down comforter and serious German plumbing: Ka-chunk…ahhhh.
Kastelruth is the ideal home base for exploring the Dolomites — Italy's ski country. But this town was built for farmers rather than skiers. It has good bus connections, fine and friendly hotels, and more village character than any town around.
With its traffic-free center, a thousand years of history, an oversized and hyperactive bell tower, and traditionally clad locals, it seems lost in another world.
As I sat down to lunch with four representatives from the tourist board, they asked me, "Do Americans know this region as South Tirol or the Dolomites?" I answered, "The Dolomites," and complimented their town as the only one that didn't feel like a ski resort in the summer. We were presented with plates of shaved cabbage sprinkled with bits of bacon. Ignoring the meat, Günter, the man across the table, said, sadly, "Kraut."
I guess if you live there, the Kraut gets old. But during a trip through Italy, I enjoy a break from pizza and pasta. Wurst and sauerkraut are the Tirolean clichés. More adventurous eaters seek out Speck, a raw, prosciutto-style ham smoked for five months, then thinly sliced and served as an antipasto or in sandwiches. Large dumplings — with bits of Speck, liver, spinach, or cheese — are often served in broth, or with butter and cheese. (Never cut a dumpling with a knife. My friends here tell me, "It'll destroy the chef.") For dessert, strudel is everywhere, filled with the region's renowned apples.
Tiny Kastelruth uses its square well, with a busy farmers market on Fridays and a clothing market on most Thursdays. Pop into the church to hear the choir practice. If you're on the square weekdays at 2:45 p.m., you'll see local moms gather their preschoolers, chat, then head en masse down the street to the playground. And before and after Sunday Mass, the square is crowded with villagers and farmers in their traditional clothing.
At 250 feet high, Kastelruth's bell tower — the tallest in the region — dominates the town. When you feel the pride locals have in their tower, which symbolizes their town, you'll better understand why Italy is called "the land of a thousand bell towers."
The bells of Kastelruth, a big part of the town experience, ring on the hour throughout the day and night. While sleepy tourists wonder why they clang even through the wee hours, locals — who grew up with the chimes — find them comforting.
The bells mark the hours, summon people to Mass, announce festivals, and warn when storms threaten. In the days when people used to believe that thunder was the devil approaching, the bells called everyone to pray. Townspeople still say that the sound of the bells clears the clouds.
Another symbol of Kastelruth is its carved witches, folk figures that date back to when this area was the Salem of this corner of Europe. They burned as witches the women who didn't fit society's mold…midwives, healers, redheads, and so on.
But these days, the region is most famous for its contribution to the world of oompah music. The folk-singing group Kastelruther Spatzen — the ABBA of yodeling — is a gang of local boys who put Kastelruth on the map. They have a huge following here, and locals just can't stop bragging about the band (I was told they'd "produced more CDs than Michael Jackson").
The Kastelruther Spatzen shop — where you'll undoubtedly hear their inimitable music — is just off the main square. It's a yodelers' Carnaby Street, complete with a folksy little museum slathered with gifts, awards, and gold records.
Italy's South Tirol is expensive, with an economy stoked by the national government to keep German-speaking locals who wished they were part of Austria satisfied with Roman rule. To save a little money, I enjoy a picnic on the balcony of my room. The menu tonight: rough, bakery-fresh German bread, salami, carrots, a tub of yogurt, and Apfelsaft (apple juice). Everything's in two languages here. I believe there's a dot of yogurt on the bridge of my nose — it's both frutti di bosco and Waldfruchte…that's "berries of the forest." The fact that my feast cost less than €8 makes it taste even better.
With a happy soundtrack of German-speaking Italian children playing just out of sight, I watch a slow show as darkness settles on the Dolomites. Gradually the rugged limestone peaks that surround me become two-tone, then gone.