Peacefully Progressive Oslo
By Rick Steves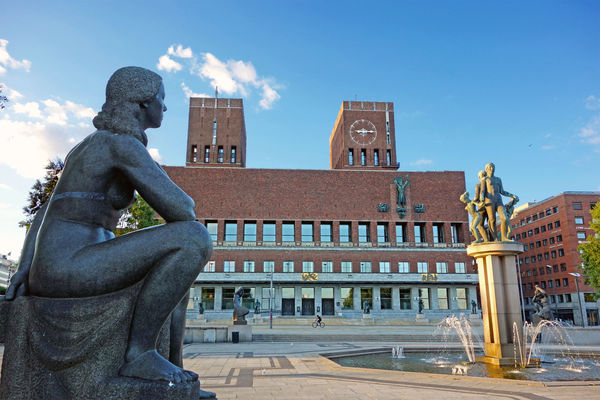 On one of my many return visits to Oslo I was struck by how peaceful the city felt. It seemed a world away from the commotion and angst that comes with the 24-hour news here in the US.
I couldn't help but take notes: Parents park their baby carriages on the sidewalk as they abandon their infants for a few moments to step into a store to do some shopping. You can hear birds in the city center, which is nearly traffic-free. And when you do see a car, it's usually electric (the best-selling car in Norway is the Tesla). A "congestion fee" that keeps most cars from the center of town. And where traffic used to clog the harborfront, a tunnel takes cars under the city rather than through it.
Matching memories I have from my childhood visits, down at the harbor I notice a weather-beaten sailor standing at the stern of his boat. He's hoping to sell before sunset the last of the shrimp he caught before sunrise. Across the pedestrian boulevard, the old yellow train station is now the Nobel Peace Center, which explains the vision of a man who dedicated the wealth he earned inventing dynamite to celebrate peacemakers. Nearby, the brick City Hall — where the prize is awarded — is decorated by statues glorifying noble workers as it towers high above the harbor action.
There's a light mist. A sturdy harborfront boardwalk glistens as if happy to be the city's dance floor. I stand at the edge of the scene and marvel at about a hundred Norwegians swing-dancing to the tunes of a disc jockey under an umbrella — in what seems like a microcosm of a content society. It's mostly American-style two-step to the recorded oldies…familiar tunes with unfamiliar Norwegian lyrics.
Every time I come to Norway, I'm fascinated by their experiment in big government. My friends here enjoy telling me why they don't mind their high taxes. For example, everyone loves November. It's "half tax month" as the government wants people to have some extra money for the upcoming holidays.
Coming out of the pandemic, the Nordic countries experienced a baby boom, even while birth rates fell in many other countries. Strong social safety nets in the Nordics, coupled with tax incentives for new babies, are likely key reasons. In Norway, parental leave is very generous. Families get up to 12 months leave at 80 percent pay. While the mom and dad can split the leave as they like, men are required to take at least a month of paid paternity leave when their baby arrives.
While I'm noticing more babies in Scandinavia, I'm also noticing much less smoke. I remember a time decades ago when tobacco smoke was a real problem for American travelers in Europe. Then Italy and Ireland went smoke free...and so did Scandinavia. Today, much of Europe is as smoke-free as the US. In Norway's bars, restaurants, cafés, and trains, it's clean air for all.
I visited one of Oslo's infamous old "brown cafés" — so named for the smoke-stained interiors. Of course, no one's smoked inside here for ages. Nowadays, Norwegian restaurants and bars are routinely equipped with blankets so those who still smoke can do so outside — even in the cold season. To consume nicotine indoors, locals use snuff — snus in Norwegian. Men will notice that in urinals here, little used-up packs of chewing tobacco pile up where cigarette butts once did.
When the sun's out, Oslo's parks are packed — filled with the joy of families barbecuing on a disposable, charcoal-heaped aluminum pan called an engangsgrill (one-time grill). American visitors will also notice a lot of nudity — primarily topless women and naked kids. Parents let their kids play naked in city parks and fountains, and it's really no big deal.
Scandinavia has a casual approach to nudity, and I'm not talking just mixed saunas (which common throughout Europe). Many Americans are amazed at what runs on prime-time TV. My friend tells me that Norway has mixed PE classes with boys and girls showering together from the first grade on. In Norwegian hospitals, she tells me, women who need an X-ray are casually sent from the doctor's office down the hall past the waiting public, after they've stripped to the waist. "No one notices and no one cares," she says. Scandinavians are quick to point out the irony that while much of America goes into a tizzy over a teacher who shows students a photo of Michelangelo's naked David, it is America that statistically has the biggest problem with sex-related crimes.
Travel makes it clear there are more ways than one to live your life. That's one reason why I keep on travelin'.