Romantic Sorrento and the Isle of Capri
By Rick Steves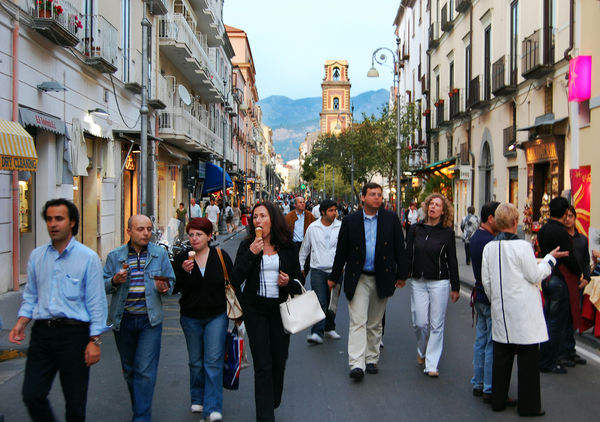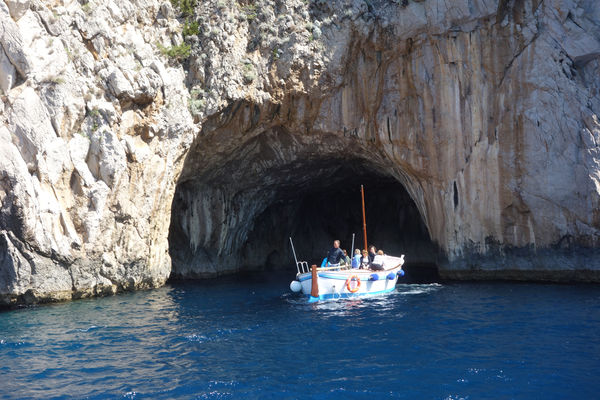 Serene Sorrento, wedged on a ledge under the mountains and over the sea, is a great springboard for sightseeing along Italy's Amalfi Coast. Just an hour south of wild and crazy Naples, calm and genteel Sorrento makes an ideal home base for day-tripping around the region (Pompeii, Positano, and Capri are well within reach). And every night, you can return "home" to Sorrento, to enjoy its elegant vibe while sorting through its fine restaurant options.
Sorrento itself has no world-class sights, but residents are proud of their unspoiled old quarter, lively shopping street, and spectacular cliffside setting. The town's back streets give a peek at its rich culture and long history, which stretches back to Greek times. The original Greek street plan survives, running east–west for the most sunlight, and north–west to catch cooling breezes. It's perfect for the evening passeggiata, with everyone out walking and enjoying the fresh air.
All around town, tiny shrines dedicated to the Virgin Mary decorate walls. But even as Italians venerate Mary — and Italian men venerate their mothers — Italian men have built women-free zones into their lives. One such place is here in the old town at the Sorrento Men's Club, a one-room, open-air hall where men — and only men — congregate to play cards and gossip under a frescoed 16th-century dome.
From the old center, an ancient lane zigzags down to Marina Grande, Sorrento's classic harbor. Until recently, the harbor's little community was famously traditional, with its economy based on its fishing fleet. Fathers still pass down their houses and fishing-boat stalls to their sons. Today a raft of restaurants serve fresh fish and Sorrentine specialties along the inviting waterfront — this is the place to dig into an "everything but the net" risotto while watching the sun's last rays fall over the rooftops.
Lemons are everywhere in Sorrento — there's even a fragrant lemon grove right in the town center. Every other shop seems to be lemon yellow — and sells lemon biscuits, lemon pasta, lemon drops, lemon soap…and limoncello. This distinctive liqueur gets its neon-yellow color from the skins of locally grown lemons. Although it's commercially produced for sale to tourists, most families make their own from a well-guarded recipe, handed down through the generations.
For a great day trip from Sorrento, catch a boat to the isle of Capri. First made famous as the vacation hideaway of the Roman emperors, Capri was also a favorite stop for Romantic Age aristocrats on their Grand Tour of Europe. Today, Capri is expensive and glitzy (taxis are white convertibles) — and it can be a world-class tourist trap.
But even with its crowds and commercialism, Capri is a flat-out gorgeous place. Chalky white limestone cliffs rocket boldly from the shimmering blue and green surf, and strategically positioned gardens, villas, and viewpoints provide stunning vistas of the Sorrentine peninsula, the Amalfi Coast, and Mount Vesuvius.
To make the most of your visit, take an early hydrofoil from Sorrento. Legions of day-trippers on big-bus tours and cruise-ship excursion groups create a midday rush hour that you'll want to avoid.
For me, the best experience on Capri is to take the scenic boat trip around the island. It's cheap, comes with good narration and lots of curiosities, and there are plenty of departures from the main hydrofoil dock.
As you circle the dramatic island, you'll hear stories of celebrity-owned villas, marvel at a nonstop parade of staggering cliffs, and see quirky sights (a solar-powered lighthouse, tiny statues atop desolate rocks, and holes in the cliffs with legends going back to the time of Emperor Tiberius). A bonus: You can combine the boat trip with a stop at the fabled Blue Grotto, with its otherworldly azure water.
The Blue Grotto experience is more than just a visit to a cave. Getting there, getting in, and getting back are all part of the experience. Arriving at the mouth of the grotto, you'll find a covey of dinghies waiting to row visitors inside. The entrance hole is small, and only these little rowboats can fit through.
If the water's too rough, dinghies can't get in, and visitors are turned back. But on most days, the raffish rowers jostle their way to the tiny entry, tourists scrunch down below the gunwales (to avoid smashing their skulls on the rock), and the guide pulls hard and fast on a cable at the low point of the swells to squeeze into the grotto.
Inside, it takes your eyes a few minutes to adjust to the brilliant blue of the cave's water (sun reflecting off the limestone bottom creates the effect). As your man rows you around, singing a little "O Sole Mio," you'll enjoy the iridescent magic of the moment — and understand why Sorrento and Capri have been attracting holiday-goers for centuries.