Amalfi
Amalfi Coast
With its stunning scenery, hill- and harbor-hugging towns, and historic ruins, Amalfi is Italy's coast with the most. The trip from Sorrento to Salerno along the breathtaking Amalfi Coast is one of the world's great bus rides — it'll leave your mouth open and your camera's memory card full. Cantilevered garages, hotels, and villas cling to the vertical terrain, and beautiful sandy coves tease from far below and out of reach. Over the centuries, the spectacular scenery and climate have been a siren call for the rich and famous, luring Roman emperor Tiberius, Richard Wagner, Sophia Loren, Gore Vidal, and others to the Amalfi Coast's special brand of la dolce vita.
At a Glance
▲▲▲ Positano Easygoing, nearly vertical town specializing in sun, sand, shopping, steep stairways, and stunning scenery.
▲▲▲ Coastal drive between Sorrento and Salerno Wildly scenic white-knuckle ride, doable by bus, taxi, or shared minibus.
▲▲ Amalfi Town Less picturesque, but still atmospheric center with a real-life feel and a handful of sights, including a paper museum and an imposing Romanesque cathedral.
▲▲ Paestum Site of one of the world's best collections of 2,500-year-old Greek temples, a worthwhile museum with artifacts from the site, and the remains of a Roman town.
▲ Ravello Town loftily perched high above the sea, featuring a history of celebrity residents, two villas with stunning strollable gardens, and breathtaking views.
▲ Hike from Ravello to Amalfi Town Roughly hour-long downhill walk for hardy hikers along a winding path past the delightful world-apart village of Atrani, with lovely views throughout.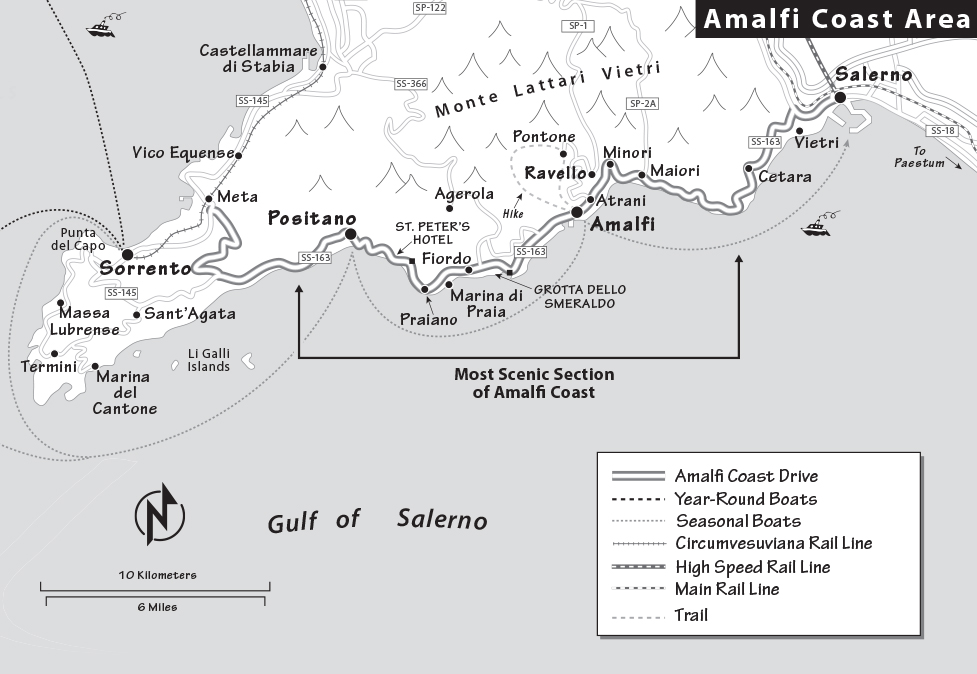 Plan
Photos
Watch
Read
Listen