Swiss Bliss on a Berner Oberland Hike
Thanks to efficient transportation, well-marked trails, and some of the world's finest scenery, hiking in the Swiss Alps is a joy.

By Rick Steves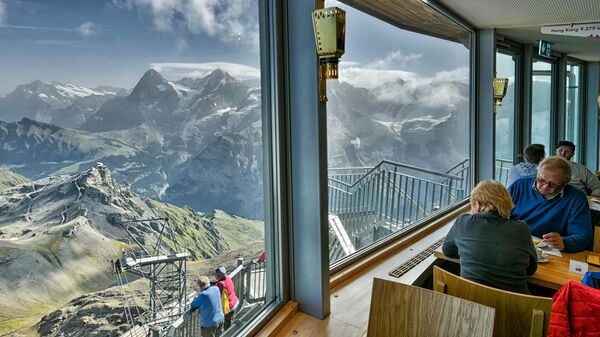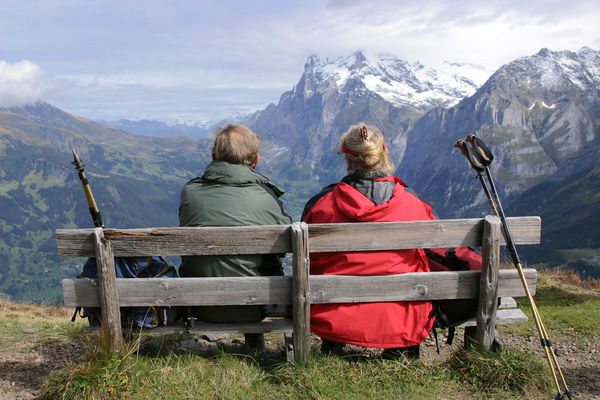 A highlight of a recent European summer was the day I spent hiking in the Swiss Alps, on a hillside above the Berner Oberland's Lauterbrunnen Valley. I was with a wonderful group of traveling friends, all eager for a ramble in the high country.
Fortunately, you don't have to be a mountain climber to see the Alps up close. The Swiss transportation system is as remarkable as its majestic landscape. Cog railways and cable cars whisk you up into the type of scenery that's usually only accessible with ropes and crampons.
My group started the day with breakfast at the Piz Gloria, a revolving restaurant that caps the Schilthorn peak (nearly 10,000 feet), looking down at the high meadows where Swiss cows spend their summers, Heidi-style. We'd gotten up there effortlessly (in four stages) by riding the Schilthornbahn cable car. The cable-car ride itself is one of Europe's most vivid, exciting experiences — especially when the Alps are out in all their glory.
For our hike that day, we chose the super-scenic North Face Trail (4 miles, 2.5 hours), starting our walk high above the tree line and cruising through meadows carpeted with alpine flowers. I love being way above the villages, but not too high for the cows or goats. It's a joy to greet these tame alpine companions and listen to their random symphony of bells.
The milk from those cows grazing in the high meadows is destined to become treasured Alp cheese (Alpkäse). People say that the character of the cheese is shaped by the wild herbs and flowers that the cows munch. Some locals claim they can tell which valley the cows grazed in just by the taste.
Cow herders up here are versatile — most are master cheese makers and have veterinary skills, too. Little dairy farms have been renovated to meet European Union standards. Failing to meet these would mean their cheese could not be exported. But still, traditional quality survives all these modern regulations.
Alpine farms welcome hikers to peek at the cheese-making action, so we dropped in at a farm hut to watch. We met Veronika — a licensed cheese maker. Each morning she and her crew milk the cows and heat a copper vat of milk over a wood fire. As it slowly curdles, it's stirred at just the right temperature until the consistency is exactly how Veronika likes it.
Then, at just the right moment, she swings the vat off the fire, quickly dredges the vat with her cheesecloth, and packs the fresh cheese into frames. This process is repeated every day for 100 days here in the high country — a cow's udder knows no weekend.
As we went on our way, we descended steeply through thick forest. We had no trouble navigating, thanks to great signage. The dedication to order and organization that distinguishes Swiss culture is obvious. Helpful signposts pointed us in the right direction, gauged the degree of each trail's difficulty, and gave us an estimated hiking time. Which is humbling, as these times are clocked by local senior citizens. You'll know what I mean after your first hike.
Bicyclists can pump up their adrenaline on rented mountain bikes on most of the region's hiking trails. They benefit not only from dedicated bike trails, but also the many smoothly paved service roads that snake up the hillsides, designed for the little hay wagons of farmers. These scenic lanes are off-limits to cars, but are wide open for — and a hit with — bikers.
Our hike reached its happy ending when we popped out of a wooded area into a flowery meadow at the tip-top of my favorite Swiss village: Gimmelwald — the perfect place to enjoy well-earned relaxation in a storybook setting, as the sun sets over another day filled with uniquely Swiss bliss.