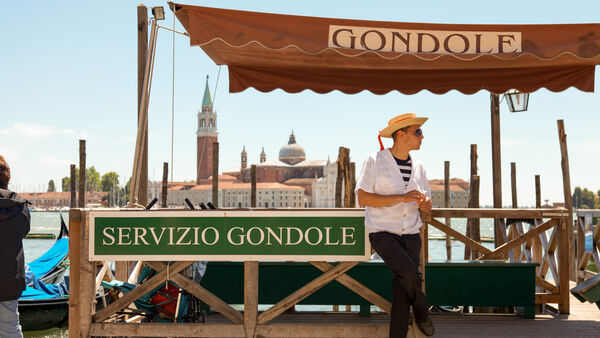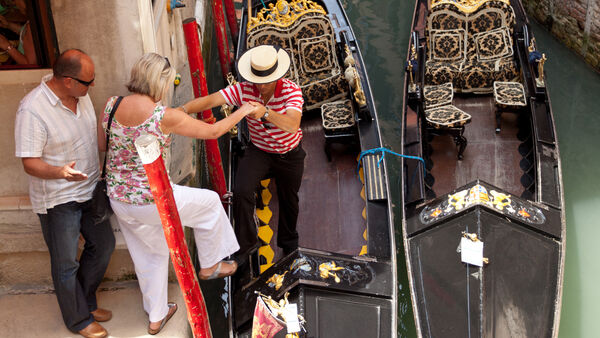 By Gene Openshaw
Riding a Venetian gondola is simple, expensive, and one of the great experiences in Europe. Gondoliers hanging out all over town are eager to have you hop in for a ride. While the high cost of a ride is a rip-off for some, it's a worthwhile splurge for anyone enchanted by Venice's otherworldly magic.
Two hundred years ago, there were 10,000 gondolas in Venice. Although the aristocracy preferred horses to boats through the early Middle Ages, beginning in the 14th century, when horses were outlawed from the streets of Venice, the noble class embraced gondolas as a respectable form of transportation.
The boats became the way to get around the lagoon's islands. To navigate over the countless shifting sandbars, the boats were flat (no keel or rudder) and the captains stood up to see. During the Age of Decadence, wannabe Casanovas would enjoy trysts in gondolas. Part of the gondolier's professional code was to never reveal what happened under the canopy of his little love boat.
Today, there are about 400 gondolas in service, used only by tourists. The boats are prettier now, but they work the same way they always have. Single oars are used both to propel and to steer the boats, which are built curved a bit on one side so that an oar thrusting from that side sends the gondola in a straight line.
These sleek yet ornate boats typically are about 35 feet long and five feet wide, and weigh about 1,100 pounds. They travel about three miles an hour (same as walking) and take the same energy to row as it does to walk. They're always painted black (six coats) — the result of a 17th-century law a doge enacted to eliminate competition between nobles for the fanciest rig. But each has unique upholstery, trim, and detailing, such as the squiggly-shaped, carved-wood oarlock (fórcula) and metal "hood ornament" (ferro). All in all, it takes about two months to build a gondola.
The boats run about €35,000–50,000, depending on your options (a/c, cup holders, etc). Every so often, the boat's hull must be treated with a new coat of varnish to protect against a lagoon-dwelling creature that eats into wood. A gondola lasts about 15 years, after which it can be refinished (once) to last another 10 years.
You can see Venice's most picturesque gondola workshop (from the outside; it's not open to the public) in the Accademia neighborhood. The workmen, traditionally from Italy's mountainous Dolomite region (because they need to be good with wood), maintain this refreshingly alpine-feeling little corner of Venice.
Carving the uniquely curvy oarlock is an art form. To see the work in action, visit the wood-carving shop of Paolo Brandolisio, just behind St. Mark's Square. You can pop in to watch Paolo carving both fórcole and traditional oars.
In the Dorsoduro district, not far from the Peggy Guggenheim Collection, you can visit the workshop of Saverio Pastor, another fórcole maker, who has scale models for sale.
There are about 400 licensed gondoliers. When one dies, the license passes to his widow. And do the gondoliers sing, as the popular image has it? My mom asked our gondolier that very question, and he replied: "Madame, there are the lovers and there are the singers. I do not sing."
Tips for Riding
Dozens of gondola stations (servizio gondole) are set up along canals all over town. Prices are standard and listed on the gondoliers' association website. Because your gondolier might offer narration or conversation during your ride, talk with several and choose one you like. You're welcome to review the map and discuss the route. Doing so is also a good way to see if you enjoy the gondolier's personality and language skills. Establish the price, route, and duration of the trip before boarding, enjoy your ride, and pay only when you're finished.
While prices are pretty firm, you might find them softer during the day. Most gondoliers honor the official prices, but a few might try to scam you out of some extra euros, particularly by insisting on a tip. (While not required or even expected, if your gondolier does the full 35 minutes and entertains you en route, a 5–10 percent tip is appreciated; if he's surly or rushes through the trip, skip it.)
If you've hired musicians and want to hear a Venetian song (un canto Veneziano), try requesting "Venezia La Luna e Tu." Asking to hear "O Sole Mio" (which comes from Naples) is like asking a Chicago lounge singer to sing "Swanee River."
Once you're on board, put the camera down and make it a point to drink it all in. Savor the scene as the gondola glides through quiet canals while music echoes across the water. Approached with the right attitude, the experience can be extremely relaxing (and, I think, worth the extra cost to experience at night). If you're here with a partner, let yourself be seduced into a threesome with Venice. But women, beware…while gondoliers can be extremely charming, locals say that anyone who falls for one of these Venetian Romeos "has slices of ham over her eyes."
---
Gene Openshaw is the co-author of the Rick Steves Venice guidebook.