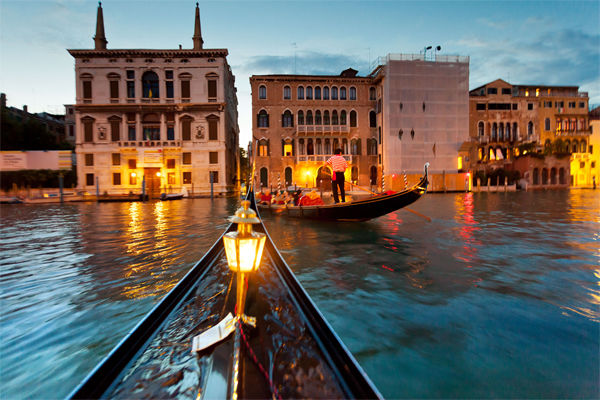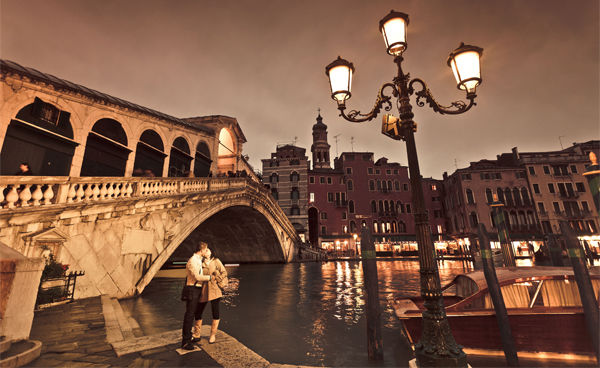 By Rick Steves
While Venice's splendid decay is undeniably charming by day, you must experience Venice after dark. The city is quiet at night, as tour groups stay in the cheaper hotels of Mestre on the mainland, and the masses of daytrippers return to their beach resorts and cruise ships.
Do what you must to reserve energy for evening: Take a nap, or skip a few sights during the day. When the sun goes down, a cool breeze blows in from the lagoon, the lanterns come on, the peeling plaster glows in the moonlight, and Venice resumes its position as Europe's most romantic city.
Though Venice comes alive after dark, it does not party into the wee hours. By 10 p.m., restaurants are winding down; by 11 p.m., many bars are closing; and by midnight, the city is shut tight.
Evenings are made for wandering — even Venice's dark and distant back lanes are considered very safe after nightfall. Enjoy the orchestras on St. Mark's Square. Experience Vivaldi's Four Seasons in a candlelit 17th-century church. Pop into small bars for an appetizer and a drink. Lick gelato. As during the day, it's the city itself that is the star. But Venice under a cloak of darkness has an extra dose of magic and mystery — the ambience that has attracted visitors since the days of Casanova.
Here are some hints for soaking up the city after-hours:
Especially during the summer, you can stretch your sightseeing at the following sights: the Doge's Palace, the most powerful half-acre in Europe from 1150 to 1550; the Accademia, the greatest museum anywhere for Venetian Renaissance Art; and St. Mark's 300-foot-high campanile (bell tower).
The local way to spend an evening is to simply enjoy a slow and late dinner in a romantic canalside or piazza setting. Caffè Florian, on St. Mark's Square, is the most famous Venetian café and one of the first places in Europe to serve coffee. It has been the place for a discreet rendezvous in Venice since 1720. Today, it's most famous for its outdoor seating and orchestra, but do walk inside through the richly decorated, 18th-century rooms where Casanova, Lord Byron, Charles Dickens, and Woody Allen have all paid too much for a drink.
Just being in St. Mark's Square after dark is a thrill, as dueling café orchestras entertain. Every night, enthusiastic musicians play the same songs, creating the same irresistible magic. Hang out for free behind the tables (which allows you to easily move on to the next orchestra when the musicians take a break) or spring for a seat and enjoy a fun and gorgeously set concert. If you sit a while, it can be €15–25 well spent. Dancing on the square is free (and encouraged).
Take your pick of traditional Vivaldi concerts in churches throughout town. Homegrown Vivaldi is as ubiquitous here as Strauss is in Vienna and Mozart in Salzburg. You'll find frilly young Vivaldis hawking concert ticket on many corners. You'll see posters in hotels all over town (hotels sell tickets at face value). Tickets for Baroque concerts in Venice can usually be bought the same day as the concert, so don't bother with websites that sell tickets with a surcharge. The general rule of thumb: Musicians in wigs and tights offer better spectacle; musicians in black-and-white suits are better performers.
In addition to the concerts, Venice has a busy schedule of events, festivals, and entertainment, including, of course, Carnevale, the yearly masquerade party.
For a relaxing glide under the moon, take a gondola ride. Although they cost lots more after dark, this is a traditional must for romantics. You can divide the cost — and the romance — among up to six people per boat, but you'll need to save two seats for the musicians if you choose to be serenaded. Note that only two seats (the ones in back) are side by side.
Glide through nighttime Venice with your head on someone else's shoulder. Follow the moon as it sails past otherwise unseen buildings. Silhouettes gaze down from bridges while window glitter spills onto the black water. You're anonymous in the city of masks, as the rhythmic thrust of your gondolier's oar turns old crows into songbirds.