Crawling Through Venice's Cicchetti Pubs
By Rick Steves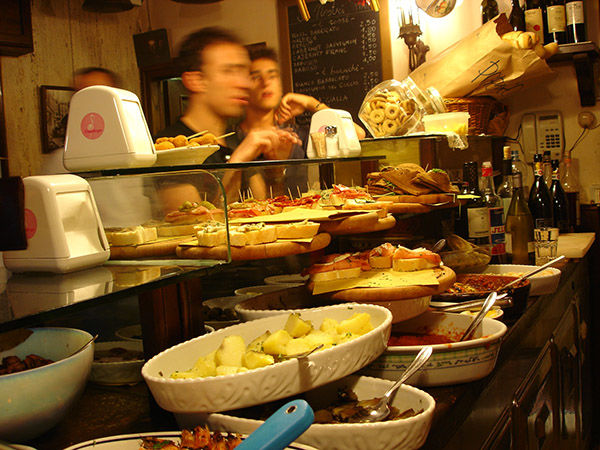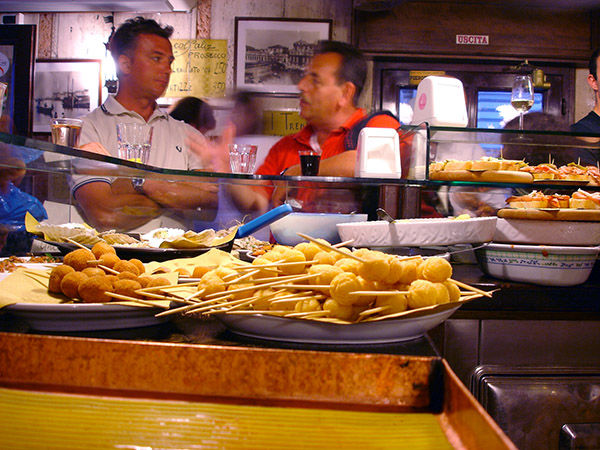 Once a European superpower, Venice is now, at least in one sense, a small town of about 55,000 people – yet it entertains millions of visitors each year. Not too long ago, a Venetian friend confided in me that there are no truly untouristy restaurants left in Venice. To stay in business these days, he said, every restaurant must cater to tourists. Then, with a twinkle in his eye, he added, "But there are still the cicchetti bars."
Venice has a wonderful tradition of cicchetti — the local appetizers that line the counters of little pubs all over town at the end of each workday. When in town, my favorite meal is what I call the "Stand-Up Progressive Venetian Pub-Crawl Dinner" — visiting a series of these characteristic hole-in-the-wall pubs, eating ugly-looking morsels on toothpicks, and washing it all down with little glasses of wine. An added advantage is that local characters surround you. And, in a town with canals and no cars, pub-crawling is safe and easy. (Perhaps safer if you know how to swim.)
Venetians call this pub crawl the giro d'ombra. Giro means "stroll," and ombra — slang for a glass of wine — means "shade." This dates back to the old days, when a portable wine bar scooted with the shadow of the Campanile bell tower across St. Mark's Square. That wine bar is long gone, but the cicchetti bars remain, tucked away in the back streets.
While Venice is, it seems, sinking in tourist crowds, 90 percent of them seem to gather along the glitzy shopping streets between the Rialto Bridge and St. Mark's Square. The key for the adventurous tourist is to wander. Don't worry about getting lost. In fact, get as lost as you can. Keep reminding yourself "I'm on an island and I can't get off." You generally won't find street names. When you want to find your way, simply look for small signs on the corners directing you to the nearest landmark (e.g., "per Rialto"). Given the confusing street plan, nearly every hotel or restaurant has a neighborhood map on its card. So, if you're disoriented, simply drop by any business and ask for its business card.
It's in the far reaches of Venice that you'll bump into the thriving little bacari (as the local pubs are called). Try deep-fried mozzarella cheese, gorgonzola, calamari, artichoke hearts, and anything odd on a toothpick. Crostini (small toasted bread with a topping) are popular, as are marinated seafood, olives, and prosciutto with melon. Meat and fish (pesce) munchies can be expensive, but veggies (verdure) are cheap, at about €3 for a meal-sized plate. In many places, there's a set price per food item (e.g., €1.50). To get a plate of assorted appetizers for €8 (or more, depending on how hungry you are), ask for: "Un piatto classico di cicchetti misti da otto euro." Bread sticks (grissini) are free for the asking.
Cicchetti bars have a social standup zone and a cozy gaggle of tables where you can generally sit down with your cicchetti or order from a simple menu. In some of the more popular places, the local crowds spill happily out into the street. Food usually costs the same price whether you stand or sit.
Of course, part of the attraction is the funky decor strewn about these characteristic bars — photos of neighborhood friends here for a family party; of St. Mark's Square the morning after a wild Pink Floyd concert; of Carnevale masks evoking a more mysterious (and less touristy) past; and of old-time Venice, proving that people may change but the buildings remain essentially the same.
Bar-hopping Venetians enjoy an aperitivo, a before-dinner drink. Boldly order a Bellini, a spritz con Aperol, or a prosecco, and draw approving looks from the natives.
Drink the house wines. A small glass of house red or white wine (ombra rosso or ombra bianco) or a small beer (birrino) costs about €1. The house keg wine is cheap — €1 per glass, about €4 per liter. Vin bon, Venetian for fine wine, may run you from €2 to €6 per little glass. A blackboard usually lists several fine wines that are uncorked and available by the glass.
Bars don't stay open very late, and the cicchetti selection is best early, so start your evening by 6 p.m. Most bars are closed on Sunday. I finish my pub crawl back on St. Mark's Square with a gelato. While the cicchetti action wraps up early, the orchestras on the main square play until late.
A few words are critical for your pub crawl vocabulary: If you like your wine full-bodied, specify corposo. A good last drink is fragolino, the local sweet wine, either bianco or rosso. It often comes with a little cookie (biscotto) for dipping. Also handy: "Le dispiace se mi siedo qui?" (Do you mind if I sit here?).
One one visit to a cicchetti bar, a man asked me, "Le dispiace se mi siedo qui?" before sitting down next to me. It occured to me that this polite phrase is also good for making new friends. He ordered a drink and food, and when his plate of fish arrived, he picked up one of the tiny fish, delicately tied in a loop. Holding it by the toothpick that harpoons it, he looked at it lovingly, said, "Sei il mio piu bel ricordo" ("You are my most beautiful souvenir"), and popped it happily into his mouth. Pushing over his plate, he offered one of the fish to me.
Connecting with people makes a pub crawl more fun: You can meet an Italian, learn some Italian, eat better…and collect your own beautiful souvenirs.