Mozart Lives On in Salzburg
Where better than Mozart's hometown to revel in the boy genius' music and milieu?

By Rick Steves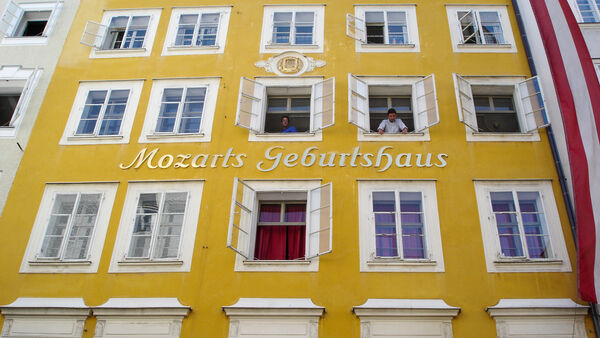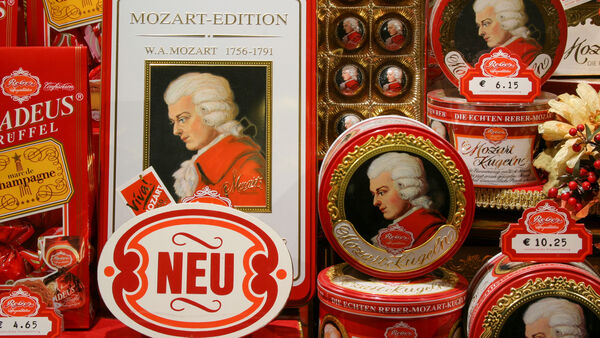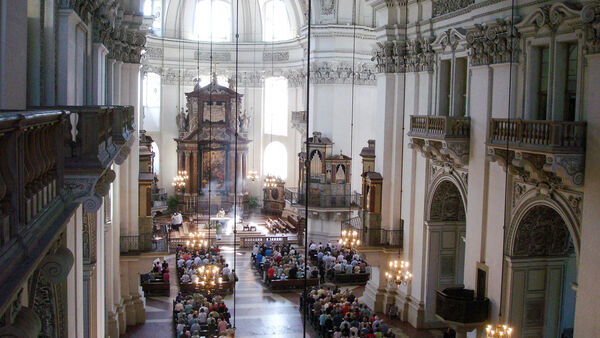 Salzburg was Wolfgang Amadeus Mozart's home for the first 25 years of his brief 35-year life, and the city still hums with his precocious energy. Salzburg offers visitors plenty of opportunities to learn about, or simply bask in, the delightful work of its greatest composer. His music seems to infuse the unique character of this fabled city.
Understandably, most devotees make a beeline to his birthplace (Geburtshaus), a still-intact apartment house right in the heart of Salzburg's Old Town. It was here that Mozart learned to play piano and violin, and composed his first boy-genius works. Even after the family had become the toast of Salzburg, they continued living for some time in this rather cramped apartment.
These days it's filled not with their furnishings but with fans who've come here on pilgrimage. To me, though, it's well worth shuffling with the crowds through this space for its excellent introduction to Mozart's life. The now-bare living areas display Mozart's "square piano," childhood viola, and plenty of other memorabilia.
The museum areas of the house delve into his life after he left Salzburg for Vienna, and explore the long legacy he left behind. With well-designed computer displays, you can hear his music while following along on his handwritten scores. One exhibit takes you on the road with Wolfgang the child prodigy, and gives a slice-of-life portrait of what it was like to live and travel in Europe in the 1700s. (Mozart spent a third of his life journeying throughout Europe — at a time when it took 29 hours to travel just between Salzburg and Munich.) Another room examines his operas, with model stage sets and video clips. The prize piece here is an old clavichord on which he supposedly composed his final work — the Requiem, which was played for his own funeral.
Step outside Mozart's first house and you'll find yourself on Getreidegasse, Old Salzburg's colorful main drag. It's been a center of trade since Roman times, but its forest of wrought-iron signs evokes Salzburg's heyday as a bustling town of prosperous burghers. The architecture still looks much as its did in Mozart's time, at least if you squint enough to ignore that most of the buildings are now inhabited by chain outlets.
From Mozart's old front door, a few zigs and zags through Salzburg's medieval maze lands you at the city's grand cathedral, one of the first Baroque buildings north of the Alps. The huge church is remarkable for its harmonious architecture and playful decor: Baroque scrolls, dancing cupids, and conductors' batons swirl around its ceiling like icing on a musical cake. In 1756, little Wolfgang was baptized here, and for the next 25 years, this would be his home church. Its center is flanked by four organs, providing glorious surround sound. To hear it for yourself, come for Sunday morning Mass, or for the free organ concert that often follows the worship service. Mozart, who was the organist here for two years, would advise you that the acoustics are best in pews immediately under the dome.
As Salzburg's Old Town survived wars and unrest largely intact, plenty of other Mozart-era vestiges remain here. You can linger over a coffee at the venerable Café Tomaselli, where Mozart often dined, and say hi to his statue in the square now named Mozartplatz. (While erected just 50 years after his death, it's considered a poor likeness.)
Serious fans cross the river to Salzburg's "New" Town to visit Mozart's residence (Wohnhaus) — a reconstruction of his second home (the original house was hit by WWII bombs). By the time Wolfgang was 17, his family was flush with money from years of touring, allowing them to move out of their cramped home on Getreidegasse and into these lavish digs.
Unlike at his birthplace, the displays at the residence are aimed more toward Mozart connoisseurs. The Mozarts entertained Salzburg's high society in the home's main hall; now it displays the maestro's own piano and violin, and offers visitors a good introductory video and audioguide. Other rooms feature artifacts that recall Mozart's loves, family, intellectual pursuits, travels, and more.
A short stroll away is the St. Sebastian Cemetery, a quiet oasis just off Linzer Gasse, the New Town's pedestrian thoroughfare. While Mozart is buried in Vienna, his father Leopold and his wife Constanze are both buried in this evocative churchyard.
Of course, the best way to appreciate Mozart's legacy is to hear his music played by live performers. All year long you can enjoy pleasant (if touristy) concerts in historic venues around town, nearly all of them featuring some of Mozart's works. They include the nightly Mozart Dinner Concert, which offers a time-warp experience for all the senses: In an elegant Baroque setting, a string quintet performs while singers in historic costumes gavotte among the tables, while diners enjoy Mozart-era recipes by candlelight.
Mozart Week, held every year in late January, is a concentrated experience, with up to three high-quality, relatively affordable performances each day. Young fans are made at the weekly, family-friendly, 45-minute Mozart Piano Sonatas, held in the Old Town's St. Peter's Abbey. But one of my favorite Salzburg experiences is a performance of the Marionette Theater, across the square from the Mozart Residence. There, a troupe of puppeteers brings to life various operas, with The Magic Flute one of its most frequent offerings. Though the music isn't performed live, the artistry is spellbinding.
Whether through dancing marionettes, playful doodles on handwritten scores, surround-sound cathedral organs, swoops of Baroque filigree on pastel facades, or the energetic melodies of a live string quintet, here in his hometown the joyful spirit of Mozart's music lives on.