Heart of Italy Pledge Event
In this exciting special, join Rick Steves as he delves deep into the Italian heartland — the place where la dolce vita is a way of life.
Starting in Umbria, we connect with rustic, traditional culture: sleeping at an agriturismo (farmhouse inn), seeing how prosciutto and pecorino cheese are made (and eaten), and hiking down into ancient and fragrant wine cellars. Then we visit Assisi, with its inspirational story of St. Francis, stop-and-smell-God's-roses spirituality, delicate Giotto masterpieces, and awe-inspiring basilica. In Siena, we enjoy a front-row seat at its wild horse race — the venerable Palio — and marvel at cultural treasures from the city's glory days, when it rivaled Florence for dominance in Tuscany.
We finish with the ultimate Riviera getaway: the Cinque Terre, where we get to know each of the "five lands" — from dramatic, vineyard-surrounded Vernazza to hardscrabble Riomaggiore to the pint-sized resort of Monterosso. Fishing for anchovies, sipping wine out of rustic barrels, bringing flowers to hilltop cemeteries, and savoring twinkling Mediterranean vistas, we enjoy Rick's favorite stretch of Mediterranean coastline.
From hill towns to harbors, and from vino rosso to Giotto, "Rick Steves' Heart of Italy" savors the good life in the Italian heartland.
---
Content: Italy-focused segments from the Rick Steves' Europe television series, interspersed with lively pledge breaks. Available in two lengths: 60 minutes and 120 minutes. Released 2017.
Promotional Tool Kit
Promotional Media
Click on the images to view the full-sized JPGs. Right-click on the download link to save the image. For additional publicity shots of Rick, view our Downloads in the Press Room.
Heart of Italy title screen. Download image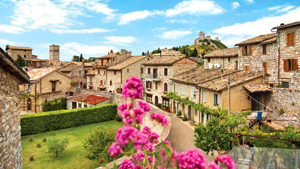 Assisi town. Download image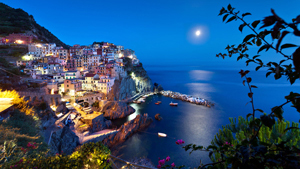 Manarola, in the Cinque Terre. Download image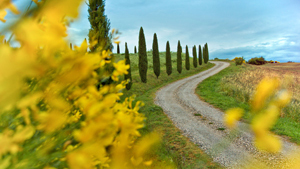 Tuscan backroad. Download image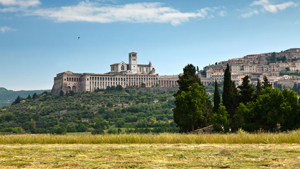 Basilica of St. Francis in Assisi. Download image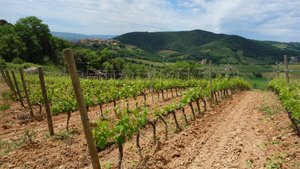 Montalcino, in Tuscany's wine country. Download image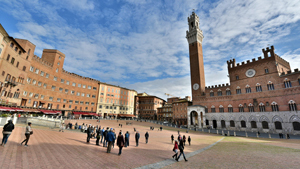 Il Palio, Siena's main square. Download image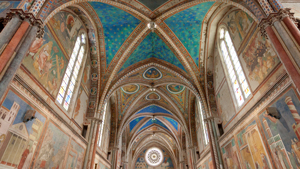 Nave of the Upper Basilica of St. Francis of Assisi. Download image
Premium Levels
Read a full description of the items by clicking to their product pages in our Travel Store.
$60 Level
$60 Level
$180 Level
All Levels
Rick Steves Travel Skills DVD: In this two-DVD set filled with information-packed travel lectures, Rick shares how to travel smoothly and affordably through Europe with practical tips on planning a trip, getting around, finding accommodations, staying safe, packing right, and more! Plus, Rick presents the history of European art from medieval through modern times and teaches how to broaden your perspective through travel, plus the bonus extra: Rick Steves Tour Experience.

No market value
Item #: DV-BD-TRV2

"Rick Steves' Best Destinations" travel newsletter: 64 pages of stories, color photos, and graphics of Rick's top itineraries in Europe.

No market value
Item #: ZZ-Mail-Newsltr
Questions: [email protected]
To order, please contact:
[email protected]
Tel: 425-771-8303 ext. 240
Fax: 425-771-0833
Stations pay all shipping charges.
Premium Images
Download composite JPEGs (below) of each pledge level, formatted for a 1920 x 1080 screen.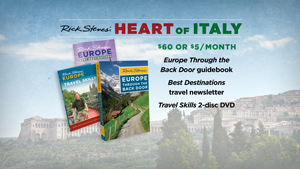 $60 Level — ETBD: Download screen image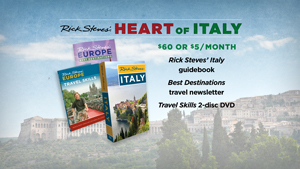 $60 Level — Italy: Download screen image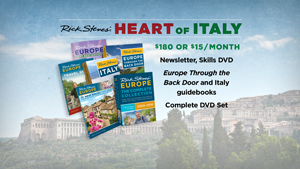 $180 Level: Download screen image
Download high-resolution JPEGs of all pledge premiums for use in your own layouts.
Download a layered Photoshop file containing each pledge level as an editable group.