Rick Steves' The Holy Land: Israelis and Palestinians Today
This hour-long special weaves together both the Israeli and the Palestinian narratives. In Israel, we go from the venerable ramparts of Jerusalem to the vibrant modern skyline of Tel Aviv. In Palestine, we harvest olives near Hebron, visit a home in Bethlehem, and pop into a university in Ramallah. We also learn about security walls, disputed settlements, and the persistent challenges facing the region.
Contact Hope Reed (520-622-1393/ hopereedmarketing.com) or Ashley Sytsma (425-608-4293/ ashley@ricksteves.com) for more information.
Fact Sheet
Short Program Description
This hour-long special weaves together both the Israeli and the Palestinian narratives. In Israel, we go from the venerable ramparts of Jerusalem to the vibrant modern skyline of Tel Aviv. In Palestine, we harvest olives near Hebron, visit a home in Bethlehem, and pop into a university in Ramallah. We also learn about security walls, disputed settlements, and the persistent challenges facing the region.
Long Program Description
In this hour-long special, Rick Steves weaves together both the Israeli and the Palestinian narratives to better understand a place that is, for a third of humanity, literally holy land. The crossroads for three great religions, the Holy Land has been coveted and fought over for centuries. Dining with both Jews and Muslims, we realize the menu is essentially the same, whether in Hebrew or Arabic. While visiting the big sights, we delve deeper to better understand and empathize with both peoples. In Israel, we go from the venerable ramparts of Jerusalem to the vibrant modern skyline of Tel Aviv. In Palestine, by harvesting olives near Hebron, visiting a home in Bethlehem, and popping into a university in Ramallah, we get to know a land few tourists visit. And all along the way, we learn about security walls, disputed settlements, and the persistent challenges facing the region as Israelis and Palestinians learn to live together.
---
Program Information
Release Date: September 2014
Format: 1x60 HD-Base
Program Notes: This special includes some content from the "Best of Israel" and "Palestine" episodes from Season eight of Rick Steves' Europe.
Broadcast Rights: Unlimited Use/3 Years
Distributor: American Public Television
APT Program Service: Exchange
Producer: Back Door Productions
Presenter: Oregon Public Broadcasting
Genre: Travel
*Additional feed details will be posted by APT Exchange
On-Air Promos: Available through APT
Download Promotional Media
Here you will find everything you will need to make your promotion of Rick Steves' The Holy Land visually pleasing. If you would like assistance in downloading these files, or prefer another format, please email Ashley Sytsma at ashley@ricksteves.com, or call 425-608-4293.
Click on the images to view the full-sized JPGs. Right-click on the download link to save the image. For additional publicity shots of Rick, view our Downloads page in the Media Kit.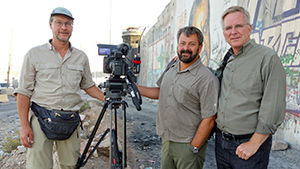 Rick and crew Simon Griffith and Karel Bauer near the Ramallah checkpoint. Download image.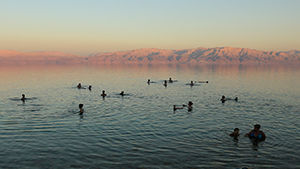 Floating in the Dead Sea at dusk. Download image.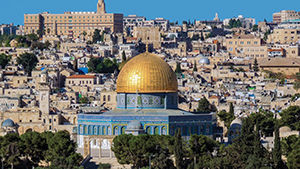 Jerusalem's Dome of the Rock. Download image.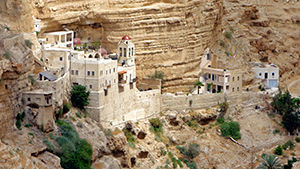 Monastery of St. George in the Judean Desert. Download image.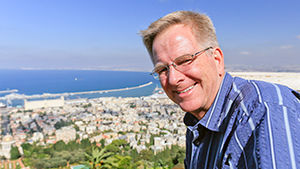 Rick in Haifa, Israel. Download image.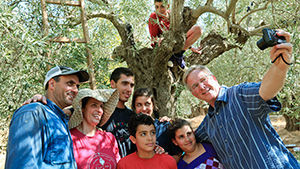 Rick with a family of Palestinian olive farmers near Battir National Park. Download image.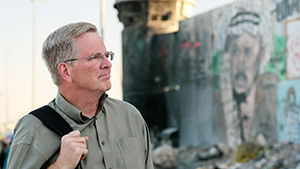 Rick at the security wall near the Ramallah checkpoint. Download image.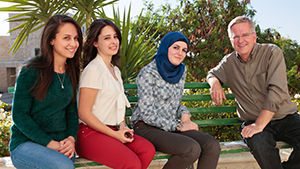 Rick talks with students at Birzeit University near Ramallah. Download image.
Rick visits Jerusalem's Yad Vashem Holocaust Memorial. Download image.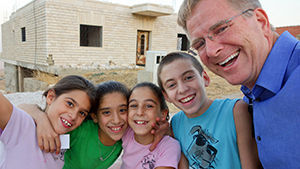 Israeli children in the West Bank befriend Rick during his shoot. Download image.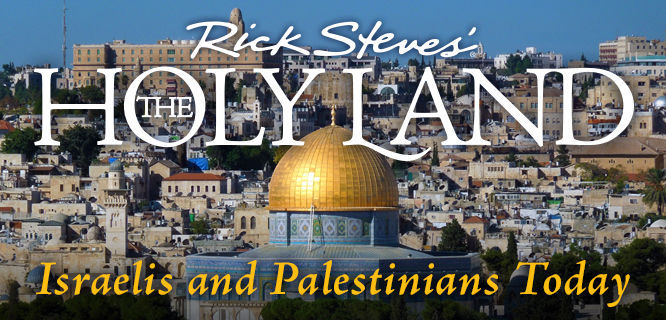 Rick Steves' Holy Land: Israelis and Palestinians Today logo. Download image.
Customer Service Support
Pre-Premiere Rick Steves Statement
Please use this statement as needed to respond to pre-premiere viewer feedback.
Rick Steves' The Holy Land: Israelis and Palestinians Today will premiere on KXXX on September X at X:XX p.m. In this hour-long special we'll explore the Holy Land from the traveler's perspective, with open eyes and an honest curiosity. I hope you'll travel with me, and I look forward to hearing more of your thoughts after you view it this fall. Watch the promo and read a Q&A about the special on my website.–Rick Steves
Q&A with Rick Steves
In this Q&A, Rick talks about the reasons why he decided to produce the upcoming TV special, Rick Steves' The Holy Land: Israelis and Palestinians Today, how he arrived at certain decisions he made, and what he learned from the experience
Why did you want to make a program about the Holy Land?
All my life, I've heard experts talking about the Holy Land. But I'd had no personal experience there. I've also suspected that most well-educated, politically active Americans have never really had a chance to talk to an Israeli and talk to a Palestinian and sort through all the complexities of the region. So I thought it might be a good idea to go there with a travel writer's perspective, with open eyes and an honest curiosity. I wanted to talk to all kinds of people, and come away with some empathy and a better understanding for the different narratives.
Is this approach new for you?
Not at all. In my work I like to expose Americans to other ways of thinking, to help Americans get out of their comfort zone. As a travel writer, that's what I do. I go to places that are confusing to me. I go to places that are scary to me. And I realize that hey, when you talk to people, they become less confusing and less scary.
Did you feel you are as knowledgeable about the Holy Land as you are about Europe?
I don't try to be an expert. Viewers relate to me because I come at things from the perspective of someone who knows a little and is hungry to learn more. In doing this TV production, I was steep on the learning curve, just like our viewers. I didn't have opinions set in place by years of familiarity.
For this project, first I went to the Holy Land on my own just to scout the program, connect with some good local guides, and talk with many different people. This was a very exciting experience for me. And then the fun challenge was to go back with the crew a few months later and actually share what I learned.
We didn't intend to come home with any solutions. What we wanted to do was to share the "eurekas" and discoveries that any thoughtful traveler will pick up when they go to a place like the Holy Land in person. I'm a huge fan of people going to a complicated part of the world to talk to people and understand what's going on there.
Do you feel you started this project with any sort of a bias?
If I had a biased perspective, it was that I knew a lot about Israel, and almost nothing about Palestine. In preparation for this work, I did a lot of reading and documentary-viewing and so on. I also talked to a diverse bunch of people who are very committed to finding solutions to the challenges that the Holy Land presents us. They were all very helpful. But there's nothing like actually going there and standing with an Israeli on top of the Golan Heights to understand the importance of the high ground, and to go through a refugee camp and talk with somebody who is still holding a rusty key that their parents fled with 60 years ago, and whose family still dreams of going back.
Is the program either pro-Palestinian or pro-Israeli?
Fundamental to our mission was to be neither "pro-Palestinian" nor "pro-Israeli." I wanted to share the narratives from Israel and from Palestine in a balanced way. Our goal as TV producers was to produce a show that people would enjoy watching from beginning to end without slamming the door and thinking we are just "agenda" journalists.
At the same time, we didn't want to be clinically detached. Good travel is about opening one's self to empathy. I envisioned writing things in a way where if you took me out of context in a little snatch of the show here and there, you might think I was pro-this or pro-that. That's what happens when you learn to empathize with people. "Rick Steves is having dinner with our enemies!" Out of context, it can be made to look like bias.
I wanted to do a show that was balanced and showed both narratives. I believe that's what we produced. I wanted a program that would encourage people to travel there themselves. Or at least enjoy the vicarious benefit of having traveled there with us so they can humanize the Holy Land and better understand that it's not as simple as black and white. One very clear lesson from all this travel: There are good people — very good people — on both sides of the divide.
Why did you choose to use the name "Palestine" for the region?
We had a lot of discussions about what we should name the show, and especially what we should call the West Bank, Palestine, Occupied Territories, whatever you might want to call it. We decided not to go with the careful, the politically correct, or the least contentious name, but to go with what the local people want to be called, taking into consideration what the consensus is among the nations in the world. That's "Palestine." The fact that it's a controversial choice is an example of how this area is quite a challenge when you're writing a script. Every word is a potential minefield.
How did you decide on the terminology to use in the program?
When producing a show on the Holy Land, one of the big challenges is just simple terminology. Talk to a settler and you ask, "Are you a settler?" They'll say, "No, we're not settlers." You ask, "Do you live in a settlement?" "No, we're living in a city." Well, we refer to it as a settlement.
If you talk to an Orthodox Jew about Palestine, he or she — as a matter principle — will call it "Judea and Samaria," because that group of people believes that's what it should be. The wall, is it a "wall"? Well, it depends on who you talk to. It's a "fence" to an Israeli and a "wall" to a Palestinian. These are all no-win areas, so we would try to use both terms, or, when possible, find a term that would be more acceptable to both sides.
How do you respond to potential criticism of the incomplete coverage or omissions?
A challenge in making this special was to be able to talk about complicated issues but work within our word and time limit. I wanted to talk about things that illustrated a certain point, but you could take any number of issues and start a very constructive debate on any of these. Take the refugee problem, for example. There are lots of refugees in Palestine who fled Israel after the state of Israel was created, but, of course, there were also a lot of Jewish refugees created during the tumult that brought along the modern state of Israel.
You know, we could have gotten into all of that, but it physically wasn't possible. What we wanted to do was introduce issues that were complicated, that most people didn't appreciate, and let people with a different narrative share their take on it. And there were a lot of cases when we found ourselves debating whether we should even bring up a particular topic, given the fact we wouldn't have time to cover it as thoroughly as we'd like to.
More often than not I would say yes, I want to broach this. I don't want to claim to be scholarly, and I don't want to claim to be complete. I really don't claim to have a scholarly or complete look at this.
I'm a traveler going over there with a wide-eyed curiosity and a passion for doing my best, to just get a handle on what is the reality of the people of the Holy Land. What's it like to live in a little country where there's no airport and you don't even have control over your water supply? What's it like to be a Jewish-Israeli person surrounded by millions of people who you think are your enemies? Living in the USA, chances are we are more likely to hear one narrative over the other. I just love the opportunity to go over there and witness all the complexity and contradictions at close range.
How did you decide who to interview in the program?
It was very important in our production to get local voices. Whenever I make a TV show, I want local voices — and that was particularly important here, because we wanted the Israeli narrative and we wanted the Palestinian narrative. And the only way to get that is to find Israelis and Palestinians to talk to you.
I didn't want to just talk to tour guides, and I didn't want to just talk to activists or people from the tourist board or the public-relations folks. Plenty of these people would have loved to talk to us. I wanted to just surprise people on the streets and see if they'd be willing to talk to us.
We found in Palestine and in Israel that people were generally very open and willing to talk with our camera rolling. We would drop in on people in cafes in Israel. We would talk to people in the markets in Jerusalem. It was very important for our show to shine a light on the settlements to find out why people live there. What's it like? Who are these half a million people who live in the West Bank in Israeli settlements?
We were impressed at how easily we could get into the settlements. We walked right in, and they wished us a good visit. And we were hanging out with the kids and the families in the parks. We were being invited into people's homes. We were having coffee in the mall, talking to people there. And people were very willing to talk about their personal story. Why are they living in this settlement? For political reasons, for religious reasons, for family reasons?
In Palestine, we also got a chance to talk to clerics in the mosque. We got a chance to talk to refugees. We had a chance to talk with people in the university. I just can't overstate the importance of actually physically going somewhere and talking to real people there.
Why didn't you speak with moderate Israelis or radical Palestinians?
I wish we'd had time in the program to talk with an even wider spectrum of voices. There are a lot of Israelis who don't support the settlements. We talked to three or four families in the settlements, but not with Israelis who disagree with them. But the people who are pro-settlements are calling the shots today, so it's especially important to understand what makes them tick.
We did not cover Gaza, which is run by or has been run by Hamas. I didn't want to politicize this show. I wanted to talk about the West Bank. To me, the future and the hope for peace rests with the people who live on either side of the wall — in Israel and the West Bank — who want to live together and who believe that violence is not an answer.
The consensus of the people we met in the West Bank, across the board, is that violence is a mistake. I felt very buoyed by the commitment to nonviolence that I felt from talking to Palestinians in the West Bank.
But that view isn't really newsworthy. Radicals get in the news easily. I wanted to talk to the everyday Joe.
Did you enlist the help of experts for the program?
For this one, yes. When I write TV scripts for shows all over Europe, I don't need much expert input. They are fun destinations, and there's not much quibbling over what you say about this place or that.
But trying to write a script for a one-hour special on the Holy Land — not dodging contemporary challenges and issues that are very complicated — I just couldn't do that without running it by experts who would bring in a very thoughtful take from both narratives.
To vet our script, we went to great lengths to run it by people in academia here in the United States and people who are leaders in the Holy Land, both from the Palestinian narrative and from the Israeli narrative.
These people were very helpful. I learned a lot about the sensitivities of the whole topic, and it helped us do a better job.
What do you mean by the U.S. being a "stakeholder"in the Holy Land?
When you travel to the Holy Land, you realize that the United States really is a stakeholder in this area. There are many people in the United States who care deeply about Israel, and there are also a lot of people in the United States — Palestinian Americans especially — who care deeply about the challenges of the Palestinian people.
America has spent a lot of money in the Middle East, and lots of military capital as well. So I just believe it's right and in our interest to not shirk the responsibility of staying involved and engaged in this challenging part of the world. We have an obligation to work very hard to help find solutions that enable people in the Holy Land to exist peaceably and with dignity.
Do you feel confident peace can be achieved in the Holy Land?
It was so interesting for me to be talking to Palestinians and Israelis. I would oftentimes ask them, "What do you hope for your children?" Everybody said, "We want peace." Everybody wants peace.
The way I see it, the key challenge is finding ways for the younger generation from both sides to get together. Because if they can't get together, they're saddled with the unfortunate baggage of their parents' struggles.
There is a passion for peace, and I think there is hope for peace. And that's why I'm so excited to bring this TV show to our viewing audience here in the United States.
Did you feel safe while traveling and working in the Holy Land?
I never felt at risk anywhere in the Holy Land during this production. I went into some tense areas where there was a lot of military security, and I felt bad for people on both sides of the issue who need to live with that.
But as an American visiting, I really felt I had almost a special status. As a curious traveler and a TV producer, I felt it was very comfortable, and honestly never once felt at risk.
Would you recommend traveling in the Holy Land?
My work is to go to places and report on them so people can be comfortable, traveling there smartly, efficiently, economically, and in a way that broadens their perspective. Having traveled in the last year at length in Israel and Palestine, I am very enthusiastic about people traveling there. I felt safe the whole time.
There is a wonderful infrastructure for tourism. I would remind travelers to not fall into the rut of just going to Israel and then making a little beeline into Bethlehem to see the Church of the Nativity and coming back. If you're going to go to the Holy Land, it's not a balanced experience without actually sleeping in Israel and actually sleeping in Palestine.
Even on a "Holy Land history" kind of sightseeing tour, you can add a lot of value to your experience by connecting with people who live there today. Get to know Israelis. Get to know Palestinians. If nothing else, you'll come home appreciating why the land is treasured by people on both sides of that wall. And you'll find it harder to ignore the challenges facing the Holy Land.
Host Biography
Rick Steves advocates smart, affordable, perspective-broadening travel. As host and writer of the popular public television series Rick Steves' Europe, and best-selling author of over 50 European travel books, he encourages Americans to travel as "temporary locals." He helps American travelers connect much more intimately and authentically with Europe — and Europeans — for a fraction of what mainstream tourists pay.
Over the past 20 years, Rick has hosted over 100 travel shows for public television, and numerous pledge specials (raising millions of dollars for local stations). His Rick Steves' Europe TV series is carried by over 300 stations, reaching 95 percent of U.S. markets. Rick has also created two award-winning specials for public television: Rick Steves' European Christmas and the ground-breaking Rick Steves' Iran. Rick writes and co-produces his television programs through his company, Back Door Productions.
Rick Steves also hosts a weekly public radio program, Travel with Rick Steves. With a broader approach to travel everywhere, in each hour-long program Rick interviews guest travel expert, followed by listener call-ins. Travel with Rick Steves airs across the country and has spawned a popular podcast. Rick has also created a series of audio walking tour podcasts for museums and neighborhoods in Paris, Rome, Florence, Venice, London and Athens.
Rick self-published the first edition of his travel skills book, Europe Through the Back Door (now updated annually), in 1980. He has also written more than 50 other country, city and regional guidebooks, phrase books, and "snapshot" guides. For several years, Rick Steves' Italy has been the bestselling international guidebook sold in the U.S. In 2009, Rick tackled a new genre of travel writing with Travel as a Political Act, reflecting on how a life of travel has broadened his own perspectives, and travel can be a significant force for peace and understanding in the world. Rick's books are published by Avalon Travel, a member of the Perseus Books Group.
In addition to his guidebooks, TV and radio work, Rick is a syndicated newspaper columnist with the Tribune Media Services. He appears frequently on television, radio, and online as the leading authority on European travel.
Rick took his first trip to Europe in 1969, visiting piano factories with his father, a piano importer. By the time he reached 18, Rick jokes, "I realized I didn't need my parents to travel!" He began traveling on his own, funding his trips by teaching piano lessons. In 1976, he started Europe Through the Back Door (ETBD), a business which has grown from a one-man operation to a company with a well-traveled staff of 80 full-time employees. ETBD offers free travel information through its travel center, website, European Railpass Guide, and free travel newsletters. ETBD also runs a successful European tour program with more than 450 departures — attracting around 12,000 travelers — annually.
Rick is outspoken on the need for Americans to fit better into our planet by broadening their perspectives through travel. He is also committed to his own neighborhood. He's an active member of the Lutheran church (and has hosted the ELCA's national video productions). He's a board member of NORML (The National Organization for the Reform of Marijuana Laws). And Rick has provided his local YWCA with a 24-unit apartment building with which to house homeless mothers.
Rick Steves spends about a third of every year in Europe, researching guidebooks, filming TV shows, and making new discoveries for travelers. Rick was divorced in March, 2010. He lives and works in his hometown of Edmonds, Washington, where his office window overlooks his old junior high school.