Festive Europe Pledge Event
Rick Steves' Festive Europe catches Europeans celebrating the good life. Travel with Rick through Andalucía — with the horses, sherry, and flamenco of the Spring Fair; in Paris — reveling in the streets on Bastille Day; running with the bulls in Pamplona; and in England's pristine Lake District for a hunting dog show. All across Europe, life is embraced with an inspirational gusto.
---
Content: Segments from Rick Steves' Europe interspersed with fundraising breaks. During the breaks, Rick delivers strong mission pitches and offers compelling travel premiums. Length: 58 minutes. Released 2013.
Promotional Tool Kit
Promotional Media
Click on the images to view the full-sized JPGs. Right-click on the download link to save the image. For additional publicity shots of Rick, view our Downloads in the Press Room.
Premium Levels
Read a full description of the items by clicking to their product pages in our Travel Store.
Sustaining Member $10/Month Pledge Level
Rick Steves Europe Planning Map

Station Kit cost: $25.00
Market value: $109.98
Item #: ZZ-FESTIVEEUROPE
All Levels
"Rick Steves' Best Destinations" travel newsletter: 64 pages of stories, color photos, and graphics of Rick's top itineraries in Europe.

No market value
Item #: ZZ-Mail-Newsltr
Questions: [email protected]
To order, please contact:
[email protected]
Tel: 425-771-8303 ext. 240
Fax: 425-771-0833
Stations pay all shipping charges.
Premium Images
Download a composite JPEG (below), formatted for a 1920 x 1080 screen.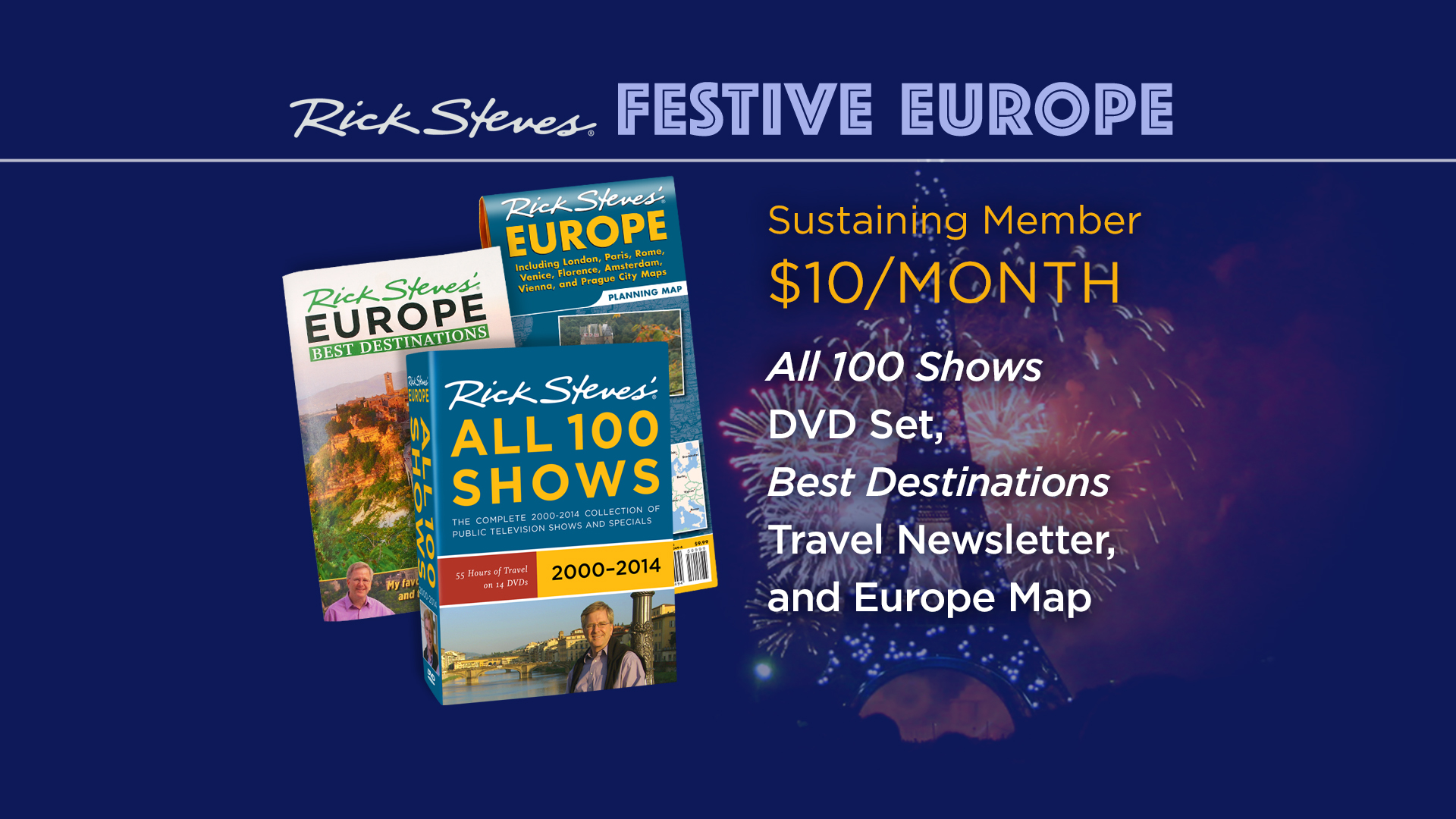 Sustaining Member Level: Download screen image
Download a layered Photoshop file containing the pledge level as an editable group.
Download high-resolution JPEGs of all premiums for use in your own layouts.