Travel as a Political Act Pledge Event
Rick Steves believes there's more to travel than good food and fun in the sun. Travelers who "travel as a political act" can have the time of their lives and come home smarter, with a better understanding of today's world. In his inspirational lecture, Rick explains how, when we venture thoughtfully out of our comfort zone, we gain an empathy for the other 96 percent of humanity and come home with the greatest of all souvenirs: a broader perspective.
---
Content: Rick presents his "Travel as a Political Act" slideshow lecture to a live audience, interspersed with two lively funding breaks. Length: approximately 90 minutes; also available as 60-minute lecture-only program with no funding breaks. Released 2018.
Promotional Tool Kit
Promotional Media
Click on the images to view the full-sized JPGs. Right-click on the download link to save the image.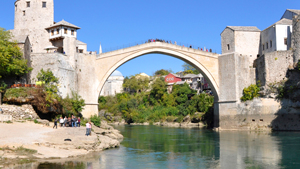 Old Bridge (Stari Most) in Mostar, Bosnia-Herzegovina. Download image.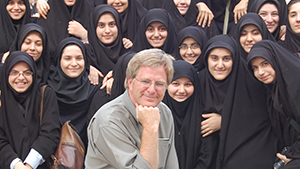 Rick with schoolgirls in Esfahan, Iran. Download image.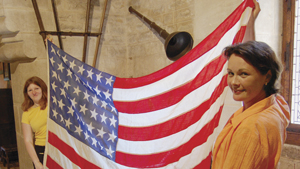 US flag flown on Liberation Day in 1945 over Château de la Rochepot in Burgundy, France. Download image.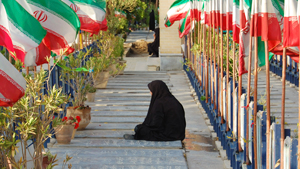 A mother mourning at her son's grave in a martyrs' cemetery in Esfahan, Iran. Download image.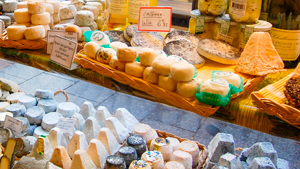 La Fromagerie cheese shop on Rue Cler in Paris. Download image.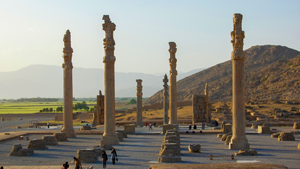 Ruins of the Gate of All Nations in Persepolis, Iran. Download image.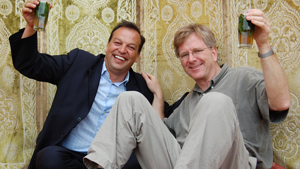 Rick and local guide Aziz Begdouri in Tangier, Morocco. Download image.
Premium Levels
Read a full description of the items by clicking to their product pages in our Travel Store.
$60 (or $5/month) Level
$180 (or $15/month) Level
All Levels
Rick Steves Travel Skills DVD: In this two-disc DVD set filled with information-packed travel lectures, Rick shares how to travel smoothly and affordably through Europe with practical tips on planning a trip, getting around, finding accommodations, staying safe, packing right, and more! Plus, Rick presents the history of European art from medieval through modern times and teaches how to broaden your perspective through travel, plus the bonus extra: Rick Steves Tour Experience.

No market value
Item #: DV-BD-TRV2

"Rick Steves' Best Destinations" travel newsletter: 64 pages of stories, color photos, and graphics of Rick's top itineraries in Europe.

No market value
Item #: ZZ-MAIL-NEWSLTR
Questions: angie@ricksteves.com
To order, please contact:
pledge@ricksteves.com
Tel: 425-771-8303 ext. 240
Fax: 425-771-0833
Stations pay all shipping charges.
Premium Images
Download composite JPEGs (below) of each pledge level, formatted for a 1920 x 1080 screen.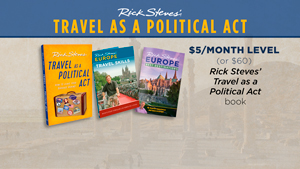 $60 Level: Download screen image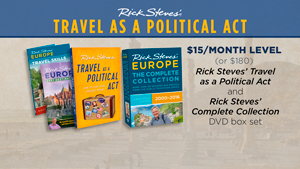 $180 Level: Download screen image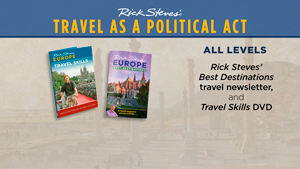 All Levels: Download screen image
Download a layered Photoshop file containing each pledge level as an editable group.
Download high-resolution JPEGs of all pledge premiums for use in your own layouts.