Eastern Adriatic 101: Croatia, Slovenia, and Beyond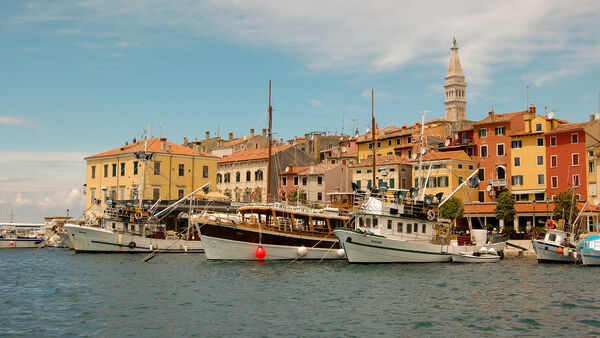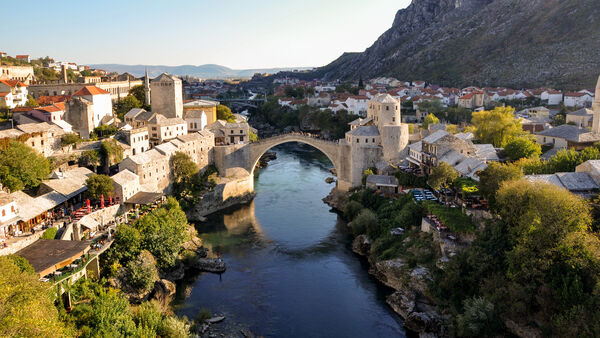 By Rick Steves and Cameron Hewitt
It's official: Croatia is hot. In the 1970s and 1980s, this sunny Adriatic paradise was a top-tier destination. Then its tourism industry, like the rest of the country, took a huge hit during the war of secession from Yugoslavia. But today, just over a decade after the war's end, Croatia is entirely safe, stable, and once again packed with visitors. And Croatia is just the beginning. Within a short hop of its borders are enticing destinations offering their own distinctive charms and a striking contrast to Croatia's lazy beaches. This western half of the former Yugoslavia — or, as locals prefer to call it, the "Eastern Adriatic" — is one of Europe's most enjoyable corners.
With 3,600 miles of seafront and more than 1,100 islands, Croatia's coastline is its main attraction. European holiday-makers love its pebbly beaches and predictably balmy summer weather. It's also historic — from ruined Roman arenas and Byzantine mosaics to Venetian bell towers and Habsburg villas, past rulers have left their mark up and down the coast. You'll also appreciate Croatia's melt-in-your-mouth seafood, in-love-with-life attitude, and irrepressible seafaring spirit.
Dubrovnik, the "Pearl of the Adriatic" at the southern tip of the country, is the undisputed darling of Croatia. This walled medieval city comes with a romantic Old Town, an epic history, and a relaxing central promenade.
Stretching north from Dubrovnik is the Dalmatian Coast, speckled with islands and delightful seaside villages. Frequent buses and ferries help you connect the dots. While you could spend weeks poking your way into every secluded cove and fishing hamlet, visitors with limited time choose one or two towns to focus on. The easiest and most rewarding options are Korčula and Hvar.
The island town of Korčula is famous as the birthplace of Marco Polo, whose former house is slated to eventually become a cutting-edge museum. It also boasts other quirky but engaging museums, a dramatic mountain backdrop, and the traditional Moreška sword dance, which reenacts a historical tale in performances usually held twice a week in summer. Hvar, another Dalmatian island town, has become hip with a young, jet-set crowd drawn to its laid-back, beach-bum aura.
The northern anchor of the Dalmatian Coast is Split, Croatia's second-largest city. While most Croatian coastal towns feel made for tourists, Split is real, vibrant, and bustling. Split's history goes way back. More than a millennium and a half ago, the Roman emperor Diocletian built his massive retirement palace here. Eventually, the palace was abandoned, squatters moved in, and a medieval town sprouted from the ancient rubble. To this day, 2,000 people live or work inside the former palace walls. A maze of narrow alleys is home to fashionable boutiques and galleries…and Roman artifacts around every corner.
The lesser-known Istrian coast, on Croatia's northern border, is home to one of the Mediterranean's most charming seafront towns: romantic, Venetian, photogenic Rovinj. Rovinj's lanes are delightfully twisty, its ancient houses are atmospherically crumbling, and its harbor — lively with real-life fishermen — is as salty as they come.
For an adventurous detour from the Croatian coast, head into Bosnia-Herzegovina. Harder hit by the recent war than Croatia, Bosnia-Herzegovina's recovery has been slower. But one of its showpiece cities, Mostar, is ready to welcome visitors once again. Here at a crossroads of civilizations, minarets share the skyline with church steeples. During the Ottoman Turks' centuries-long control of this region, many Slavic subjects converted to Islam. Still today, five times each day loudspeakers on minarets crackle to life, the call to prayer warbles through the streets, and Mostar's Muslim residents flock into the mosques.
The centerpiece of Mostar is one of Europe's most inspirational sights: the 16th-century Old Bridge. People around the world wept when they saw this icon of Yugoslav unity blown up in 1993. A decade later, the bridge was triumphantly rebuilt using the original materials and methods. In the cobbled Old Town surrounding the bridge, you can visit some mosque interiors, tour an old-fashioned Turkish-style house, and shop your way through the bazaar of souvenir stands. Beyond Mostar's reconstructed tourist zone, you'll still see many signs of the recent warfare — burned-out husks of buildings, unmistakable starburst patterns in the pavement, and bullet holes everywhere. It's a sobering and thought-provoking place, but adventurous travelers find Mostar to be a wonderful opportunity to round out their impressions of this region's full diversity.
For the cherry on top of your eastern Adriatic trip, head up to Slovenia, hiding in the mountains north of Croatia. Tiny, overlooked Slovenia is one of Europe's most unexpectedly pleasant destinations. At the intersection of the Slavic, Germanic, and Italian worlds, Slovenia is an exciting mix of the best of each culture. Slovenia's tidy capital city, Ljubljana, boasts some of the best outdoor cafés and people-watching in Europe.
Slovenia's top attraction is the mountain range arcing along its northern border. These are the Julian Alps — named for Julius Caesar — where mountain culture has a Slavic flavor. The Slovenian mountainsides are grooved with hiking paths, blanketed in a deep forest, and sprinkled with ski resorts and vacation chalets. Around every ridge is a peaceful alpine village sprawled around a Baroque steeple.
For the maximum high-altitude thrills, drive the 50 hairpin turns up and over the Vršič Pass, within yodeling distance of Austria and Italy. Then coast your way back down to civilization along the Soča River Valley, with more pristine scenery…and a history lesson. The mountaintops high above this valley saw some of the fiercest fighting of World War I. The Soča (or Isonzo) Front — later immortalized by a young ambulance driver named Ernest Hemingway in his novel A Farewell to Arms — is well-explained by the excellent museum in the town of Kobarid.
The best home-base for appreciating Slovenia's Alps is Lake Bled. Hike up to Bled Castle for breathtaking views across the region, wander the dreamy 3.5-mile path around the lake, then relax with some of the region's famous desserts. Try the irresistible cream cake, kremšnita — best enjoyed with an alpine panorama. In the middle of the lake is an impossibly quaint little church-topped island. Glide across the lake on a traditional pletna boat to the island, climb the 98 stairs to the top, make a wish, and ring the church bell. I make the same wish every time…and, sure enough, I always come back to the Adriatic.
---
Cameron Hewitt is the co-author of the Rick Steves Croatia & Slovenia guidebook.