Appreciating Dutch Clichés
By Rick Steves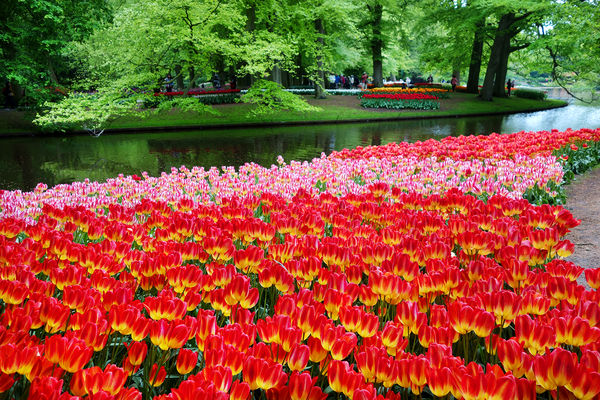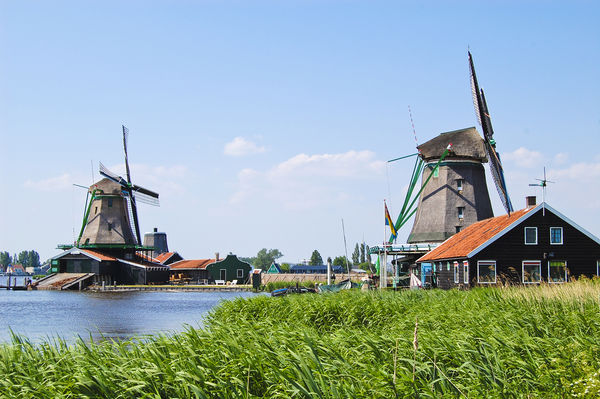 When you consider Dutch culture, you can't help but think about dikes, windmills, wooden shoes, and tulips. They seem cliché, but these classic icons intertwine with the region's geography and history.
Much of the country is below sea level, reclaimed with great effort over many generations from the North Sea. That's why the Dutch people like to say, "God made the world, but we made Holland."
This land is so small and flat that the Dutch claim if you stand on a chair, you can see all across their country. (To test this theory during one visit, I borrowed a chair from a farmer, and you really can see for miles!) This polder land — flat land reclaimed from the sea — is the source of several Dutch icons, beginning with wooden shoes that allowed farmers to walk across soggy fields. (They're also easy to find should they come off in high water, because they float.)
The Dutch employed hundreds of miles of dams and mighty barriers, or dikes, to protect their farms and communities from flooding. To pump out all that water, they used one of their leading natural resources: the wind. Windmills drained salt marshes and the Zuiderzee (the shallow bay in the northwest) one section at a time. What had once been fishing villages on little islands — like Schokland — are now high and dry mounds rising above fertile farmland.
The Dutch have been using windmills for centuries. Over a thousand survive, and many still work. Get a map and rent a bike (or take a bike tour), and you'll find mills just outside the capital city of Amsterdam. You can visit a windmill for a few euros, and sometimes even get a peek at the clever engine inside that powered this land's creation. Once, while climbing into a working windmill during a strong wind, I felt the wonder and excitement industrious people must have felt a thousand years ago when the technology to harness wind and water power with mills helped Europe come out of the Dark Ages.
Keeping this country dry is a constant battle. And with climate change and rising sea levels now a reality, the work is that much harder and more expensive. Famous for both their frugality and their foresight, the Dutch are investing billions of euros as climate change makes its costly impact felt on sea-level communities here and around the globe.
It's pretty easy to tell where the sea level was around here. If you scoop up a handful of dirt in polder country, it may come with some seashells. At first the salty seabed soil is barren, but with a mix of rain, sunshine, and clever crop rotation, it eventually becomes extremely fertile. Like magic, the Dutch have turned tidal flats into fields of flowers — another thing the country is famous for.
If you visit between mid-March and mid-May, a trip to Keukenhof is essential. This 80-acre park is the greatest bulb-flower garden on earth — with more than seven million blooming bulbs and 800 tulip varieties. It's just half an hour south of Amsterdam and well connected by public transport — but come early to avoid the crowds. I'm not one who's really into flowers, but when you arrive at Keukenhof and see all the gorgeous, colorful blooms, you appreciate just a little bit of what tulip mania is all about.
While Keukenhof is open only in the spring, any time of year you can see the Aalsmeer flower auction — the world's biggest flower-trading center — located not far from Amsterdam's airport. I always visit the cavernous building at its 7 a.m. opening to catch this beehive at its busiest. To get the flowers out as fresh as possible, everything happens fast, including the bidding.
A "Dutch auction" means that prices start high and tick down; buyers push a button when the auction clock — projected on huge screens — hits a price they're willing to pay. Trainloads of flowers roll through the hall, while outside, a Keystone Cops commotion of delivery cars makes sure all the flowers get to their locations that same day — anywhere in Europe.
Trolling the fragrant catwalk, it's fun to peer down on the operations. Up along the ceiling, suspended orange trams zip loads of flowers to the distribution center across the street, far more quickly and efficiently than trucks. Workers scramble to get each buyer's purchase assembled and shipped out. Every day from this building, millions of flowers are sent — including Holland's iconic tulips — destined to make someone's day.
I'm always wary of travel clichés, but they're not necessarily a bad thing. In Holland's polder country, as you pedal a bike past quaint gabled houses reflected in a mirror-smooth canal, gazing upon stunning rows of tulips and a whirring oak windmill, you realize…it's just like you imagined it.