Brussels: Where Political Power Meets Good Living
Belgium's cosmopolitan capital boasts top-notch art, architecture, and food — and a knack for not taking itself too seriously.

By Rick Steves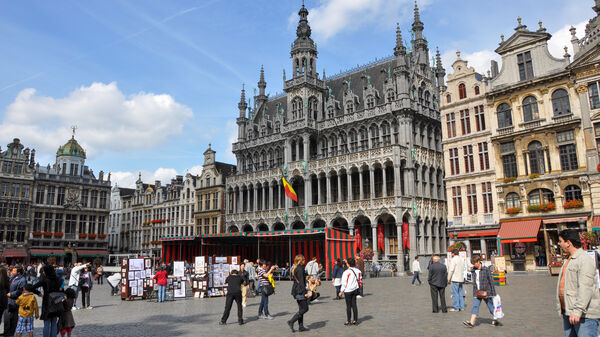 While it may be easy to skip Brussels when zipping between Amsterdam and Paris by train, the city's rich brew of food and culture pleasantly surprises those who stop. Brussels is one of Europe's great secrets: a city of 1.2 million, the capital of Belgium, the headquarters of NATO, and the political center of the European Union. A trade boom 500 years ago left this city with striking art and stately architecture. And it's once again a trade and cultural center of Europe.
Its magnificent grand square, aptly named La Grand Place, alone makes a visit worthwhile. From its medieval origins as a market for a small village, the Grand Place has grown into a vast public space enclosed by Old World buildings with stately gables. Today, the "Place" is the place to see Europe on parade. Visitors come to bask in the ambience, sample chocolate, and relax with a beer at an outdoor café.
My favorite budget meal in Brussels is simple grub in an atmospheric old pub with a gaggle of "beer pilgrims," who flock here from around the world to appreciate some of Europe's best brew and selection — you can sample among hundreds of Belgian varieties.
Make a point to order mussels in Brussels — they're served everywhere. They usually come in a big-enough-for-two bucket, and always with a pile of fries. Pro tip: Use an empty shell to tweeze out any hard-to-reach bits. And more importantly, don't call fries "French" in Brussels — while it's a matter of some dispute whether they originated in Belgium, they've certainly been perfected here.
A fine first stop after the Grand Place is the Royal Museums of Fine Arts of Belgium, a sprawling complex with a trio of museums that show off the country's best all-around art collection. I particularly like its Magritte Museum — with more than 250 paintings, it has the world's largest collection of works by surrealist René Magritte, who famously painted a picture of a pipe and wrote on the canvas "this is not a pipe." Although you won't see many of Magritte's most famous pieces here, this lovingly presented museum offers an unusually intimate look at the life and work of one of Belgium's top artists.
The complex's Old Masters Museum has a dazzling collection of masterpieces by Van der Weyden, Breugel, Bosch, and Rubens. And the Fin-de-Siècle Museum covers art of the late 19th and early 20th centuries, including an extensive Art Nouveau collection. The museum complex is nestled in the city's "Upper Town" district — little changed since the late 1800s, when Brussels was one of Europe's few truly cosmopolitan cities, and the capital of a colonial empire.
Today Brussels is the administrative center of the European Union. It hosts businesspeople from around the world — only Washington, DC, has more lobbyists. When Europeans have a gripe, this is where they demonstrate.
The Atomium, one of Brussels' more offbeat attractions, looms on the edge of town. This gigantic, silvery steel "molecule" has escalators connecting the various "atoms," fun space-age videos, and a view from the top sphere. (If you're scared of heights or tight spaces, tell your friends you'll wave to them…from the ground.)
Of course the city's quirkiest sight is easily the beloved Manneken-Pis — a tiny bronze statue of a lost boy taking a pee. The two-foot-tall peeing boy is an appropriately low-key symbol for the unpretentious locals, called Bruxellois. Made in 1619 to provide drinking water for the neighborhood, it's a reminder that this city, so famous for its sense of humor (and comic-book museum), has long had a joie de vivre.
It's tradition for visiting VIPs to bring the statue an outfit — and he also dresses up for special occasions — so you may see the Manneken peeing through a colorful costume. A sign on a nearby fence lists the month's festival days and how he'll be dressed. For example, on January 8, Elvis Presley's birthday, he's an Elvis impersonator; on Prostate Awareness Day, his flow is down to a slow drip. He can also be hooked up to a keg to pee wine or beer. The collection of costumes he's worn for three centuries — at GardeRobe Manneken-Pis — is just around the corner.
With each visit I find the gathering crowds as interesting as the quirky statue they've traveled to see. Hang out for a while and watch the commotion this little guy makes as tour groups come and go. When I was there last, a Russian man marveled at the statue, shook his head, and said, "He never stop!"
You may hear several silly legends about the origin of the Manneken. The truth is simple: The city commissioned the Manneken to show the freedom and joy of living in Brussels — where happy people eat, drink…and drink…and then pee. And 400 years later, things haven't changed.