Burgundy: Bulging Barrels, Barging, and Beyond
By Rick Steves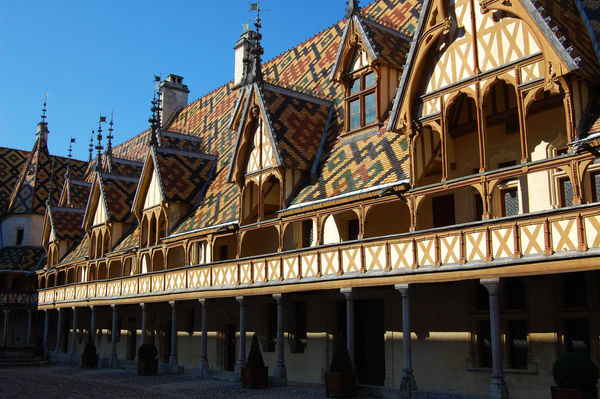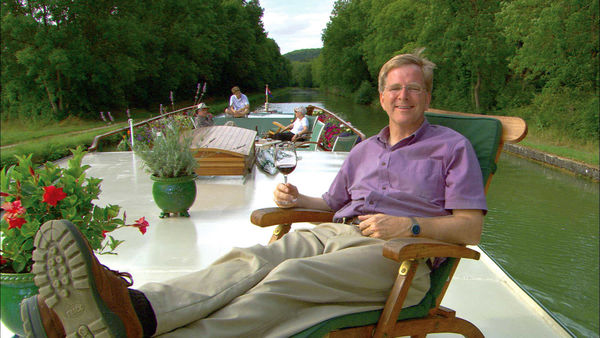 My favorite corner of France is bucolic Burgundy, a region overflowing with imbibable and scenic delights. Crisscrossed with lazy canals and dotted with quiet farming villages, it's easy to like — and its sunny hillsides produce the superior wines and fine cuisine that say "French."
The welcoming town of Beaune, snug within its medieval walls, makes a handy base for exploring the region. Medieval monks and the powerful dukes of Burgundy laid the groundwork that established this town's prosperity. (The monks cultivated wine, while the dukes cultivated wealth.) Life here still centers on the prestigious wines grown in the picturesque vineyards that surround the town.
The Hospice de Beaune, a medieval hospital, is the town's single must-see sight. Six centuries ago, concerned about the destiny of his soul, one of Burgundy's wealthy sons attempted to buy a ticket to heaven by building this charity hospital. Rich and poor alike came here to die (and a few of them even got better). The hospice's colorful, glazed roof tiles established the classic style repeated on medieval buildings all throughout Burgundy.
But Beaune's real charm is the town itself, which is especially vibrant on market day — Saturday — when colorful stands fill the square.
The production and consumption of wines from the hills of the famous Côte d'Or ("Gold Coast"), just south of Beaune, is big business in Burgundy — and its lovingly tended fields are practically a pilgrimage site for those versed in this drinkable art form. Every village produces its own distinctive wine, from Chablis to Meursault to Chassagne-Montrachet. At many wineries sightseers are welcome to drop in, enjoy a little tasting, and pick up a bottle or two. (Several of Beaune's many wine shops also offer tastings.) Burgundy's tree-lined roads make for pleasant drives or bike rides. Except for the rare farm vehicle, service roads are the domain of two-wheelers pedaling among the scenic villages.
North of the Côte d'Or is the renowned Abbey of Fontenay, one of the oldest Cistercian abbeys in France. Founded by St. Bernard in 1118 to provide his monks a place to recapture the simplicity, solitude, and poverty of the early Church, the idea was a hit — by 1200 Europe had more than 500 such monasteries and abbeys.
Incredibly, the abbey complex is still intact, and its secluded setting and lovingly tended gardens give it an almost magical air. It's easy here to picture medieval monastic life, and — for some, at least — to see its appeal.
At the western edge of Burgundy is Guédelon Castle, offering another way to time travel back to medieval France. A historian's dream, the castle is being built from scratch by 35 enthusiasts using only the tools, techniques, and materials available in the 13th century. The project aims to give visitors an appreciation of how castles were actually built, and for the builders to learn about medieval techniques while they work. The castle is still several years from completion, so you still have time to see the process in action.
Like much of France, Burgundy is laced with canals dug in the early Industrial Age. Two centuries ago, these canals provided the cheapest way to transport cargo. With the help of locks, you could actually ship your goods clear across France, from the Mediterranean to the Atlantic. Today, trucks and trains do the heavy hauling, and the canals are for relaxed barging.
While you can rent a boat and captain it through France's canals yourself, the more relaxing option — especially for first-timers — is to join a hotel-barge trip (or hire your own private captain and crew), and let someone else do the navigating, cooking, and local guiding. These trips usually last about a week, with a former working canal barge typically carrying no more than 20 passengers. No matter what kind of boat you're on, the basic barging experience is the same: a lazy, intimate glide through pastoral scenery.
Hotel barges have all the comforts you'd expect in a good hotel on land, and most include at least some meals as well as daily excursions. Fare served on board is local, seasonal, and some of the best the region has to offer.
Barge travel has two speeds: slow (about 4 miles per hour) and…stop. In Burgundy, barge rides are punctuated by a lock every mile or so, allowing boats to gently "climb," step by step, over the rolling terrain. It seems each lock's mechanisms have their quirks, and the friendly attendants who live in the historic lock houses make each stop a treat. The slow pace, and proximity the canal banks, make it easy to hop out for scenic bike rides or even take a walk along the towpath — just meet up with the barge at a lock farther along the canal.
The French, who invented our modern concept of a vacation, are on to something good with barging — and where better to enjoy it than amid the rolling hills, evocative history, and exquisite wines of Burgundy?