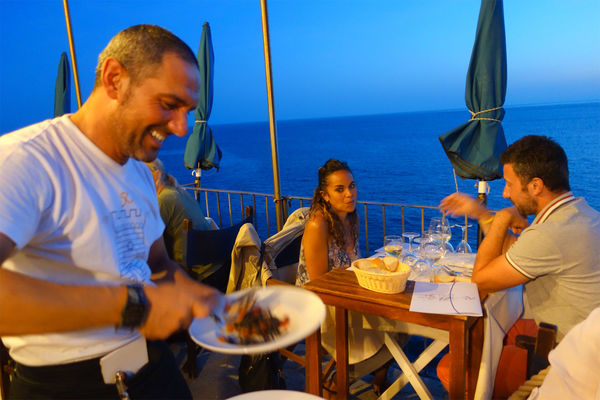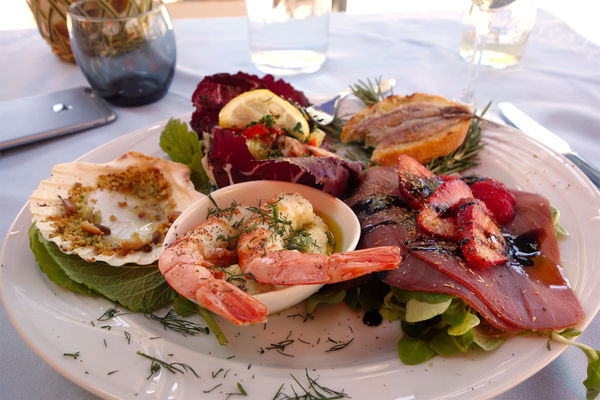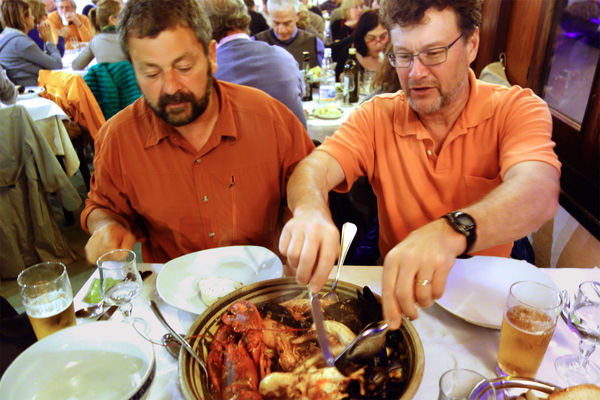 By Rick Steves
Hanging out at a sea-view restaurant while sampling local specialties could become one of your favorite memories of any visit to the five most scenic towns of the Italian Riviera.
The key staple here is anchovies (acciughe; ah-CHOO-gay) — ideally served the day they're caught. There's nothing cool about being an anchovy virgin. If you've always hated anchovies (the harsh, cured-in-salt American kind), try them fresh here. They can be prepared a variety of ways: marinated, salted, butterflied and deep-fried (sometimes with a delicious garlic/vinegar sauce called giada), and so on. Tegame alla vernazzana is the most typical main course in Vernazza: a layered, casserole-like dish of whole anchovies, potatoes, tomatoes, white wine, oil, and herbs.
While antipasto means cheese and salami in Tuscany, here you'll get antipasti ai frutti di mare (sometimes called simply antipasti misti), a plate of mixed "fruits of the sea" and a fine way to start a meal. Many restaurants are particularly proud of their antipasti ai frutti di mare — it's how they show off. For two diners, splitting one of these and a pasta dish can be plenty.
This region is the birthplace of pesto. Basil, which loves the temperate Ligurian climate, is ground with cheese (half parmigiano cow cheese and half pecorino sheep cheese), garlic, olive oil, and pine nuts, and then poured over pasta. Try it on spaghetti or, better yet, on trenette (the long, flat Ligurian noodle ruffled on one side) or trofie (short, dense twists made of flour with a bit of potato), both designed specifically for pesto to cling to. Many also like pesto lasagna, always made with white sauce, never red. If you become addicted, there's help: Small jars of pesto are sold in the local grocery stores and gift shops. If it's refrigerated, it's fresh; this is what you want if you're eating it today. For taking home, get the jar-on-a-shelf pesto.
Pansotti are ravioli with ricotta and a mixture of greens, often served with a walnut sauce (salsa di noci)...delightful and filling.
Focaccia, the tasty pillowy bread, also originates here in Liguria. Locals say the best focaccia is made between the Cinque Terre and Genoa. It's simply flatbread with olive oil and salt. The baker roughs up the dough with finger holes, then bakes it. Focaccia comes plain or with onions, sage, or olive bits, and is a local favorite for a snack on the beach. Bakeries sell it in rounds or slices by weight (a portion is about 100 grams, or un etto).
Farinata, a humble flatbread snack sold at pizza and focaccia places, is made from chickpea meal, water, oil, and pepper and baked on a copper tray in a wood-burning stove.
The vino delle Cinque Terre, while not one of Italy's top wines, flows cheap and easy throughout the region. It's white — great with seafood. For a sweet dessert wine, the Sciacchetrà wine is worth the splurge (€4 per small glass, often served with dunkable cookies). You could order the fun dessert torta della nonna ("grandmother's cake") and dunk chunks of it into your glass. Aged Sciacchetrà is dry and costly (up to €12/glass). While 10 kilos of grapes yield 7 liters of local wine, Sciacchetrà is made from near-raisins, and 10 kilos of grapes make only 1.5 liters of Sciacchetrà. The word means "push and pull" — push in lots of grapes, pull out the best wine. If your room is up a lot of steps, be warned: Sciacchetrà is 18 percent alcohol, while regular wine is only 11 percent.
In the cool, calm evening, sit on Vernazza's breakwater with a glass of wine and watch the phosphorescence in the waves.