Portofino
Italian Riviera
The Italian Riviera — the lowbrow, underappreciated alternative to the French Riviera — has a breezy beauty all its own. The Cinque Terre are tops: five idyllic hamlets along a rugged coastline, connected by scenic hiking trails and dotted with beaches. But nearby towns to the north (Levanto, Sestri Levante, Santa Margherita Ligure, and Portofino) have more beaches; towns to the south offer a mix of marble (Carrara), train connections (La Spezia), and yachts (Porto Venere).
Places
At a Glance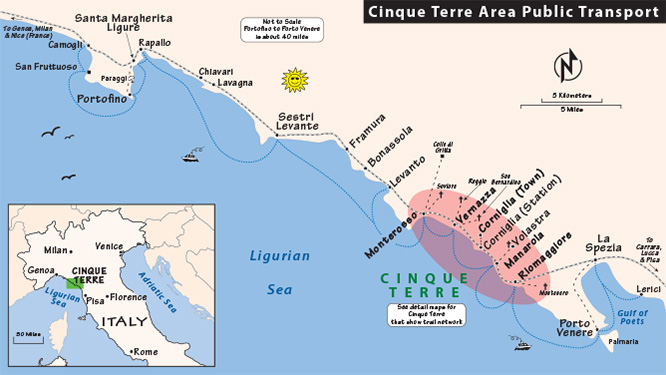 ▲▲ Vernazza The Cinque Terre's gem — the most touristy and dramatic — crowned with a ruined castle above and a lively waterfront cradling a natural harbor below.
▲▲ Monterosso Resorty, flat, and spread out, with a charming old town, a modern new town, and the Cinque Terre's best beaches, swimming, and nightlife.
▲▲ Manarola Mellow, hiking-focused waterfront Cinque Terre village wrapped in vineyards and dotted with a picturesque mix of shops and cliff-climbing houses.
▲▲ Santa Margherita Ligure Easygoing old-school resort town with an enjoyable urban bustle, a handful of sights and close proximity to Portofino.
▲ Riomaggiore The most workaday of the five Cinque Terre villages, with nightlife, too.
▲ Corniglia Quiet hilltop village known for its cooler temperatures (it's the only one of the five Cinque Terre villages set above the water), fewer tourists, and tradition of fine wines.
▲ Sestri Levante Charming town on a peninsula flanked by two crescent beaches.
▲ Portofino Yacht-harbor resort with grand scenery and easy connections (by boat, bus, or on foot) from Santa Margherita Ligure.
Levanto Town popular with surfers and families for its long beach; has speedy trains to the Cinque Terre.
La Spezia Beachless transportation hub, with trains and boats to the Cinque Terre and buses and boats to Porto Venere.
Carrara Home to world-famous marble quarries; handy stop for drivers between Pisa and La Spezia.
Plan
Photos
Watch
Read
Listen