Portofino
Italian Riviera
The Italian Riviera — the lowbrow, underappreciated alternative to the French Riviera — has a breezy beauty all its own. The Cinque Terre are tops: Five idyllic hamlets along a rugged coastline, connected by scenic hiking trails and dotted with beaches. But nearby towns to the north (Levanto, Sestri Levante, Santa Margherita Ligure, and Portofino) have more beaches; towns to the south offer a mix of marble (Carrara), train connections (La Spezia), and yachts (Portovenere).
Places
At a Glance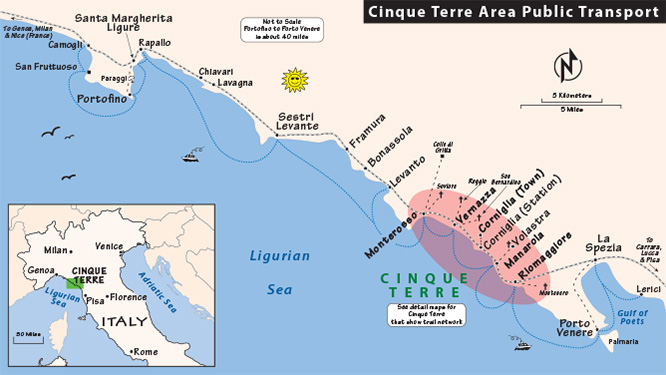 ▲▲▲ Vernazza The gem of the Cinque Terre, crowned with a ruined castle above and a lively waterfront cradling a natural harbor below.
▲▲ Monterosso Flat, spread out, and the most resorty of the Cinque Terre towns, with a charming old town, a modern new town, and the region's best beaches, swimming, and nightlife.
▲ Riomaggiore The biggest and most workaday of the Cinque Terre villages.
▲ Manarola Waterfront Cinque Terre village dotted with a picturesque mix of shops, houses, and vineyards.
▲ Corniglia Quiet hilltop village known for its cooler temperatures (it's the only one of the five Cinque Terre villages not on the coast), few tourists, and tradition of fine wines.
▲ Portovenere Enchanting village perfect as a scenic day trip by boat from the Cinque Terre.
▲ Levanto Surfers' hangout with a long beach and quick train connections to Monterosso and the rest of the Cinque Terre.
▲ Sestri Levante Charming town on a peninsula flanked by two nice beaches.
▲ Santa Margherita Ligure Easygoing old-school resort town with a handful of sights and easy connections to Portofino.
Portofino Glitzy resort that makes a fun day trip from Santa Margherita Ligure.
La Spezia Beachless transportation hub with the region's nitty-gritty essentials.
Carrara Home to world-famous marble quarries; handy stop for drivers between Pisa and La Spezia.
Plan
Photos
Watch
Read
Listen