Great Scares in Great Britain
By Rick Steves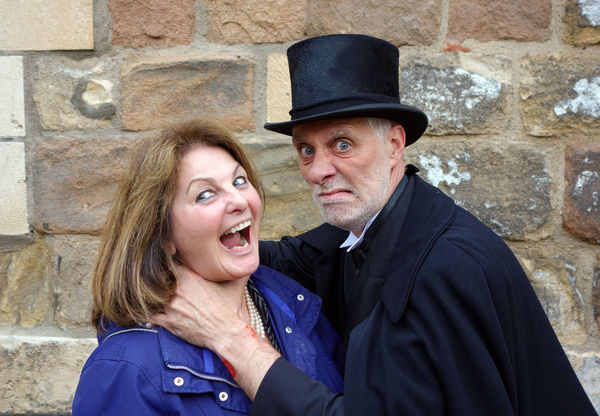 When the days get shorter, I start remembering some of the spookiest experiences I've had during my travels. One happened years ago when I was a tour guide, traveling around Great Britain with eight people in a minibus.
We checked in to a guesthouse on a hill, in a windy nether land that happened to be on one of the so-called "ley lines" that crisscross England. Some people believe builders brought Stonehenge's enormous stones to the site by using mystical energy along these straight lines, which supposedly connect ancient landmarks like hilltops, stone circles, and cairns. I don't know if we were picking up that energy, but within five minutes of checking into our rooms, a feeling of doom came upon every one of us, and we were all out in the hallway again. Like a bunch of cartoon characters, we all grabbed our bags, loaded up the bus, and drove out of there at full speed.
Whether you believe in mystical energy or not, Britain's pagan roots run deep, and a good place to tap into them is at a church dedicated to St. Michael. These were often built over sacred pagan sites, since the dragon-slaying archangel symbolizes the conquering of heretical faiths. According to a traveler I spoke to, an eerie feeling pervades one St. Michael's Church somewhere in Sussex, England. He told me that during a tour there, his compass arrow pointed toward a corner of its graveyard rather than to magnetic north, which could indicate paranormal activity (or simply a nearby deposit of magnetic ore). I'm tempted to try out a compass myself — possibly at St. Michael's Tower, on Glastonbury Tor, a terraced hill in southwest England. This place swirls with legends, and it's where the last abbot of Glastonbury Abbey (falsely accused of treason) was hanged, drawn, and quartered. Now, only St. Michael's three-story tower remains on a site that was inhabited at least since Paleolithic times.
For those who enjoy a good scare, Great Britain is loaded with ghostly walks; in northern England, historic York is a great place to take one. While ghost walks are often little more than goofy entertainment, if any city can claim to be legitimately haunted, it would be 2,000-year-old York, which has preserved its medieval streets and walls. Every evening, the old-town center is crawling with creepy, black-clad characters leading wide-eyed groups of tourists around. Walks are about $8 and generally come in one of three styles: historic and intellectual; comedic street theater; or classic, spooky storytelling. I spent an evening hopping on and off four different walks a couple of years ago…and woke up screaming at 2 a.m.
An array of spine-chilling walks around Edinburgh also make for an entertaining and affordable night out. Scotland's capital was Europe's witch-burning mecca — any perceived "sign," including a small birthmark, could condemn you — and reminders of these dark days remain scattered through the city.
Along the Royal Mile near St. Giles' Cathedral, the Heart of Midlothian — a heart-shaped brick mosaic in the pavement — marks the spot of the city's 15th-century municipal building and jail. Long ago in a nearby open space, criminals were hanged, traitors were decapitated, and witches were burned. Locals still spit on the heart in the pavement to show contempt for this spot.
The people of Edinburgh used to drown their witches in a big lake called the Nor' Loch. The lake was to the north (nor') of Edinburgh's Old Town, and served as the town's sewer, reservoir, and a handy place for testing those accused of witchcraft. With their thumbs tied to their ankles, they'd be lashed to dunking stools and dropped into the lake. If they floated, they were considered "aided by the devil," and were burned in front of the castle, providing the city folk a nice afternoon out. If they sank and drowned, they were innocent and given a good Christian burial. Although the lake was drained 200 years ago, memories of the countless women drowned as witches remain.
At the bottom of Edinburgh's esplanade just before the city's famed Royal Mile, you can see the witches' well, now a planter filled with innocent-looking blooms. Above it, a plaque memorializes 300 women accused of witchcraft and burned here. It's a sobering reminder that Scotland burned more witches per capita than any other country — 17,000 souls between 1479 and 1722.
While it's fun to revel in the scary corners of Great Britain, it's important to remember the history behind them. Whether you visit a stone circle, take a ghost tour, or encounter a haunted guesthouse, tap into the spirit of the past for a richer experience in the present.