Europe's Top Chagall Sights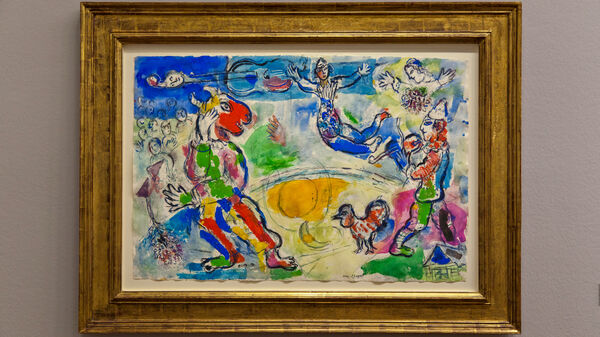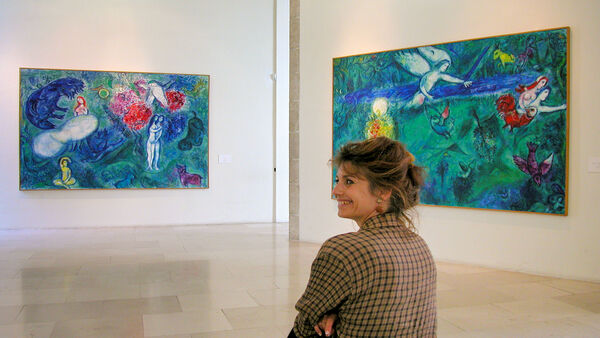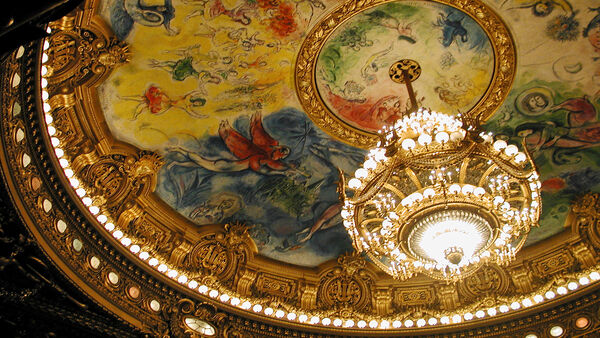 By Rick Steves, Gene Openshaw, and Steve Smith
At age 23, Belarusian-born Marc Chagall arrived in Paris in 1910 and embarked on a remarkable artistic career with the wide-eyed wonder of a country boy. Raised by a family with little means, and in time the survivor of the Communist Revolution, two world wars, forced exile, and the death of a beloved wife, his works — while often hard to interpret on a literal level — clearly capture the rosy spirit of a man in love with life.
In his art, lovers are weightless with bliss. Animals smile and wink. Musicians, poets, peasants, and dreamers ignore gravity, tumbling in slow-motion circles high above the rooftops. The colors are deep, dark, and earthy — a pool of mystery with figures bleeding through below the surface. (Chagall claimed his early poverty forced him to paint over used canvases, inspiring the overlapping "Cubist" images.)
Chagall's very personal style fuses many influences. He grew up in a small Belarusian village, which explains his "naive" outlook and fiddler-on-the-roof motifs. His simple figures are like Russian Orthodox icons, and his Jewish roots produced Old Testament themes. Stylistically, he's thoroughly modern: Cubist shards, bright Fauve colors, and Primitive simplification. This otherworldly style was a natural for religious works, and so his murals and stained glass, which feature both Jewish and Christian motifs, decorate buildings around the world.
Chagall employed a deceptively simple, almost childlike style to paint a world that's hidden to the eye — the magical, mystical world below the surface — with a number of distinct characteristics:
Deep, radiant colors, inspired by Expressionism and Fauvism (an art movement pioneered by Matisse and other French painters).
Personal imagery, particularly from his childhood in Russia — smiling barnyard animals, fiddlers on the roof, flower bouquets, huts, and blissful sweethearts.
A Hasidic Jewish perspective, the idea that God is everywhere, appearing in everyday things like nature, animals, and humdrum activities.
A fragmented Cubist style, multifaceted and multidimensional, a perfect style to mirror the complexity of God's creation.
Overlapping images, like double-exposure photography, with faint imagery that bleeds through, suggesting there's more to life under the surface.
Stained-glass-esque technique of dark, deep, earthy, "potent" colors, and simplified, iconic, symbolic figures.
Gravity-defying compositions, with lovers, animals, and angels twirling blissfully in midair.
Happy (not tragic) mood depicting a world of personal joy, despite the violence and turmoil of world wars and revolution.
Childlike simplicity, drawn with simple, heavy outlines, filled in with Crayola colors that often spill over the lines. Major characters in a scene are bigger than the lesser characters. The grinning barnyard animals, the bright colors, the magical events presented as literal truth...Was Chagall a lightweight? Or a lighter-than-air-weight?
Couples turn up again and again in Chagall's works, reflecting his belief that humans loving each other mirrored God's love of creation. Chagall enjoyed the love of two women in his long life — his first wife, Bella, then Valentina, who gave him a second wind later in life. Where the Bible uses the metaphor of earthly, physical, sexual love to describe God's love for humans, Chagall used unearthly colors and a mystical ambience to celebrate human love.
Top Chagall Sights in Europe
Even if you don't get modern art, this museum — with the world's largest collection of Marc Chagall's work in captivity — is a delight. After World War II, Chagall returned from the United States to settle in St-Paul-de-Vence, not far from Nice. Between 1954 and 1967 he painted a cycle of 17 large murals designed for, and donated to, this museum. These paintings, inspired by the biblical books of Genesis, Exodus, and the Song of Songs, make up the "nave," or core, of what Chagall called the "House of Brotherhood." Combining his Russian and Jewish heritage with the Christian message, he hoped this would be a place where people of all faiths could come together and celebrate love.
In his Old Testament scenes, each painting is a lighter-than-air collage of images that draws from Chagall's Russian folk-village youth, his Jewish heritage, the Bible, and his feeling that he existed somewhere between heaven and earth. He believed that the Bible was a synonym for nature, and that color and biblical themes were key for understanding God's love for his creation. Chagall's brilliant blues and reds celebrate nature, as do his spiritual and folk themes.
This small church in the center of Switzerland's biggest city was founded in 853, when Zürich was little more than a village. (The current building, which sits on the same footprint as its predecessor, dates from 1250.) Today, it's famous for its collection of 30-foot-tall stained-glass windows by Chagall.
Chagall's inimitable painting style — deep colors, simple figures, and shard-like Cubism — is perfectly suited to the medium of stained glass. Blending Jewish and Christian traditions, Chagall created a work that can make people of many faiths comfortable.
Zürich's main art museum hosted a Chagall retrospective in 1967. It so impressed the Fraumünster's pastor that he offered the world-famous artist a commission. To his surprise, the 80-year-old Chagall accepted. Chagall designed the windows to stand in the church's spacious choir zone behind the altar — a space where he intuitively felt his unique mix of religious themes could flourish.
For the next three years, Chagall threw his heart and soul into the project, making the sketches at his home on the French Riviera, then working in close collaboration with a glassmaking factory in Reims, France. After the colored panes were made, Chagall outlined the figures in black, which were then baked into the glass. Chagall spent weeks in Zürich overseeing the installation, completed in 1970.
Everyone comes away with a different interpretation of this complex work, which combines images from throughout the Bible. Some feel that the tall, skinny windows seem to emphasize the vertical connection between heaven above and earth below, both bathed in the same colored light. Some think Chagall used colors symbolically: Blue and green represent the earth; red and yellow, heavenly radiance. But all recognize that the jumble of images — evoking the complexity of God's universe — reaches its Point Omega in the central window, celebrating the idea of salvation through Christ's crucifixion.
The cathedral of Reims is a glorious example of Gothic architecture, and one of Europe's greatest churches. Clovis, the first Christian king of the Franks, was baptized at a church on this site in AD 496, establishing France's Christian roots, which still hold firm today. Since Clovis' baptism, Reims Cathedral has served as the place for the coronation of 26 French kings — it is to France what Westminster Abbey is to England.
Luckily, World War II spared the church, and since then it has come to symbolize reconciliation. A French plaque set in the pavement just in front recalls the 1962 Mass of Reconciliation between France and Germany. And in 1974 March Chagall created a luminous set of stained-glass windows for its apse. The left window illustrates scenes from the Old Testament, with the Tree of Jesse reaching up to Mary with the Christ Child. In the central panels, the cohesion of the Old and New Testament scenes is emphasized by the ladder that connects one to the other. On the right the Tree of Jesse — essentially a genealogical diagram of Christ's lineage — is extended to symbolically include the royalty of France, thus affirming the divine power of the monarchs and stressing their responsibility to rule with wisdom and justice.
A gleaming grand theater of the belle époque (and the inspiration for The Phantom of the Opera), the Palais Garnier was built for Napoleon III and finished in 1875. Its red-velvet performance hall is topped by a colorful Chagall ceiling mural that playfully dances around the eight-ton chandelier.
You don't need an opera ticket to get inside — at least twice a week you can take a 90-minute guided tour in English, and on most days you can visit on your own (though the auditorium is sometimes off-limits during performances and rehearsals).
This fine museum, located in a beautifully restored Marais mansion, tells the story of Jewish communities in France and throughout Europe through their long cultural heritage. Displays illustrate the cultural unity maintained by this continually dispersed population, and include paintings by Chagall and other famous Jewish artists, such as Amedeo Modigliani and Chaim Soutine.
More Chagall sights
Chagall's work is on permanent display in several other art museums and churches across Europe, including the Stedelijk Museum in Amsterdam, the Kunsthaus Zürich, the Fondation Maeght in St-Paul-de-Vence (also the site of his grave), Ca' Pesaro International Gallery of Modern Art in Venice, Venice's Peggy Guggenheim Collection, the Albertina in Vienna, and even in Helsinki at the Ateneum, the National Gallery of Finland.
---
Gene Openshaw is the co-author of Rick Steves' Europe 101: History and Art for the Traveler; Steve Smith is the co-author of the Rick Steves Provence & the French Riviera guidebook.