Villefranche-sur-Mer
French Riviera
A hundred years ago, celebrities from London to Moscow flocked to the French Riviera to socialize, gamble, and escape the dreary weather at home. Today, budget vacationers and heat-seeking Europeans fill belle-époque resorts at France's most sought-after fun-in-the-sun destination. Some of the Continent's most stunning scenery and intriguing museums lie along this strip of land — as do millions of sun-worshipping tourists. (For a breezy and photogenic escape from the beach scene, head inland and upward to explore some of France's most perfectly perched hill towns and splendid scenery.) Evenings on the Riviera, a.k.a. la Côte d'Azur, were made for a promenade and outdoor dining.
Places
At a Glance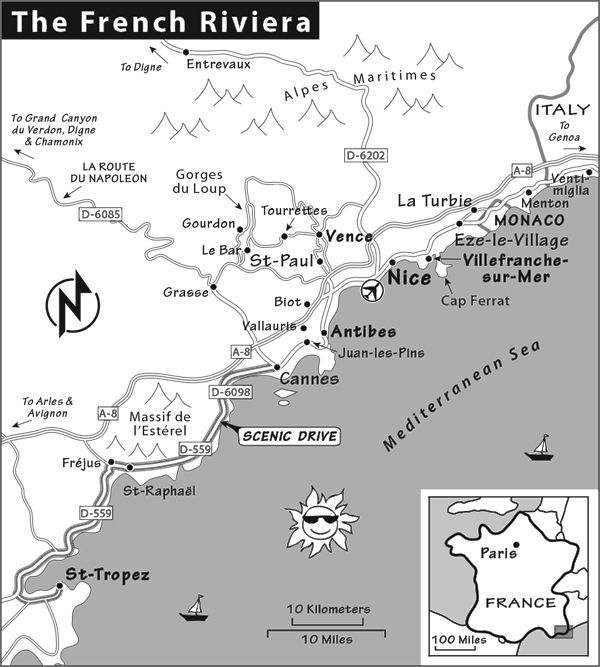 ▲▲▲ Nice The Riviera's metropolis, with a sun-drenched promenade, a delightful French-Italian old city, and museums dedicated to Chagall and Matisse.
▲▲▲ Villefranche-sur-Mer Romantic Italianate beach town with a serene setting and small-town warmth.
▲▲ Monaco Tiny independent principality, known for its Grand Prix car race and classy casino.
▲▲ Cap Ferrat Exclusive, woodsy peninsula that makes for a peaceful eddy off the busy Nice–Monaco route (the Low Corniche).
▲▲ Eze-le-Village Little cliff-topping "village of art and gastronomy" (as it calls itself) that's home to perfume outlets, stylish boutiques, and great views.
▲▲ Inland Riviera Perfectly perched hill towns of Vence and St-Paul-de-Vence (France's most-visited village), the perfume capital of Grasse, and the spectacular Grand Canyon du Verdon.
▲▲ Antibes Laid-back beach town, with a medieval center and Picasso Museum.
▲ St-Tropez Luxurious, charming port town in the Riviera's far west.
Cannes Glamorous resort filled with sandy beaches, movie stars, and big, exclusive hotels.
Plan
Photos
Watch
Read
Listen