Sweden's Glass Country Sparkles
By Rick Steves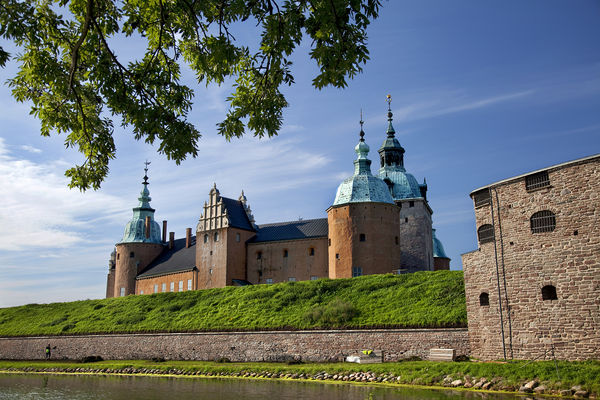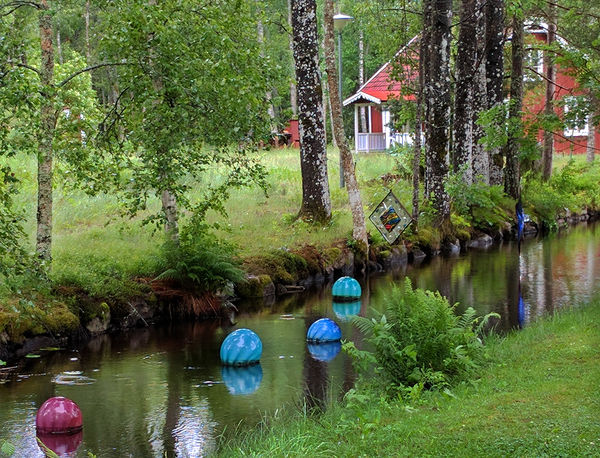 You can blame my Norwegian heritage, but I'm not so hot on the Swedish countryside. Even so, you can't say you've seen Sweden if you've only been to Stockholm. Rural Sweden — especially the province of Småland — is a worthy addition to any Scandinavian itinerary.
Covering the entire southeast coast and running deep into the interior, Småland's most appealing corner is bookended by the smallish towns of Kalmar and Växjö (locals say VEK-hwuh; Stockholmers pronounce it VEK-shuh). In between lies Sweden's famous "Glasriket," Glass Country, sparkling with glassblowing studios.
It's no surprise that glassmaking caught on here. The necessary resources are abundant: The region is densely forested (endless wood to fire the ovens) and blanketed with lakes (ample sand to melt into glass). Glassblowers have been at work in Småland since at least 1742.
Glass Country's first boom came during the difficult 19th century — when a sixth of Sweden's population emigrated to America as the country's iron mills were closing. The Småland laborers who stayed behind were highly skilled at working with materials at high temperatures. Glassmaking became their salvation, and by the early 1900s, this region had more than 100 workshops creating everyday glasses, vases, bowls, and bottles. One local who left for America later helped design the iconic Coca-Cola bottle.
There are fewer glassworks now — cheaper imported glass has taken its toll. Today's Glass Country artisans have refocused their efforts, emphasizing high-quality, high-end art pieces and welcoming guests to tour (and shop) their workshops.
There's something deeply satisfying about a visit to a glasbruk. Even at the bigger places — and especially at the smaller ones, you'll feel genuine artistic energy in the air, as glassblowers persuade glowing globs of molten glass to take shape. Demonstrations are intimate — you'll be close enough to feel the heat from the glowing furnaces.
The storied Kosta Boda workshop dominates, with a flagship campus in the village of Kosta that's complete with plush hotel, art glass gallery, and a discount seconds shop. But there are many friendly independent producers scattered throughout the woods, where you'll be invited into a simple barn-like studio to watch glassblowers at work — and nearly all demonstrations are free).
Glass Country also sustains the only artisan papermaking workshop in Scandinavia. Tucked next to a giant modern paper plant, the tiny 300-year-old Lessebo mill, offering daily tours, follows each hands-on step for making fine paper: soaking cotton and linen fibers until they become pulp, packing the fiber into a frame, then pressing, drying, glazing, and hand-tearing the paper into the perfect size and shape. Swedes covet this traditional paper for special-occasion invitations and announcements.
If art's not your thing, check out local critters at the Moose and Farm Animal Park. At this offbeat attraction (just outside the village of Kosta), you'll walk through the moose-happy gift shop before taking a mile-long stroll around the perimeter of a pen holding live moose. Life-size dioramas with stuffed moose (including one plastered to the hood of a car) round out the attraction. You can even buy moose sausage to grill on-site.
Because the 70-mile stretch of the Glass Country between Växjö and Kalmar is relatively undeveloped, most visitors tour the glassworks by day, then sprint to the nearby coastal town of Kalmar for dinner and a bed. History students may remember Kalmar as the place where Norway, Sweden, and Denmark signed a 1397 treaty that united their countries into one huge kingdom. That union lasted about a hundred years before dissolving in the 16th century…and since then, even the European Union hasn't been able put them back together again.
Historic Kalmar has an Old World ambience that's rare in Scandinavia. It's dominated by a moated castle that makes for a great medieval experience. With stout watchtowers, park-like ramparts, and a creaky, drafty interior, this place was a royal hub for centuries. But when the Swedish border shifted south in the mid-17th century, the castle lost its strategic importance. No matter — it's now the biggest attraction in Kalmar, and well worth a visit.
Besides the famous castle, the town offers a cozy, cobblestoned center. For a small city, you'll find a surprising number of good dining options. The restaurants survive on the town's short, intense summer season, when vacationing Swedes make the streets lively day and night. If you drop by the café/tea parlor Kullzénska, tucked into an 18th-century house, you'll be surrounded by locals enjoying warm berry cobbler and richly brewed coffee — the classic Swedish fika (coffee break).
If you're lucky enough to be in Kalmar on a hot summer day, stroll out to its beach — a festive and happy slice of Swedish life. With snack stands, sand castles, and views of the castle, the beach makes Kalmar an unexpected fun-in-the-sun stop. For people-watchers, it's a combination of Swedish beauty pageant and tattoo show. For me, it's the best possible dose of authentic, off-the-beaten-path Sweden.