Once the Sun Goes Down, Venice Shines
By Rick Steves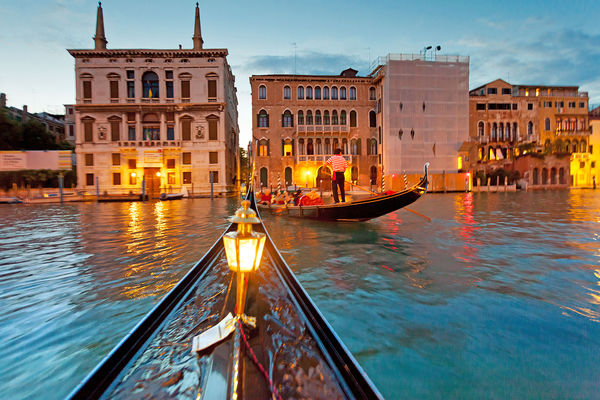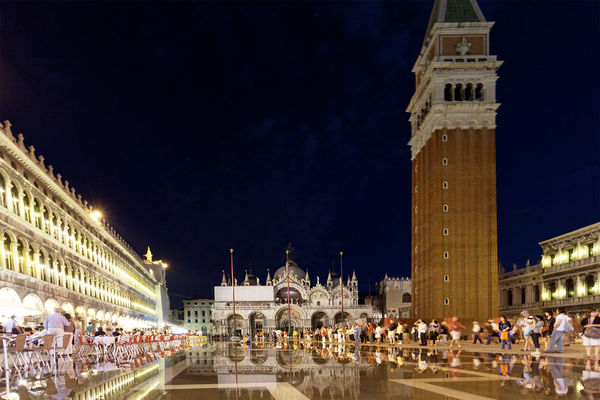 I love Venice at night, and recently, I was reminded why. The evening started at one of my favorite Venice restaurants. The chef served up a seafood bounty from the lagoon, accompanied by deliciously grilled local vegetables and polenta. After dinner, twinkling from my sprightly Venetian white wine, I wandered through the tangle of back lanes, musty with history, pausing on lonely bridges to watch gondolas glide silently by. Finally, I turned the corner onto St. Mark's Square — perhaps the most beloved square in all of Europe, where the age-old glories of Venice still swirl. The lights were on, and the arrival of aqua alta (high water) had flooded the square, creating an array of reflections.
While Venice's splendid decay is undeniably charming by day, it's especially memorable after dark. Near the end of the day, the stifling crowds thin out as hordes of day tourists retreat to their cruise ships and mainland hotels. Then, as the sun goes down, a cool breeze blows in from the lagoon, the lanterns come on, the peeling plaster glows in the moonlight, and Venice resumes its position as Europe's most romantic city.
Evenings are made for wandering. Even Venice's dark and distant back lanes are considered very safe after nightfall. You can enjoy a slow dinner in a romantic canalside or piazza setting, or eat your way through a Venetian pub crawl.
This tradition is unique to Venice — where no cars means easy crawling — and is known as a giro d'ombra. Giro means "stroll," and ombra (slang for a glass of wine) means "shade," from the old days when a portable wine bar scooted with the shadow of the Campanile (bell tower) across St. Mark's Square.
Venice's residential back streets hide plenty of bacari: characteristic bars serving trays of interesting toothpick-munchies called cicchetti — deep-fried mozzarella, calamari, artichoke hearts, crostini with various toppings, marinated seafood, and prosciutto with melon. While you can order a plate of assorted appetizers, Venetians prefer going one-by-one, sipping their wine and trying this and that. Eating ugly things on toothpicks in a series of characteristic bars is one of my favorite Venice activities.
Since bars don't stay open very late, and the cicchetti selection is best early, start your evening by 6 p.m. By 10 p.m., restaurants are winding down; by 11 p.m., many bars are closing — and by midnight, the city is shut tight.
Venice also has a busy schedule of events, church concerts, festivals, and entertainment, including, of course, Carnevale, the yearly masquerade party. The free monthly Un Ospite di Venezia lists all the latest happenings.
Especially popular are Baroque concerts, held at churches all over town. The concerts — sometimes performed by musicians in wigs and tights — generally focus on the music of Vivaldi, who, having been born in Venice, is as ubiquitous here as Strauss is in Vienna and Mozart in Salzburg. The Interpreti Veneziani orchestra, considered the best group in town, generally performs concerts nightly inside the sumptuous San Vidal Church.
Opera is also popular in Venice, with venues like La Fenice (the grand old opera house). But even if you don't appreciate opera, consider a performance at Musica a Palazzo. This evening of opera is a treat, as you'll spend it under Tiepolo frescoes at a Venetian palace on the Grand Canal. Each act, performed by a small group of musicians, is set in a different lavish room.
For many travelers, the best entertainment is just being in St. Mark's Square after dark, as dueling café orchestras entertain. Every night, enthusiastic musicians play the same songs, creating the same irresistible magic. The ultimate music scene is at the venerable Caffè Florian. The price to sit outside and sip an espresso is not cheap (at least €15), but if you stay awhile, this is money well spent. A cheaper option is Gran Caffè Chioggia, which doesn't charge extra for music and has good jazz nightly.
Of course, the ultimate after-dark activity in Venice is a gondola glide through the canals. This experience just about defines the word "romantic," and you see details of the city that mere pedestrians miss. Gondola prices go up at night, but it's worth it.
Glide through nighttime Venice with your head on someone else's shoulder. Follow the moon as it sails past otherwise unseen buildings. Silhouettes gaze down from bridges while window glitter spills onto the black water. As during the day, it's the city itself that is the star. But Venice under a cloak of darkness has an extra dose of magic and mystery — the ambience that has attracted visitors since the days of Casanova.