Vienna's Monument Against War and Fascism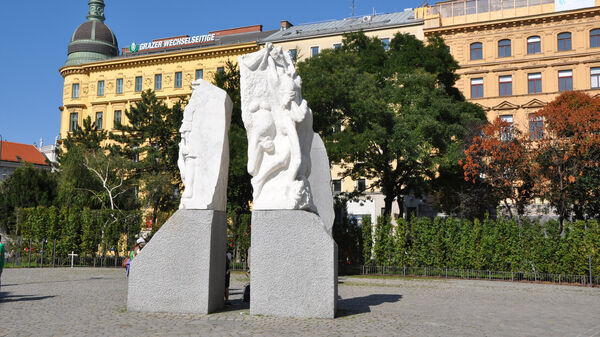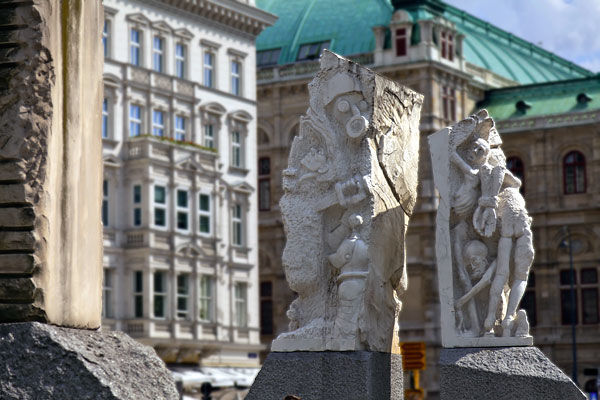 By Rick Steves
While waltzing from the Hofburg Palace to a plate of Sacher torte, don't miss a powerful memorial standing on Albertinaplatz, behind Vienna's Opera House: the Monument Against War and Fascism, which commemorates the dark years when Austria came under Nazi rule (1938–1945).
The memorial has four parts. A split white monument, The Gates of Violence, remembers victims of all wars and violence. Standing directly in front of it, you're at the gates of a concentration camp. Then, as you explore the statues, you step into a montage of wartime images: clubs and WWI gas masks, a dying woman birthing a future soldier, victims of cruel medical experimentation, and chained slave laborers sitting on a pedestal of granite cut from the infamous quarry at Mauthausen concentration camp. A hunched-over figure on the ground behind is a Jew forced to scrub anti-Nazi graffiti off a street with a brush.
Of Vienna's 200,000 Jews, more than 65,000 died in Nazi concentration camps. A sculpture with its head buried in the stone is Orpheus entering the underworld, meant to remind Austrians (and the rest of us) of the victims of Nazism…and the consequences of not keeping our governments on track. Behind that, the 1945 declaration that established Austria's second republic — and enshrined human rights — is cut into the stone.
Viewing this monument gains even more emotional impact when you realize what happened on this spot: During a WWII bombing attack, several hundred people were buried alive when the cellar they were using as shelter was demolished.
Austria was led into World War II by Germany, which annexed the country in 1938 with disturbingly little resistance, saying Austrians were wannabe Germans anyway. But Austrians are not Germans (this makes for an interesting topic of conversation with Austrians you may meet). They're quick to proudly tell you that Austria was founded in the 10th century, whereas Germany wasn't born until 1870. For seven years just before and during World War II (1938–1945), there was no Austria. In 1955, after 10 years of joint occupation by the victorious Allies, Austria regained total independence on the condition that it would be forever neutral (and never join NATO or the Warsaw Pact). To this day, Austria is outside of NATO (and Germany).