Hallstatt
Austria
Small, landlocked Austria offers alpine scenery, world-class museums, cobbled quaintness, and Wiener schnitzel. Unlike Germany, its industrious neighbor to the northwest, Austria is content to bask in its good living and elegant, opulent past as the former head of one of Europe's grandest empires. Austrians tend to be relaxed, gregarious people who love the outdoors as much as a good cup of coffee in a café.
Places
At a Glance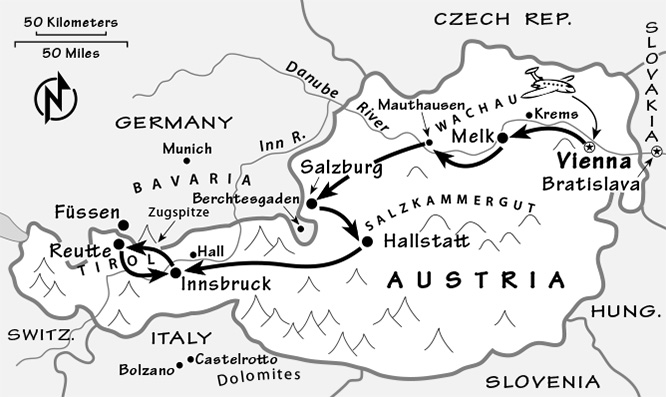 ▲▲▲ Vienna Austria's regal capital city, rich with swirling architecture and world-class museums; impressive Habsburg sights (Schönbrunn Palace, in-city royal apartments, treasury, crypt, and Lipizzaner stallions); massive St. Stephen's Cathedral; and a grand classical-music tradition, from the renowned Vienna State Opera to its famous Boys' Choir.
▲▲▲ Salzburg Musical mecca for fans of Mozart and The Sound of Music, offering a dramatic castle, Baroque churches, near-nightly concerts, and an old town full of winding lanes. And just across the border is the German resort of Berchtesgaden, soaked in alpine scenery and Nazi history.
▲▲ Hallstatt and the Salzkammergut Scenic lake district, home to the halcyon village of Hallstatt, with its medieval town center, fun salt mine, plentiful hiking opportunities, and placid swan-filled lake.
▲▲ Tirol Austria's panhandle region and mountain-sports mecca, centering around the distinctive city of Innsbruck, plus little neighboring Hall, with its quaint old town. In the northwest lie the towering Zugspitze peak and the sleepy burg of Reutte, just across the border from Germany's Neuschwanstein castle. (And right over the southern border are the rugged Dolomites of Italy's South Tirol region.)
▲ Danube Valley Romantic, bikeable valley west of Vienna, dotted with ruined castles, adorable villages and vineyards, and highlighted by the beautiful "Wachau" stretch between Melk (with its glorious abbey) and the riverside town of Krems. Farther west is the powerful Mauthausen concentration-camp memorial.
Plan
Photos
Watch
Read
Listen