Eiffel Tower in Paris

Notre-Dame Cathedral in Paris

Hôtel Dieu in Beaune, France

Swiss Alps

Odeonsplatz in Munich

Venice

Manarola in Italy's Cinque Terre

Colosseum in Rome

Vatican City in Rome
Tour Questions? See our FAQ | Call 425-608-4217
My Way® Europe in 14 Days Tour
On a two-week, "greatest hits" route that takes you from Paris to Rome — via Burgundy, the Swiss Alps, Munich, Venice, and the Cinque Terre — Rick Steves' money-saving My Way Europe tour gives you the freedom to decide your own daily sightseeing priorities and pace. We cut the stress by providing comfortable rooms in centrally located hotels, private bus transportation from city to city, and a Euro-savvy tour manager to help advise you along the way. Join us for My Way®: Europe in 14 Days!
Dates & Prices
What's Included
This is an "un-guided" tour — giving you the freedom (and responsibility) to manage your daily sightseeing schedule and meals
A small, friendly group of 24–28 people will share our big, comfy bus during the trip, but not do organized sightseeing together
A Rick Steves tour manager will coordinate the group's transportation and hotel arrangements, and provide advice for sightseeing, meals, etc.
All group transportation from Paris to Rome
13 nights accommodations (all stops but one are for two nights) in memorable, centrally located hotels
All breakfasts are included
All tips for tour manager and driver
Free Audio Europe™ app for Apple and Android (or get free podcast/mp3 files) featuring Rick's audio walking tours of sights, museums, and neighborhoods in Paris, Munich, Venice, and Rome. Also includes Rick's radio interviews with experts on destinations covered in this itinerary
Rick Steves Travel Store credit to use toward guidebooks for your trip
Guaranteed tour price, locked in the moment you make your deposit
Optional single supplements — this tour has a limited number of private rooms for solo travelers for an additional fee
Tour alum discount of $50 for each tour you've taken prior to 2016
50% discount on a consulting appointment with our in-house experts to assist with your pre- or post-tour travel plans
Flexibility should you need to transfer, or cancel/interrupt your tour
Fine print: You are responsible for the cost of your drinks and free-time sightseeing. See our Tour Conditions Agreement for important details regarding everything listed above.
Itinerary
Sightseeing notes
(r) = reserve a time before you leave the USA
* = included in Rick's audio walking tours
Day 1: Welcome to Europe
Welcome to Paris, one of the world's most thrilling cities! Today is a great day to start tackling some of Paris' amazing museums: the Louvre*, the Cluny, the Rodin, the Orsay* and the Pompidou (plan accordingly; many museums are closed one day a week). We'll rendezvous at our hotel at 5 p.m. to meet your tour manager and have a group get-together. Your tour manager will give an overview of the days ahead, answer your questions, and offer a quick orientation to our neighborhood and Paris' easy-to-use public transportation. Then you're free for dinner on your own. This evening you could stroll around the brilliantly lit Eiffel Tower(r) and enjoy a twilight ride to the top. Or, enjoy the view from below, aboard one of Paris' numerous floodlit Seine River cruises. Sleep in Paris (2 nights).
Day 2: All Day in Paris
Today Paris is all yours. With the Best of Europe guidebook and Rick Steves audio tours in hand, you might begin your day where Paris did — on the Ile de la Cité* — visiting Notre-Dame Cathedral* and exquisite Sainte-Chapelle*. Or explore the sprawling grounds of the ultimate royal palace at Versailles* — every King's dream. This evening, head up to Montmartre to savor the bohemian flair of Amélie's "village Paris" and take in the breathtaking vistas from the Sacré-Coeur Basilica. Or go to the Arc du Triomphe and stroll down the grandest boulevard in the world — the Champs-Elysées. As with every day of this trip: it's your choice! No bus today.
Day 3: Burgundy's Wine Capital
This morning we'll pack up, bid adieu to Paris, and hop aboard our comfortable bus (your tour manager will always post departure times well in advance). Then we'll roll into the French countryside, passing pastures and vineyards en route to the "profoundly French" town of Beaune in the heart of Burgundy's wine country. After checking in to our hotel early this afternoon, you'll have time to stroll around the town's center, rent a bike for a ride along the Côte d'Or vineyards, enjoy a wine tasting, and savor the rich regional specialties over dinner. Boeuf bourgignon et escargots, anyone? Sleep in Beaune (1 night). Bus: 4 hrs.
Day 4: Scenic Drive to the Swiss Alps
We'll leave the rolling hills of beautiful Burgundy this morning, and climb high into the heart of the Swiss Alps. By suppertime we'll be in the Berner Oberland's magnificent Lauterbrunnen Valley, flanked by towering, waterfall-laced cliffs and crowned by a trio of Switzerland's most formidable peaks: the Eiger, Mönch, and Jungfrau. After settling into our creaky old chalet, you'll find hearty dinner options and spectacular views just a short hike away. Sleep in the Lauterbrunnen Valley (2 nights). Bus: 5 hrs.
Day 5: Spectacular Hikes in the Alps
You'll wake up in one of the most beautiful spots on Earth...and the day is all yours. Take off on a mountain excursion that combines the local cog railway, a gondola lift up to Männlichen, and a spectacular Alpine walk above the tree line, surrounded by a panorama of cut-glass peaks. You could also explore what's above the opposite side of the valley, ride a gondola lift to the top of the 10,000-foot Schilthorn, loiter in the thin air, and then hike down. Closer to the valley floor, you can witness the roaring, thundering, crashing, splashing display of nature's awesome power in Trümmelbach — a series of subterranean waterfalls that plunge hundreds of feet into darkness behind the valley's cliffs. No bus today.
Day 6: On to Bavaria
Today's drive is a good time to catch up on your journal, listen to music, curl up with a good book, or just sit back and enjoy views of pristine mountains and sparkling lakes as we make our way into the heart of Bavaria. Our destination is the people-friendly city of Munich, where we'll sleep (2 nights). Bus: 7 hrs.
Day 7: Marvelous Munich
Germany's most livable city, Munich is pleasantly explored by foot*, bike, or public transit. Today you can take in the opulent Residenz palace, the dazzling Deutsches Museum, the sprawling English Garden, or take a short bus or subway ride to Dachau Concentration Camp or the state-of-the-art BMW Museum. This evening, feel free to join the party at the Hofbräuhaus beer hall, where you can hoist a liter-size mug of beer, and a pretzel as big as your head. No bus today.
Day 8: Over the Alps to Venice
We'll take off early this morning for a scenic, all-day drive to Venice. At the edge of Venice we'll board a vaporetto boat for an "am-I-really-here?" Grand Canal ride* to our hotel in the historic heart of this seductive city, arriving late this afternoon. Tonight you can enjoy dinner at an out-of-the way trattoria and soak in the outdoor nightlife of St. Mark's Square*. If the moon is out, it will hit your eye like a big pizza pie. Sleep in Venice (2 nights). Boat: ½ hr. Bus: 8 hrs.
Day 9: Seductive Venice
The entire day and evening are yours to experience (with the help of Rick's audio tours) the Byzantine majesty of St. Mark's Basilica*, the formidable Doge's Palace, the masterpiece-packed Frari Church*, and more. Along the way, take time to simply get lost (remember, it's an island) exploring the alleys, cruising the canals, and "crawling" the pubs of this amazing city. No bus today (too much water).
Day 10: Cinque Terre
Today we say "Ciao Venezia" as we hop back aboard our bus and make a beeline for the relaxing beaches and villages of the Cinque Terre. To get there, we'll traverse Italy's agricultural breadbasket and the forested spine of the Apennines, finally winding our way down to the seaside village of Levanto, where we'll board a train for the 10-minute ride to Monterosso. We'll arrive late this afternoon, with plenty of time to enjoy Monterosso's pleasant eateries and ambience. Sleep in Monterosso (2 nights). Train: ¼ hr. Boat: ½ hr. Bus: 6 hrs.
Day 11: Riviera Livin'
Ahh, it's time to take a "vacation from your vacation" today in our Mediterranean getaway. Pick a Cinque Terre village and spend your day exploring the stairways and alleyways, sunning yourself on the rocks, or sipping a cappuccino and catching up on your journal at an outdoor café. Or, if you're looking for lots of exercise, fresh air, and panoramic views, start your day early and hike the cliff-side paths that connect the towns. For dinner tonight, enjoy what's local and fresh: the seafood and pasta with pesto. No bus today.
Day 12: Historic and Nighttime Rome
This morning we'll get an early start as we make our way from the Cinque Terre to Rome. Arriving at our Rome hotel late this afternoon, you'll have the cooler part of the day to eat at the outdoor café of your dreams, then celebrate la dolce vita Roman-style, with an after-dinner stroll through the floodlit heart of the city, lacing together the lively campos, classy piazzas, and splashy fountains. Don't forget to taste some refreshing gelato along the way. Sleep in Rome (2 nights). Train: ¼ hr. Bus: 6 hrs.
Day 13: A Day of Roman Roamin'
Rome is the grand finale of our trip, packed with historical riches, cultural delights and an infinite supply of wows. Today, aided by Rick's audio tours, you could follow the footsteps of emperors through the Roman Forum*, Colosseum*, and Pantheon*. If the Renaissance is more your speed, the immense St. Peter's Basilica* (home to Michelangelo's sublime Pietà) and the sprawling Vatican Museums*(r) (home to his mind-boggling Sistine Chapel) are a Metro or bus ride away. It's your final night in Rome, so get out and make it special. Salute! No bus today.
Day 14: Tour Over After Breakfast
It's a breeze to reach Rome's airports by taxi or train. Your tour manager will help you with any post-tour planning, leaving you well prepared for the road ahead. Grazie e ciao!
Itinerary specifics subject to change.
Physical Demands
Our tours are physically active! It's an essential part of the Rick Steves tour experience. On My Way: Europe in 14 Days — among other things — you'll need to happily…
Carry/roll your luggage over uneven pavement (several blocks possible) and up stairways to reach your hotel; then up several flights of stairs to reach your room.
Sleep with street noise and no (or weak) air conditioning.
Be able to navigate towns and cities on your own.
Be responsible for your own daily sightseeing, admissions, meals (except breakfasts) and non-group transportation.
Reviews
Kimberly
Georgetown, TX
Tour: 09/21/15
Overall rating:
We are so grateful to our escort, Travis, and the team at ETBD for taking the stress out of planning an epic European adventure! Had we traveled on our own, we would have had a chaotic trip and spent half our energy on logistics. You took away all the heavy lifting and left us with only the fun decisions about what we wanted to do each day. We had a blast and thanks to Travis's recommendations, enjoyed some activities that we would not have otherwise experienced.
Favorite "WOW" moment
"Standing at the top of the world on the Schilthorn in Switzerland, surrounded by the snow-covered Swiss Alps. That was a "wow" moment neither of us will ever forget. We would never have attempted to navigate the transit up the mountain if Travis had not strongly recommended it and explained the system. We are so grateful for his recommendation, without which we would have missed out on an unforgettable view."
Pat
Vernon, BC
Tour: 09/21/15
Overall rating:
The tour was better than we anticipated. The destinations were perfect.
Favorite "WOW" moment
"There were so many wow moments it would be difficult to make a specific choice."
Elizabeth
St Louis Park, MN
Tour: 09/21/15
Overall rating:
Favorite "WOW" moment
"Oktobrfest!"
Patty
West Milton, OH
Tour: 09/21/15
Overall rating:
Travis was an excellent escort- prepared everyone to go their own directions. We had a great group - everyone got along very well. Travis arranged an optional dinner for our last night in Rome- everyone wanted to join in - sad goodbyes... Have been on previous Rick Steves tours - so we were familiar with destinations but enjoyed free time to explore on our own. Location of hotels is a priority for us-love to walk out the front door and start our adventures. Can't think of anything to improve.
Favorite "WOW" moment
"So many: Getting off the train in the Cinque Terra and seeing the hillside views. The anticipation to explore all the villages and wandering through the market. Buying the local cheeses there to share with our group at our get together that evening What a way to celebrate my birthday. Second is Lauterbrunnen Valley and meandering through the trails and resting overlooking the valleys with our picnic Walking to Eiffel Tower from our hotel and sitting on a bench gazing up-eating chocolates"
Elizabeth
Minneapolis, MN
Tour: 09/21/15
Overall rating:
We had a fantastic time on our tour! I think the "My Way" concept of touring is a brilliant idea, and it turned out to be a perfect fit for us. After six days of traveling on our own, including Amsterdam, Bayeux and the Normandy Beaches, we met up with our tour in Paris. Although my husband is a retired USAF Navigator and was an ace at getting us around on public transportation, I was very grateful to turn over the logistics for the next two weeks to our RS team, Travis and Coos.
Favorite "WOW" moment
"I can't pick one. The Swiss Alps were astoundingly beautiful, the view from our room spectacular. I put aside my fear of heights and went up the Schilthorn, where we were rewarded by more astonishing views. Hiking from Murren to Gimmelwald, having lunch at the Mountain Hostel and watching the hang gliders was just incredible. The Cinque Terre was also beautiful, the boat ride, the old town of Monterosso. The gondola ride in Venice. On a more somber note, Dachau - not beautiful but unforgettable."
Douglas
Minneapolis, MN
Tour: 09/21/15
Overall rating:
Having not traveled abroad for many years and never on a tour we weren't sure what to expect. In fact, it was terrific. The transportation was very good - excellent bus and drive - and really cut down on stress of travel. It didn't hurt that the bus was a forty or fifty passenger and we had 27 travelers! The hotels,while relatively modest, were clean and in great locations. Having a great "host" like Travis was a godsend for both providing the structure we needed and also the travel tidbits.
Favorite "WOW" moment
"There we several of course but I think the view from our hotel in Lauterbrunnen was my favorite as was the whole experience there. Close behind was our visit to Dachau. We weren't sure we wanted to go but glad we did and recommend to anyone who goes to Munich to do so as well."
Annie
Chugiak, AK
Tour: 09/21/15
Overall rating:
too short a time in paris, a little bored with Beaune, loved hiking in the Alps, great time in Munich at the Hofbrau house during Italian weekend at Octoberfest, Venise is not to be missed, Cinque Terre is a beautiful as the pictures, and Rome an exciting city to end the tour. Overall a great way to see alot in a short period of time. Bus was clean and comfy, escort Travis helpful and organized.
Favorite "WOW" moment
"getting help over and over from caring Parisians. The best moment was when an elder gentlement who didnt speak English and couldnt find us on the map said that he was "really worried about us" through another local woman who stopped on her own to help. We saw statues of Franklin and Jefferson and stumbled upon Rue de Pres. Wilson. Paris is getting a bad rap for being anti-American. cant wait to go back"
Bryanne
Saint Paul, MN
Tour: 09/21/15
Overall rating:
We went into the tour not knowing what to expect and our expectations were exceeded in every way possible. We were nervous about traveling with other people we did not know but ended up loving getting to make memories and experience things with other people. The 'My Way' tour option is great because it plans the logistics for us but then every day we get to plan on our own (with the help of our guide of course).
Favorite "WOW" moment
"The Swiss Alps were stunning. Another cultural 'wow' moment for my husband and I was getting to experience Oktoberfest in Munich. It was a highlight of our trip."
Cathy
Annandale, VA
Tour: 09/21/15
Overall rating:
Overall experience was great. Truly more than I anticipated. Very well organized. Covered a lot of ground and saw more than I thought was possible. Bus rides good for down time to recharge between locations and had time to plan for next destination, visit with other tour members or simply relax and catch a nap. One more very important factor is that we never would have been able to plan the logistics (in terms of hotels and travel) for this trip.
Favorite "WOW" moment
"So many. Eiffel Tower at night; cows with headdresses in pastures in Lauterbrunnen, Switzerland and beauty of alps and waterfalls; beauty of Venice; and, feelings of how young the US is compared to Rome!"
Marilyn
Lake Oswego, OR
Tour: 09/14/15
Overall rating:
New friendships are priceless. The mix of ages, personalities and enthusiasm was just right. We made a point to mix it up a bit and discovered traits that were enduring. Your providing shelter and transportation took the pain out of planing and the freedom to choose destinations for the day was just what we needed.
Favorite "WOW" moment
"Do we really have to pick just one? The Cave WineTasting Tour was so much more than we anticipated. It was priced right, the setting was better than in the movies and the wine, oh, the wine. Lido in Venice was special. We were able to view a new Art Show at no expense; The Palace Hotel was georgeous. The boat rides gave us perspective and the hotel location easy to find. Munich for Octoberfest was joyful. We laughed, ate pork knuckle for the first time and found our way back."
William
Issaquah, WA
Tour: 09/14/15
Overall rating:
The overall tour experience was nothing less than 2 1/2 weeks of non-stop fun. For the first time in 35 years I truly felt like this was an all immersive vacation. Not only was the exposure to other cultures/languages very valuable, perhaps the greatest value from the tour was development of what I would call "Minimum Survival Skills" for learning how to use public transportation systems. Rick, if you're reading this - Andre, the waiter at Belforte in Vernazza sends his regards!
Favorite "WOW" moment
"I'm sure if the Shilthorn had decent visibility the day we were there, it would have been magic. But, alas, no visibility at the top. I believe my "Wow" moment was seeing & learning about the "Colosseum". I almost enrolled in "Gladiator School" but thought twice about my ability to get back home."
Christine
Carlisle, PA
Tour: 09/14/15
Overall rating:
We chose the "My Way" tour because we didn't want to be "guided". We wanted to set our own sites to see.This tour was perfect! So many gems to see going from one amazing site to the next on our "cozy" bus! John was great and Andrew was wonderful. Just enough hand holding and direction. The crazy thing was that ,while we wanted to be "loners", the bus bonded! Everyone was so funny and nice. Sitting on the bus, having wonderful scenery past bye,drinking a little wine and sharing adventures.
Favorite "WOW" moment
"Being in San Marco at nite with the dueling orchestras or was it the view from the terrace in Cinque Terre???Or?!"
Barbara
Bellingham, WA
Tour: 09/14/15
Overall rating:
We are normally not tour travelers. we had been talking about going to Europe for years but weren't getting there probably because it felt overwhelming to make the arrangements. Every day on our tour we would comment about how greatful we were that we did not have to deal with the travel arrangements or accommodations. Even though there were parts of the trip we may not have included had we been on our own we were glad we got to see these areas. Glad we weren't driving.
Favorite "WOW" moment
"We loved Cinque Terre and the Swiss Alps. Would have liked more time there. Driving through the Swiss Alps and into Italy was spectacular! Again, glad we weren't doing the driving."
Gary
Vancouver, WA
Tour: 09/14/15
Overall rating:
Outstanding itinerary, being able for us to experience 8 of the top 100 "Wonders of the World". We were also easily able to add days prior to and post to experience more wonderful sites in close proximity. Our host, Andrew, was wonderful in helping us plan our adventures. Hotels, breakfasts, John and his bus made for a very pleasant vacation.
Favorite "WOW" moment
"Here's what I found most memorable from each location: Paris--walking the steps to the second level of the Eiffel Tower Lauterbrunnen--peaceful hiking in the uncrowded Alps Munich--the Glockenspiel, followed by a nice dinner at the Ratskeller Venice--the whole city is amazing with the canals Cinque Terre--swimming in the Mediterranean Sea Rome--Michelangelo's art in the Sistine Chapel"
Lucas
Forest Lake, MN
Tour: 09/14/15
Overall rating:
It was a very well planned out trip For a non structured experience. I liked beer on the buss John was a great deiver
Favorite "WOW" moment
"Seeing the Swiss alps and the Lauterbrunnen valley was really cool.Hiking in Cinque Terre to the very top on the trails Was awesome."
Andrew
Carlisle, PA
Tour: 09/14/15
Overall rating:
Andrew couldn't have been more accommodating or knowledgeable about this trip ,that was definitely a great asset to have with us!!! The only concern we had was sticking tall people in the attic rooms. All in all I would highly recommend this package tour that you have put together. Thank you again for helping my wife and I enjoy Europe again. Her and I love to travel and have been very blessed and able to do that. So we're always looking for another trip.
Favorite "WOW" moment
"We always love Switzerland and as usual we did but my WoW moment had to be Cinque Terre."
Curtis
Lake Oswego, OR
Tour: 09/14/15
Overall rating:
I was pleased with all the arrangements for the tour and our tour Manager, Andrew. All who we visited with via emails and personal telephone calls to the main office were over the top. The different places we visited were great, and with the understanding that cost is a main factor, only really having one day in a given location limited our ability to get a good feel for each place. overall the tour was a trip to remember.
Favorite "WOW" moment
"The time we spent touring the winery in Baune, France just became better and better as we discovered the different catacombs in the "under side" of the winery storage."
Max
Bremerton, WA
Tour: 09/14/15
Overall rating:
Tour guide fantastic. My way is really my way. Andrew was able to give quality information about what sights to see and when to see them. Did a lot to get our lost bag back.
Favorite "WOW" moment
"Our tour was different because it was a my way tour. Oktoberfest in liederhossen I suppose."
Debra
Issaquah, WA
Tour: 09/14/15
Overall rating:
It was amazing from beginning to end. Our guide, Andrew, was great. He gave us just enough information for us to then decide what we wanted to do at each destination. The best thing he did was to help empower us to use the metros, busses, trains, and vaparettos. It really made getting around places much easier. I enjoyed all of the accommodations but the best ones were definitely in Venice and Cinque Terre. Rome was also very nice. Internet in some places was not ideal.Overall was wow!
Favorite "WOW" moment
"My wow was taking a boat from Monterroso to Vernazza in Cinque Terre. Just the scenery, the beautiful Mediterranean, the streets with little shops, and the friendliness of the people was wonderful. I also had a second wow moment in Venice. I did not expect to like it so much but I really did. St. Marco Square was wonderous...especially at night!"
Andrea
Seattle, WA
Tour: 09/07/15
Overall rating:
Two words: Simply Fantastic. Our My Way Tour was everything we expected and more. Each of the locations [INVALID]ed for us were amazingly beautiful and truly represented the quintessential European experience. Our tour escort, Travis, was excellent and such a valuable addition to our trip. We loved the small group setting which allowed for more speedy travel, lots of room to spread out on the bus, and a great environment for making new connections and friends.
Favorite "WOW" moment
"We had a 'wow' moment with every city we stopped at on the tour, but to narrow it down to at least two, it would have to be 1) stepping out onto the balcony of our hotel in Lauterbrunnen, Switzerland and gazing out at the valley between the high cliff shelf with Staubbach falls roaring in the foreground and the Jungfrau peak glistening high in the background. WOW! 2) Exiting the Paris metro and seeing the Eiffel Tower across the Champs de Mars beaming high in the sky for the first time. WOW!"
Beverly
Rapid City, SD
Tour: 09/07/15
Overall rating:
We had a great time. Everyone on our tour were great especially our driver and escort. We got to see so much of Europe and weren't stressed out about anything! The cities that were picked for this trip was excellent. Was a little disappointed in how busy the Cinque Terre was. Not really what I had pictured. No longer sleepy little fishing villages. However Monterosso at night was spectacular. Loved the bus too. So nice and big!
Favorite "WOW" moment
"Had to be looking out our hotel room balcony and seeing the Swiss Alps in Lauterbrunnen. Beautiful view. It took my breath away. The air was nice and cool and crisp just like mountain air should be. Loved it!"
Janice
Minot, ND
Tour: 09/07/15
Overall rating:
Overall, it was a great experience. It was so nice not to worry about transportation and booking hotels. It was great to have the advice of a guide who was so helpful. The bus was comfortable. Great way to see a little bit of each part of Europe.
Favorite "WOW" moment
"It's hard to pick because there were so many but I was so charmed by Paris. The hotel was great. The cafes were fun. Eiffel Tower was fantastic to see. The Swiss Alps and Cinque Terre were breathtakingly beautiful. You think you know what to expect but it is such a surprise when you get there."
Sally
Olympia, WA
Tour: 09/07/15
Overall rating:
My husband and I have made a half-dozen trips to Europe over the years, using Rick's books to organize our travel. But it'd been 10 years since we'd been to Europe, and when we learned about the availability of the "My Way" tours, we decided to start our next European trip by taking one. And we were not disappointed! The itinerary was generally good, our fellow travelers were terrific, and the time of year was perfect. Each of the hotels was great, and it was great to share breakfast each day
Favorite "WOW" moment
"The Lauterbrunnen Valley was gorgeous, and I especially enjoyed Venice and the Cinque Terre. I would rather have done a second day in Beune or Rome than spent the time in Munich--and it's laughable to try and do Rome in one day. All in all, we enjoyed the venues."
Mike
Cincinnati, OH
Tour: 09/07/15
Overall rating:
My wife and I having never been to Europe had our expectations far exceeded. I am not a "tour or cruise" person until now. This trip was to celebrate our 30 year wedding anniversary and I credit our Escort/Guide/Comedian/Historian/and passionate ambassador for Europe Travis with our trip's success. I had an unexpected leg infection and without the guidance, encouragement and wise council of Travis our trip would have ended in Munich just a few days into a trip we had saved for years to take.
Favorite "WOW" moment
"My wife crying at art she had taught about as an art teacher and saw for the 1st time in the Louvre in Paris."
Patsy
Los Angeles, CA
Tour: 07/20/15
Overall rating:
The My Way: Europe in 14 Days tour was a perfect balance for for my partner and I. Our group was a great mix of individuals. Everyone seemed to look out for and take care of each other, we felt very lucky. We got the opportunity to get to know folks we might not have left to our own devices and will cherish the memories. We also felt there was enough time for us to experience the trip the way we wanted to on our own. We give this tour our highest recommendation and would definitely do it again.
Favorite "WOW" moment
"The coolness of Paris cafes observing the fashion elite, the remarkable Beaune wine and vast caves, the grandeur of the Swiss Alps, the communal Munich beer gardens, the romance of Venice canals and the Biennale, the uniqueness of Cinque Terre, the majesty of Rome with its art and history... if I had to pick one thing...it would be that we didn't have to deal with the logistics of getting to each location. It allowed us to appreciate with a big "WOW" each and every one of the places we visited."
Olhae
Poughkeepsie, NY
Tour: 07/20/15
Overall rating:
The tour was fantastic. My husband and I had never been to Europe and this tour exceeded expectations. I found the tour to be very well rounded. We experienced the hustle and bustle of the city, the beauty of the country side, wineries, picturesque hiking views, and a beach resort. It was awesome. Infact each stop was so amazing and unique it was impossible to choose a favorite.
Favorite "WOW" moment
"So many wow moments how do you pick just one! Probably getting lost in Germany and being so relieved and grateful for all the help and advice the locals gave me to send me back on my adventure!"
Joseph
Los Angeles, CA
Tour: 07/20/15
Overall rating:
It was good that I could p;an my days without missing a scheduled activity. Travis was a good "escort". He created some evening events for the group and fostered community. He was as good as Reid or Holger who I had traveled with before.
Favorite "WOW" moment
"The ba crawl that Travis organized for the group in Venice."
Andrew
Naperville, IL
Tour: 07/20/15
Overall rating:
Our escort Travis and driver John made the trip of a lifetime into something more than I could ever have imagined as both were amazingly helpful and professional. I highly recommend the My Way experience as it gives you the freedom to create your own adventures and build friendships if the opportunity presents itself. The My Way Europe in 14 Days Tour is a great balance of big cities and picturesque villages and provides a real taste of today's Europe. Our group was amazing & I highly recommend!
Favorite "WOW" moment
"It is so tough to choose a wow moment from the tour as I had three wow moments. My first was in Beaune when at the Parc de la Bouzaise at the edge of town, you look out and see the vineyards in the rolling hills outside of town. The second was waking up in Lauterbrunnen on a clear, sunny morning and seeing the peaks of all the mountains around us that had been hidden by clouds when we arrived the day before. My final moment was the view of the sea on a rugged hike between Monterosso & Vernazza!"
Scott
Clovis, CA
Tour: 07/06/15
Overall rating:
As a veteran Rick Steves alumni and frequent independent traveler, I was curious to see how the My Way compared. I was not disappointed. The ability to set our own itinerary coupled with freedom from planning lodging and transportation made for an ideal combination. Our tour escort was the icing on the cake. She made sure everyone was able to experience what they wanted and she organized several optional group get-togethers that were fun and helped us form friendships.
Favorite "WOW" moment
"I always struggle with this question. It should be what was your favorite "wow" moment from each city. Each time I seem them, however, the Alps always leave me speechless. From the many shades of green to the soaring snow-capped peaks; the distant tones of cowbells to picture-perfect chalets, Switzerland and the Alps never disappoints."
Wally
Ayr, ON
Tour: 07/06/15
Overall rating:
Loved every minute - coach rides through the country side were well timed, and provided a sense of the countries' landscapes. Enjoyed being able to pace the exploring times in ways that suited our vacation needs.
Favorite "WOW" moment
"The Lauterbrunnen valley in Switzerland - watching the farmers do their haying, sitting in the most beautiful cemetery I've ever seen, doing the trip to the top of Mount Schilthorn."
Carolyn
Ayr, ON
Tour: 07/06/15
Overall rating:
We loved the "My way tour", which allowed us to explore in exactly the way that we wanted, at the pace that suited us best. We congratulated each other when we saw the typical tours (with too many people) crowding around their tour guide.
Favorite "WOW" moment
"There were almost too many to recall! We absolutely loved our time in Lauterbrunnen, and making it to the top of Mount Schilthorn was probably one of our biggest thrills - although being alone on top of the Arc de Triomphe was a close second (it was raining, and noone else wanted to stand in the rain)."
Peter
San Jose, CA
Tour: 07/06/15
Overall rating:
The My Way Tour was a fantastic way for our family to visit some of the highlights of Europe. We planned ahead for the attractions we wanted to see and liked having some control over our own schedule and itinerary. In addition, both our tour guide and coach driver (Cynthia and Big John, respectively) were wonderful ambassadors for Rick Steves and Europe. They offered many helpful suggestions and recommendations for each city and stop along the way.
Favorite "WOW" moment
"Too hard to pick a favorite but here's one... After a long day of hiking miles of beautiful trails above the Lauterbrunnen Valley in Switzerland with my family, we found a small biergarten in the little village of Gimmelwald and rewarded ourselves with a drink on their back patio. The views both up and down the Alps from that deck were spectacular. But best of all for me was sharing it with my favorite people in the world."
Amanda
Floyds Knobs, IN
Tour: 07/06/15
Overall rating:
The tour was a wonderful experience! Our bus driver, John, was the best! Cynthia was an amazing resource - she gave us great recommendations and was always willing to help us. She seemed to always know the best way to help us see the sights we wanted in the most time efficient manner.
Favorite "WOW" moment
"Switzerland! Lauterbrunnen Valley was a gem and there is nothing more beautiful than the Alps! My favorite sight was the Colosseum in Rome. 2,000 years of history is always a "wow"!"
Matthew
Fredericktown, OH
Tour: 07/06/15
Overall rating:
I felt the tour went very well and exceeded my expectations. Cynthia did a great job of letting us do our own thing while also providing good suggestions/alternatives. The transportation was great and I was pleased that there really were only 24-28 people on the tour. Not that I doubted you.....but being our first Rick Steves tour, I had to see before I believed (sorry, just being honest). Having the luxury to spread out on the coach was great.
Favorite "WOW" moment
"Hard to pinpoint one, but Switzerland was definitely one. Another would be Cinque Terre. I really like architecture and the outdoors, so seeing everything in person that I've only seen in pictures or on TV was a highlight for me. From Paris neighborhoods to the French countryside to the mountains in the Berner Oberland....too much to mention! I wish I was still."
John
Kissimmee, FL
Tour: 07/06/15
Overall rating:
An awesome experience, the My Way concept nails it!
Favorite "WOW" moment
"Swiss Alps for sure."
Belinda
San Jose, CA
Tour: 07/06/15
Overall rating:
I couldn't have imagined a better trip! We were looking for the convenience of having transportation and hotels pre-planned and the freedom to plan our own activities and the My Way tour was exactly what we had hoped for. Tour Escort Cynthia was wonderful, providing just the right amount of information to the group and was also so helpful with her suggestions on planning our days. I have already recommended My Way tours to several friends and family members.
Favorite "WOW" moment
"There were not very many non-"wow" moments! Hiking in the Swiss Alps and viewing Venice for the first time from the boat on the way in from the bus parking lot are two that stand out for me."
Jennifer
Fredericktown, OH
Tour: 07/06/15
Overall rating:
We had been looking forward to this trip for several years, and we were not disappointed. We were pleasantly surprised at how wonderful our tour manager turned out to be. Being a My Way tour, we thought we would be completely on our own and we did our best to prepare, but to our benefit, Cynthia was there everyday to discuss our plan with us, offer us advice and assistance, and be our general go-to expert for all of our questions. It was great!
Favorite "WOW" moment
"My absolute favorite experience was walking out on our hotel balcony in Lauterbrunnen and looking up to see the mountains soaring up on each side of us. Breathtaking!"
Michael
Poulsbo, WA
Tour: 07/06/15
Overall rating:
First trip to Europe and I couldn't have had a better experience. Cynthia provided excellent support and assistance throughout the tour. She is a tremendous Escort and her knowledge is amazing. The hotels/location to transportation really reduced time getting to the attractions. Hotels, restaurants, tour bus and Big John the coach driver, excellent. I was amazed by the quality of the food/wine, spectacular.
Favorite "WOW" moment
"Wow, that is a trick question! I would say Lauterbrunnen and the Schilthorn. Hiked down from the Schilthorn to Murren. Amazing. And the beer tastes so good on those hikes! It was so beautiful and stunning that I am planning on going on the Alps tour next. I had to keep reminding myself to stop hiking when I was staring at the Eiger, Monch, and Jungfrau. For food - Beaune - Beef Bourguignon. What do they feed those cows?"
Judy
Kissimmee, FL
Tour: 07/06/15
Overall rating:
What a fantastic experience! The "My Way Europe" allowed my family and myself to share and make many lifetime memories.
Favorite "WOW" moment
"The first view of the Cinque Terre ! Monterosso was a perfect experience with views to die for,friendly people and many opportunities for dining and strolling through the Old Town."
Carolyn
Springfield, VA
Tour: 06/22/15
Overall rating:
The whole trip was perfect. Mary was an excellent tour manager, very helpful, knowledgeable, and very pleasant to everyone. Big John, the bus driver, was also great. The trip itinerary was wonderful, with an excellent balance of time spent in big cities and in smaller resort areas. The size of the group was also perfect, allowing for plenty of room on the bus, and also for the opportunity to get to know everyone. The My Way concept is wonderful.
Favorite "WOW" moment
"I especially enjoyed the beautiful scenery in Switzerland and the gorgeous alpine views from The Schilthorn."
Cristy
Malvern, PA
Tour: 06/22/15
Overall rating:
My experience during the Best of Europe Tour was incredible! The tour members were wonderful, friendly families. Our tour manager, Mary, was so helpful, resourceful and accommodating. Our bus driver, Big John, was so skilled, knowledgable and personable. Then there was the tour itself, it was a dream come true! Every destination was unforgettable. I enjoyed every location and all it had to offer. It was truly a trip of a lifetime.
Favorite "WOW" moment
"My "wow" moment was probably the perfect day we had in the Swiss Alps. It was a beautifully clear sunny day and my family and I hiked for over 10 miles. We had so much fun together and the views were breathtaking! I'll never forget the gorgeous scenery we were so lucky to be experiencing on a summer day."
John
Wylie, TX
Tour: 06/22/15
Overall rating:
This was our first trip to Europe (wive, me, and kids[INVALID]11 and 14). I'm writing the review for us 4, FYI. The tour accomplished what we'd hoped it would: whet our appetite for international travel. It was great, if a little tiring, to visit so many places in such a short amount of time. We definitely have our sights on places we'd like to go back to. Beaune was a bit ho-hum, but we understand why it was a stop. BTW, tell people dinner reservations there 100% required. We learned the hard way :-)
Favorite "WOW" moment
"My son and I paraglided in Lauterbrunnen. That was amazing! Otherwise the trip was full of too many "wow" moments to list."
Barbara
Seattle, WA
Tour: 06/22/15
Overall rating:
Loved all of it, and tour guide Mary and driver John were outstanding. Not sure how this could be done with privacy concerns, but would be nice to be able to "connect" with other tour members in advance of the tour to see if anyone wants to do "group things" while on the tour -- ie., once we were on the tour, we met others with teenagers who were doing guided tours of various sites, as were we, but on different times/days... so it would have been nice to have been able to schedule the same ones
Favorite "WOW" moment
"Uncrowded bus, view of Alps from hotel, nicely located hotels... and that Rick Steves has conquered Europe! books and references everywhere..."
Sorbee
Redmond, WA
Tour: 05/25/15
Overall rating:
I really like 'my way' tour. We are 'equipped' with sufficient information and tips by the escort plus Rick Steve's guide book to enjoy each new destination. At the same time we are not bound by the rigid schedule of the guided tour.
Favorite "WOW" moment
"The "wow" moment has to be the spectacular view atop the Schilthorn and the hike down the valley below. Also the best meal I had at the Alps - lamb chops."
Brent
Siloam Springs, AR
Tour: 05/25/15
Overall rating:
This was my dream to visit Europe. The experience was better than I thought it would be because of your tour.
Favorite "WOW" moment
"So many Wow moments from the Eiffel Tower, Swiss Alps and Rome. One of the favorite things that happen was the connection with the other tour members."
Debra
Siloam Springs, AR
Tour: 05/25/15
Overall rating:
I had a great time. The experience is a once in a lifetime event. Enjoyed getting to know everyone on our My Way Tour. We all seemed to bond well and have become great friends.
Favorite "WOW" moment
"I think there was more that one! The Eiffel Tower, the Swiss Alps, St. Peter's Basillica, the Sistine Chapel. The Orsay Museum, Cinque Terre!!! They were all wonderful!"
Poka
Honolulu, HI
Tour: 05/25/15
Overall rating:
Perfect trip for a 1st time traveller to Europe. With so many places to see, this tour was a great way to start my 5 month adventure. I liked the pace of our travels and the freedom to explore on our own. You can never see or do everything in a day or two but you can return to your favorite places and I'll be returning to Paris in late September for at least a week to soak in more of that beautiful city. I miss our big bus! Thanks Rony.
Favorite "WOW" moment
"Sitting on a bench in Murren trying to absorb the beautiful view surrounding me. In mid-July I'll be spending a week in Wengen and I'll find a bench to sit and relax and I know the view I see will be just as stunning."
Paul
Kirkland, WA
Tour: 05/25/15
Overall rating:
The tour was exactly what I expected and met my needs very well. Normally, I would take a guided tour, but I was accompanied by a family member who had never been to Europe and who wanted the freedom to make her own choices. I had already seen many of the sights that are on the fully guided version of this tour. This My Way tour promised to deliver the goods, and it did.
Favorite "WOW" moment
"The Lauterbrunned Valley and the area above it was #1 for me. It's just wonderful."
Denise
Burton, OH
Tour: 05/25/15
Overall rating:
Our first trip to Europe and I'm still processing all the amazing sites we visited. Four countries, seven stops in 14 days...truly the best of everything. A perfect mix of must visits like the Eiffel Tower in France and busy Venice and Rome with the opportunity to hike in Switzerland or lay on a beach in Cinque Terre. Our escort was engaging, our bus ride gave us the opportunity to rest and enjoy the scenery and our group formed lasting friendships as we enjoyed our visit together.
Favorite "WOW" moment
"They were all "wow" moments! Really!!!"
Elizabeth
Kaysville, UT
Tour: 05/18/15
Overall rating:
We had been to Paris and Rome using Rick Steves' tips before but this time wanted to visit many other European cities in a short amount of time. My husband just wanted to rent a car and drive all over which I thought was scary, so he was the one that found the My Way Tour. When we travel we go go go from 6am-11pm seeing everything there is to see in a city. So I think the My Way was perfect for us. We let someone else do the driving and we could still go go go on our own.
Favorite "WOW" moment
"Of course the Lauterbrunnen Valley as well as Cinque Terre were both breathtaking."
Mikayla
Houston, TX
Tour: 05/18/15
Overall rating:
The tour was amazing! Fantastic sites and frequent stops made it the perfect overall length and being able to "wet your feet" in getting a preview of what each city holds.
Favorite "WOW" moment
"My favorite "wow" moment was when I went paragliding in the Alps. This was not covered in the tour but was something I wished to experience and was completely safe. Although, next wow moment was a few days later sitting on the beach in Cinque Terre."
John
Annapolis, MD
Tour: 05/18/15
Overall rating:
Laurel was a great tour leader and John the bus driver was outstanding, becoming an almost asst. tour leader. They made a great team. I understand that this is somewhat unusual My overall reaction to the tour is that it is a real worldwind, constantly moving from place to place. The only suggestion I would make is to make sure that this is reflected in the literature describing the tour. You are'nt spending 2 days in each destination, the travel between is much of the tour.
Favorite "WOW" moment
"No one place of event stands out."
Carol
Seattle, WA
Tour: 05/18/15
Overall rating:
Well organized, nice folks. Good value. I wasn't aware that pork is the primary meat available, but it makes sense in countries with mostly small farms.
Favorite "WOW" moment
"Venice. I didn't expect it to be such an amazing place (I'd thought it was probably over-hyped). Though I know Venice is sinking, the impression is of an ancient city rising out of the water, being part of the water instead. We didn't rent a gondola, but riding the water bus into the evening in the grand canal was just lovely. We sat in the prow, in the soft air; it felt very special."
Linda
West Kingston, RI
Tour: 05/18/15
Overall rating:
The trip was a dream come true. The bus driver was exceptional, great driver, great humor and like one of the gang. The tour director was amazing. She made us all feel very comfortable and just knew the right amount of info we needed and became one of the gang also. The drive through the countries was so beautiful. We had a small group that melded well together. I have wanted to do this trip for many years and it was magic!
Favorite "WOW" moment
"St. Peters Basilica~ seeing the Pope!"
Janyce
Annapolis, MD
Tour: 05/18/15
Overall rating:
EXACTLY as I had hoped. We were pleasantly surprised at having 17 people on a very large bus (thanks a lot to Jean, the driver)! I really have no complaints; just a lot of praise.
Favorite "WOW" moment
"Time spent in Cinque Terre. Dinner particularly. Of course the weather was perfect, and the dinner (across from the hotel) very good. I first heard about Cinque Terre, probably when I heard about Rick Steves from my friend who's family owned the Edmunds movie theater (Giezentanners). Of course since those 40+ years, the place has been "found" and is full of tourists. So, the only thing I would have liked was info on the "trails" between villages. Doable at 20, not so much at 69."
Weather

France / Paris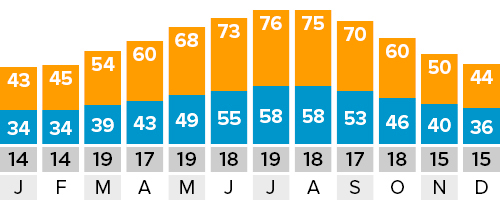 ---
Switzerland / Bern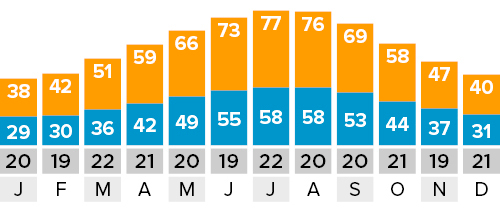 ---
Germany / Munich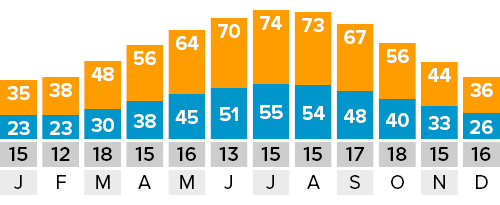 ---
Italy / Venice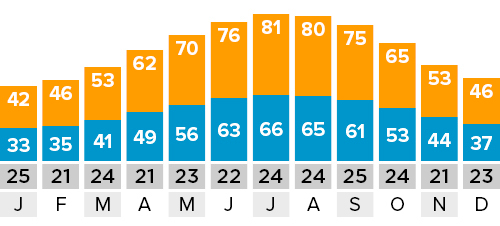 ---
Italy / Rome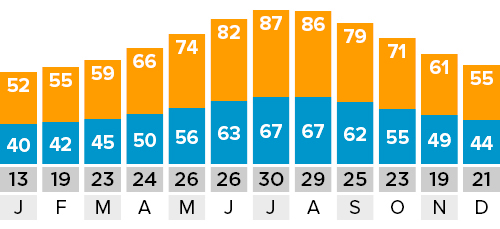 Planning Tips
We've put together some specific information on what you should know about this tour before you go. You'll also find more general information about "Getting Ready for Your Tour" on our Tour FAQ.
Trip Resources
Learn more about France, Switzerland, Germany, and Italy: Check out a collection of Rick's TV shows, radio interviews, and articles, plus recommended books and movies in the "Plan" section.
Transportation
Prior to your tour departure, you will receive detailed directions on how to get from the airport to your first tour hotel, as well as contact information for your first and last hotels in case you wish to book pre- or post-tour hotel accommodations.
Many tour members arrive a day or two before the tour begins — and those who don't, wish they had. This allows you ample time to get over jet lag and make the most of the first few days of the tour.
There is more than one way to get to and from your tour. Most tour members will arrange to fly into Paris and out of Rome ("multi-city" on flight booking websites). Booking round-trip to one city will require a connecting flight, train trip, or additional overnight stay in Europe.
For information about flying within Europe, ask your travel agent or check Rick's list of European budget airlines.
Read Rick's train travel and rail pass tips to decide if your travel plans merit a rail pass.
If you have additional European travel or tour questions, contact the Tour Department at 425-608-4217 or email tour@ricksteves.com.
Sightseeing on Your Own
When you arrive in Paris, use the Rick Steves Best of Europe Tour Guidebook to get oriented. Ride the public transportation, try out a few words of French, and get over your jet lag with lots of fresh air and exercise.
Walking tours make a great introduction to any town. Use your Audio Europe™ app for Apple and Android (or get free podcast/mp3 files) which includes a wealth of Paris neighborhood walks and self-guided museum tours. Check the guidebook for museum hours (some are closed one day per week; some stay open late one day per week).
Remember, you will be in charge of your own sightseeing for ALL destinations on this trip. We strongly suggest you begin planning well before you fly to Europe! To guarantee entrance, we recommend you make reservations in advance from home for the Eiffel Tower (for details, see our Eiffel Tower information page) and the Vatican Museums (for details, see your Rick Steves guidebook).
Packing
There are great opportunities to hike in the Swiss Alps and between the Cinque Terre villages. While hiking boots are not necessary, we recommend you bring a pair of comfortable walking shoes with soles offering good traction. If swimming interests you, you 'll have a couple of opportunities to get wet, so bring along a swimsuit and perhaps a lightweight microfiber towel.
We also recommend that you consider bringing a smart phone, tablet or other device to assist in planning your activities, and to access Rick's Audio Europe app and walking tours.
For more advice on what (and what not!) to pack, see Rick 's packing tips.