Eiffel Tower in Paris

Hôtel Dieu in Beaune, France

Swiss Alps

Odeonsplatz in Munich

Venice

Manarola in Italy's Cinque Terre

Colosseum in Rome

Vatican City in Rome
Tour Questions? See our FAQ | Call 425-608-4217
My Way® Europe in 14 Days
from $2,995 per person + air
Optional Single Supplement $925
See Tour Dates
On a two-week, "greatest hits" Europe vacation that takes you from Paris to Rome — via Burgundy, the Swiss Alps, Munich, Venice, and the Cinque Terre — Rick Steves' money-saving My Way Europe tour gives you the freedom to decide your own daily sightseeing priorities and pace. We cut the stress by providing comfortable rooms in centrally located hotels, private bus transportation from city to city, and a Euro-savvy tour manager to advise you along the way. Join us for My Way®: Europe in 14 Days!
Dates & Prices
Jul 8–Jul 21 (Mo–Su)
$2,995 + Air

Join Waitlist

Sep 2–Sep 15 (Mo–Su)
$2,995 + Air

Sale! Save $300 on new bookings!

Filling Fast

Sep 16–Sep 29 (Mo–Su)
$3,095 + Air

Opportunity to enjoy Munich Oktoberfest festivities!

Join Waitlist
What's Included
This is an "un-guided" tour — giving you the freedom (and responsibility) to manage your daily sightseeing schedule and meals
A small, friendly group of 24–28 people will share our big, comfy bus during the trip, but not do organized sightseeing together
A Rick Steves tour manager will coordinate the group's transportation and hotel arrangements, and provide advice for sightseeing, meals, etc.
All group transportation from Paris to Rome
13 nights' accommodations (all stops but one are for two nights) in memorable, centrally located hotels
All breakfasts are included
All tips for tour manager and driver
Free Audio Europe™ app for Apple and Android (or get free podcast/mp3 files) featuring Rick's audio walking tours of sights, museums, and neighborhoods in Paris, Munich, Venice, and Rome. Also includes Rick's radio interviews with experts on destinations covered in this itinerary
A tour kit including a guidebook (or books) and a moneybelt
Guaranteed tour price, locked in the moment you make your deposit
Optional single supplements — this tour has a limited number of private rooms for solo travelers for an additional fee
Tour alum discount of $50 for each tour you've taken prior to 2019
50% discount on a consulting appointment with our in-house experts to assist with your pre- or post-tour travel plans
Flexibility should you need to transfer or cancel your tour
Costs not covered: As this is not a guided tour, you will be responsible for the cost of all your lunches, dinners, drinks, admissions, sightseeing, and non-group transportation. Be sure to plan and budget accordingly. See our Tour Conditions for important details regarding everything listed above.
Itinerary
Sightseeing notes
(r) = reserve a time before you leave the US
* = included in Rick's Audio Europe™ app
Day 1: Welcome to Europe
Welcome to Paris, one of the world's most thrilling cities! Today is a great day to start tackling some of Paris' amazing museums: the Louvre*, Cluny, Rodin, Orsay* and Pompidou (plan accordingly; many museums are closed one day a week). We'll rendezvous at our hotel at 5 p.m. to meet your tour manager and have a group get-together. Your tour manager will give an overview of the days ahead, answer your questions, and offer a quick orientation to our neighborhood and Paris' easy-to-use public transportation. Then you're free for dinner on your own. This evening you could stroll around the brilliantly lit Eiffel Tower(r) and enjoy a twilight ride to the top. Or, enjoy the view from below, aboard one of Paris' numerous floodlit Seine River cruises. Sleep in Paris (2 nights).
Day 2: All Day in Paris
Today Paris is all yours. With the Best of Europe guidebook and Rick Steves audio tours in hand, you might begin your day where Paris did — on the Ile de la Cité* — visiting the exquisite Sainte-Chapelle* and viewing the resilient and awe-inspiring Notre-Dame Cathedral. Or explore the sprawling grounds of the ultimate royal palace at Versailles* — every King's dream. This evening, head up to Montmartre to savor the bohemian flair of Amélie's "village Paris" and take in the breathtaking vistas from the Sacré-Coeur Basilica. Or go to the Arc de Triomphe and stroll down the grandest boulevard in the world — the Champs-Elysées. As with every day of this trip: It's your choice! No bus today.
Day 3: Burgundy's Wine Capital
This morning we'll pack up, bid adieu to Paris, and hop aboard our comfortable bus (your tour manager will always post departure times well in advance). Then we'll roll into the French countryside, passing pastures and vineyards en route to the "profoundly French" town of Beaune in the heart of Burgundy's wine country. After dropping our bags at our hotel early this afternoon, you'll have time rent a bike for a ride along the Côte d'Or vineyards or stroll around the town's center, enjoy a wine tasting, and/or savor the rich regional specialties over dinner. Boeuf bourguignon et escargots, anyone? Sleep in Beaune (1 night). Bus: 4 hours.
Day 4: Scenic Drive to the Swiss Alps
We'll leave the rolling hills of beautiful Burgundy this morning, and climb high into the heart of the Swiss Alps. By suppertime we'll be in the Berner Oberland's magnificent Lauterbrunnen Valley, flanked by towering, waterfall-laced cliffs and crowned by a trio of Switzerland's most formidable peaks: the Eiger, Mönch, and Jungfrau. After settling into our creaky old chalet, you'll find hearty dinner options and spectacular views just a short hike away. Sleep in the Lauterbrunnen Valley (2 nights). Bus: 5 hours.
Day 5: Spectacular Hikes in the Alps
You'll wake up in one of the most beautiful spots on Earth...and the day is all yours. Take off on a mountain excursion that combines the local cog railway, a gondola lift up to Männlichen, and a spectacular Alpine walk above the tree line, surrounded by a panorama of cut-glass peaks. You could also explore what's above the opposite side of the valley, ride a gondola lift to the top of the 10,000-foot Schilthorn, loiter in the thin air, and then hike down. Closer to the valley floor, you can witness the roaring, thundering, crashing, splashing display of nature's awesome power in Trümmelbach Falls — a series of subterranean waterfalls that plunge hundreds of feet into darkness behind the valley's cliffs. No bus today.
Day 6: On to Bavaria
Today's drive is a good time to catch up on your journal, listen to music, curl up with a good book, or just sit back and enjoy views of pristine mountains and sparkling lakes as we make our way into the heart of Bavaria. Our destination is the people-friendly city of Munich, where we'll sleep (2 nights). Bus: 7 hours.
Day 7: Marvelous Munich
Germany's most livable city, Munich is pleasantly explored by foot*, bike, or public transit. Today you can take in the opulent Residenz palace, the dazzling Deutsches Museum, the sprawling English Garden, or take a short bus or subway ride to the Dachau Concentration Camp Memorial or the state-of-the-art BMW Museum. This evening, feel free to join the party at the Hofbräuhaus beer hall, where you can hoist a liter-size mug of beer, and a pretzel as big as your head. No bus today.
Day 8: Over the Alps to Venice
We'll take off early this morning for a scenic, all-day drive to Venice. At the edge of Venice we'll board a vaporetto boat for an "am-I-really-here?" Grand Canal ride* to our hotel in the historic heart of this seductive city, arriving late this afternoon. Tonight you can enjoy dinner at an out-of-the way trattoria and soak in the outdoor nightlife of St. Mark's Square*. If the moon is out, it will hit your eye like a big pizza pie. Sleep in Venice (2 nights). Boat: ½ hour. Bus: 8 hours.
Day 9: Seductive Venice
The entire day and evening are yours to experience (with the help of Rick's audio tours) the Byzantine majesty of St. Mark's Basilica*, the formidable Doge's Palace, the masterpiece-packed Frari Church*, and more. Along the way, take time to simply get lost (remember, it's an island) exploring the alleys, cruising the canals, and "crawling" the pubs of this amazing city. No bus today (too much water).
Day 10: Cinque Terre
Today we say "ciao Venezia" as we hop back aboard our bus and make a beeline for the relaxing beaches and villages of the Cinque Terre. To get there, we'll traverse Italy's agricultural breadbasket and the forested spine of the Apennines, finally winding our way down to the seaside village of Levanto, where we'll board a train for the 10-minute ride to Monterosso. We'll arrive late this afternoon, with plenty of time to enjoy Monterosso's pleasant eateries and ambience. Sleep in Monterosso (2 nights). Train: ¼ hour. Boat: ½ hour. Bus: 6 hours.
Day 11: Riviera Livin'
Ahh, it's time to take a "vacation from your vacation" today in our Mediterranean getaway. Pick a Cinque Terre village and spend your day exploring the stairways and alleyways, sunning yourself on the rocks, or sipping a cappuccino and catching up on your journal at an outdoor café. Or, if you're looking for lots of exercise, fresh air, and panoramic views, start your day early and hike the cliff-side paths that connect the towns. For dinner tonight, enjoy what's local and fresh: the seafood and pasta with pesto. No bus today.
Day 12: Historic and Nighttime Rome
This morning we'll get an early start as we make our way from the Cinque Terre to Rome. Arriving at our Rome hotel late this afternoon, you'll have the cooler part of the day to eat at the outdoor café of your dreams, then celebrate la dolce vita Roman-style, with an after-dinner stroll through the floodlit heart of the city*, lacing together the lively campos, classy piazzas, and splashy fountains. Don't forget to taste some refreshing gelato along the way. Sleep in Rome (2 nights). Train: ¼ hour. Bus: 6 hours.
Day 13: A Day of Roman Roamin'
Rome is the grand finale of our trip, packed with historical riches, cultural delights and an infinite supply of wows. Today, aided by Rick's audio tours, you could follow the footsteps of emperors through the Roman Forum*, Colosseum(r)*, and Pantheon*. If the Renaissance is more your speed, the immense St. Peter's Basilica* (home to Michelangelo's sublime Pietà) and the sprawling Vatican Museums*(r) (home to his mind-boggling Sistine Chapel) are a Metro or bus ride away. It's your final night in Rome, so get out and make it special. Salute! No bus today.
Day 14: Tour Over After Breakfast
It's a breeze to reach Rome's airports by taxi or train. Your tour manager will help you with any post-tour planning, leaving you well prepared for the road ahead. Grazie e ciao!
(To avoid long lines at the Eiffel Tower, we recommend booking tickets several weeks in advance. For details, see our Eiffel Tower ticket tips for tour members.)
Itinerary specifics subject to change.
Physical Demands
Our tours are physically active! It's an essential part of the Rick Steves tour experience. On My Way®: Europe in 14 Days — among other things — you'll need to happily…
Carry/roll your luggage over uneven pavement (possibly several blocks) and up stairways to reach your hotel, then up several flights of stairs to reach your room.
Sleep with street noise and no (or weak) air conditioning.
Be able to navigate towns and cities on your own.
Be responsible for your own daily sightseeing, admissions, meals (except breakfasts), and non-group transportation.
Reviews
Gayle
Orlando, FL
Tour: 05/20/19
Overall rating:
We enjoyed our group, had very nice accommodations, had a very comfortable bus and a great driver, and a fun and well-informed guide.
Favorite "WOW" moment
"Seeing the Swiss Alps for the first time out the bus window."
Hal
Sparta, NC
Tour: 09/17/18
Overall rating:
A great trip and experience. Our guide was terrific, and as a bonus, our bus driver was a great addition to the trip. Destinations and accommodations were well thought out. All in all, a great introduction to Europe for a first time visitor.
Favorite "WOW" moment
"Too many to pick just one, but the stop in Swiss Alps exceeded expectations."
Lesli
Smithville, MO
Tour: 09/17/18
Overall rating:
It was my first trip overseas and I absolutely loved the experience. I felt like it was a fast paced trip although I also felt like I was able to see a lot of different areas of Europe. After traveling on the MyWay tour I believe that my husband and I can comfortably travel on our own. The one thing I would have changed is to take out the 3 hr stop in Bern. I would have much rather done another quick lunch stop and arrived in Switzerland earlier. Our bus driver Michelle was great!
Favorite "WOW" moment
"Paragliding in Switzerland. Our bust driver, Michelle went above and beyond to help with directions, places to eat and attractions to see. Our tour Manager, Mary was fantastic but Michelle was just as helpful!"
Todd
Smithville, MO
Tour: 09/17/18
Overall rating:
Enjoyed experience! Great trip with a great travel consultant! We also had a phenomenal bus driver that assisted with communication, logistics and overall enjoyment of the trip! I would not have expected that we would have connected as much as we did with our fellow travelers. By the end of the trip, it felt like we were on a family trip to Europe.
Favorite "WOW" moment
"The beauty of Paris, followed by the majestic mountain ranges in Switzerland and then capping the trip off with the history and amazement of Rome!"
Peggy
Victoria, BC
Tour: 09/17/18
Overall rating:
Great tour to have an introduction to what one can explore and be excited about in Europe! This is my 4th RS Tour and 1st "My Way" Tour. I like the change of pace to explore more on my own. I missed the history knowledge of the city guides but I am comfortable on finding my own interests and activities. We had a friendly congenial group of travellers. Thanks also to our top notch bus driver!
Favorite "WOW" moment
"Hiking in the Lauterbrunnen Valley and Cinque Terre."
Amanda
Plover, WI
Tour: 09/17/18
Overall rating:
This was my first trip to Europe and I wanted to see everything :) We chose a trip that would allow for multiple destinations with some structure given my lack of travel experience, yet flexibility to enjoy each stop as we see fit. This package was a good fit for us. We got to experience SO much within two weeks, it's really crazy reflecting on everything we did. The experience was intense and exhilarating, although I may not call it relaxing given how much was packed in :)
Favorite "WOW" moment
"Seeing Switzerland for the first time. Repeat travelers may take for granted the sheer beauty of the country. When we first arrived at Bern and started walking around the city, it was unlike any American city I ever visited. The layout, architecture, art, and that big beautiful river full of crystal clear water flowing through the middle of everything--it was amazing. The Alps were incredibly breathtaking. It's difficult to describe how scenic that country truly is."
Ibrahim
Beaverton, OR
Tour: 09/17/18
Overall rating:
Tour was really great, our group was really amazing. I cannot say enough good things about our driver Michelle and Mary.
Favorite "WOW" moment
"There were so many, I think every city we went to had it's own WOW moment."
Arlene
Seattle, WA
Tour: 09/17/18
Overall rating:
As an introduction to Europe, this tour was outstanding! I had never traveled overseas before this tour and so it was a great way to see a little of every country.
Favorite "WOW" moment
"Oh, there were so many "wow" moments. Personally, my favorite was entering Venice on the vaporetto as I had been dreaming of visiting Venice since I was a child."
Nancy
Sparta, NC
Tour: 09/17/18
Overall rating:
This was our first Rick Steves tour and we were very pleased with every aspect. The pre-trip information, the resources (books), the tour guide, the bus, the hotels, the itinerary. It is obvious that this is a top notch company with the participant's travel experience and safety the main priority. I will definitely recommend RS tours to other travelers
Favorite "WOW" moment
"Not sure how it would be possible to have one farvorite "wow" moment. Loved Switzerland, loved Paris, Italy my favorite country."
Sarah
Tacoma, WA
Tour: 09/17/18
Overall rating:
My experience taking the "my way Europe in 14 days was lovely. I really liked the hotels/B&B's chosen for us. I was pleasantly surprised at how helpful our tour manager was at every location we were guided and taught enough to make it in a new country for a few days on our own. I was so happy with the tips from the Rick Steves books. We were guided through the maps prior to each location and given ideas on places to dine and activities to enjoy during our visit.
Favorite "WOW" moment
"It's hard to have just one "wow" moment. I am a lover of the mountains so for me Switzerland and Lauterbrunnen Valley is at the top of my list. Our little lodge was in the most beautiful setting I've ever seen. With mountains and waterfalls all around us."
Patricia
Prescott, WA
Tour: 09/03/18
Overall rating:
Our Europe in 14 Days My Way tour was excellent. We had a great time and saw many interesting places. The tour was very well organized. The My Way type tour is a good one for travelers who want to do some sightseeing on their own and not be in a big group following a tour guide holding up an umbrella. I recommend this style tour to others. The "office hours" held by the tour manager each day were valuable to help with plans to get see what interested us in each location.
Favorite "WOW" moment
"There were many "wow" moments on our tour, but my favorite was the evening gondola ride in Venice with our own musical entertainment. Truly an "I will always remember evening"."
Rose
Sequim, WA
Tour: 09/03/18
Overall rating:
It was a mad scramble of joyful experiences as we were transported to 4 countries:France,Switzerland, Germany and Italy. A great staff with Cary Walker at the lead, our group gelled happily. Cary kept things moving and was always available to help us get ready for the next stop or a new country! The hotels were friendly with great breakfasts. I was star-struck in Paris, awestruck in Switzerland, beer gardened-struck in Germany and food-struck in Italy.
Favorite "WOW" moment
"The gondola ride that Cary arranged in Venice with a singer and guitarist. He sang to me and the others as we plied the Venice waters that evening. People came out to watch us and other gondolas joined ours making a parade. It was a clear and beautiful late summer night and I was transported to old Venice where all this beauty and charm combined to create this magical place."
Lisa
Waseca, MN
Tour: 09/03/18
Overall rating:
Where do I begin?! From the very first meeting in Paris I knew we were in excellent hands with Cary. You can tell that her passion for her work as well as Europe lie deep within her soul...I truly cannot say enough wonderful things about her! From Paris to Rome and everywhere in between we were well equipped with ideas about what to do at each location. Even though we had prepared as well in advance, Cary's knowledge and little "tidbits" of information were beyond helpful!
Favorite "WOW" moment
"It's impossible to really only pick one. I think the smaller cities and communities is where my heart felt the most happy. From Lauterbrunnen Valley to Venice to Cinque Terre...they all hold a piece of my heart."
Judy
Waseca, MN
Tour: 09/03/18
Overall rating:
I can't say enough good about this trip! It was wonderful in every way. Our tour guide, Cary was exceptional, giving us tips and sharing her expertise to help make our trip all we hoped it to be. Traveling with my three daughters, we loved the "My Way" of doing things. Cary pointed out many points of interest and then we made our own decisions on what to do. It was really perfect for us. Seeing the beautiful sights of Europe with my girls was a dream come true. Highly recommended!
Favorite "WOW" moment
"The Lauterbrunnen valley was a spectacular sight. Amazing and so beautiful. My "Wow" moment was a tie between seeing Switzerland and Cinque Terre. Both were outstanding."
Kelly
Pleasant Hope, MO
Tour: 09/03/18
Overall rating:
We had a fabulous time exploring Europe on our own, doing what we wanted to do, yet leaving the guiding and driving to others who were far more qualified. Our tour group was independent but experiences bonded us and it was always enjoyable when we'd bump into each other at restaurants or attractions. We never felt threatened or uncomfortable by locals but were cautious withdrawing cash at atm's, practiced common sense, and hopefully treated everyone we met with respect and kindness.
Favorite "WOW" moment
"Listening to Italy's history as I buzzed through Rome's busiest streets and deserted alleys in a golf cart via Angel Tours was the highlight of my trip. My beautiful young intelligent guide, Susanna, delighted me with entertaining stories, detailed explanations of Roman life, culture, & food, yet didn't avoid sobering grievious facts every ancient city owns. It was a fun refreshing way to spend 3 hours close to the ground discovering a city I thought I already knew (& for less than 100 euros!)"
John
Powell River, BC
Tour: 09/03/18
Overall rating:
It was great to get a good overview of the main hot spots in Europe. Wow..... tons of tourists and selfie sticks ! We met some good friends in our travel-mates.
Favorite "WOW" moment
"Having meals with various locals, chatting in various languages," laughing and telling lies" . Just wandering around the streets."
Peyton
Tupelo, MS
Tour: 09/03/18
Overall rating:
As a recent history major college graduate, this was exactly what I wanted. It was a fantastic trip to Europe, laid out well, and gave me the chance to explore on my own and see the things that I wanted to see. I never had to wait up for slow pokes or get frustrated at others when I wanted to smell the roses! The perfect trip for a recent college history major graduate!
Favorite "WOW" moment
"Oh! Goodness! So so so hard to choose! I would have to say seeing the Arch of Triumph! I was in the taxie on the way to the hotel in Paris and when I saw the Arch of Triumph, I melted! It was the beginning of a trip full of wows and full of seeing things I had seen in movies, read about in books, studied in school, and here I was seeing them with my own two eyes!"
Edward
Tupelo, MS
Tour: 09/03/18
Overall rating:
I had visited Europe 31 years ago using Rick's book. Now I was returning with two of my children, ages 15, and 20. We wanted to do our touring on our own but I did not want to have to worry about hotel reservations and transportation. The My Way tour allowed us to do just that. We enjoyed meeting all the different people on our bus and the traveling we did together, but each stop allowed us to go as fast or wherever we wanted to go. We packed into each day the most we could do. Great trip.
Favorite "WOW" moment
"My favorite wow moment was to once again return to the Swiss Alps. I had remembered how much I loved them 31 years ago and to revisit and then see places that I had never been before was just awesome. The sights, sounds, and just being there can never be fully understood in pictures or videos. The waterfalls, the clouds, the peaks, the people just combine to make the adventure one that makes me want to come back again."
Barbara
Seattle, WA
Tour: 09/03/18
Overall rating:
Cary was great at providing information about all the places we visited. Provided maps, language and food handouts. Helped us with ideas of things to do and see. Kept us on schedule and entertained. We enjoyed the song she played on the bus and the little games. We loved every place we visited! People keep asking - what was our favorite place? And it's really hard to say because we enjoyed them all so much! Loved getting to know and spending time with the other people on our tour.
Favorite "WOW" moment
"My favorite "wow" was the 1st night we were in Paris and I found myself drawn to the Eiffel Tower. I couldn't help myself, I just had to keep moving closer to it, whether the rest of my group was coming or not! And then later when it started to sparkle,it was really beautiful. I was surprised at all the people sitting on the lawn, drinking wine and having picnic in the dark. Perfect way to start out our trip."
Kerry
Peralta, NM
Tour: 07/16/18
Overall rating:
We really appreciated having the travel and accommodations arranged for us. All we had to do each day was decide what we would like to go see or do and where we would like to eat. As one of our son's said when we got back, "that really does sound like a vacation!".
Favorite "WOW" moment
"All of the stops had great features. I especially enjoyed the chance to hike in the Swiss Alps and hear the cow bells."
Daniel
Davis, CA
Tour: 07/16/18
Overall rating:
I had never been on a tour before in my life of any sort, and the tour relieved me of the endless travel planning and booking that I do at least once a year. In general the tour met most of my high expectations. My wife and I got to see many renown tourist attractions in a short space of time; perhaps too short. The bus provided a convenient, comfortable, and very efficient way of traveling thru Europe. It was always on time or schedule. The tour was very efficiently run by our guide.
Favorite "WOW" moment
"For me it was the Lauterbrunnen stop. The views from the hotel were incredible as was the whole setting. On our one full day there we took a train and a cable car up one of the mountains and did an incredible hike. Nothing came close to matching the serenity and natural beauty of the place, and I wish we had had one more days there. It also made a change from the endless "urban" museums & churches and accompanying crowds."
Pingying
Davis, CA
Tour: 07/16/18
Overall rating:
Excellent
Favorite "WOW" moment
"Bus was very comfortable, extra seats made more comfortable"
James
Bosque Farms, NM
Tour: 07/16/18
Overall rating:
We had a great time. Hotels were very nice and close to city centers. The bus was clean and cool.
Favorite "WOW" moment
"I liked the Alps the best."
Bruce
Midway, UT
Tour: 06/25/18
Overall rating:
The trip was phenomenal in most regards. The only thing I might do different is to go in the Fall. Italy was very warm and crowded (as you said it would be), so that distracted a little from the joy of being in Venice and Rome. We very much enjoyed our experience traveling with an AWESOME LEADER and a group of like-minded folks who accepted that many things would be different than what we might expect in the United States, such as air conditioning in every hotel and free coffee in every lobby.
Favorite "WOW" moment
"The Swiss Alps were simply breathtaking. Even for my wife and I who live in the mountains of Utah, the majesty of the Alps and the charm of the culture and the towns there are beyond anything we have experienced in this country. Cinque Terre was our other favorite. If you ever offer an Alps + Cinque Terre only tour, please let us know! We would love to spend a week in each place."
Jason
Duluth, MN
Tour: 06/25/18
Overall rating:
wonderful. so glad we chose Rick Steves! having the hotels and transportation taken care of was a game changer. our driver Danny was wonderful, can't imagine driving, let alone a bus, in Europe traffic. Stefanie was wonderful as a tour guide, very knowledgeable about the area and got everyone to where we needed to go. hotels 95% were wonderful, centrally located, safe, good breakfasts, helpful. only concern was an upstairs room in Beaune, 95 degrees, no fan.
Favorite "WOW" moment
"all the places were wow in a different way, but probably the beauty of Swiss Alps"
Susan
Ottumwa, IA
Tour: 06/18/18
Overall rating:
This My Way Europe in 14 Days tour was outstanding. It was the right mix of structure and no structure. All accommodations and transportation was taken care of. It was a great way to get a sampling of different types of Europe, big cities and calmer towns.
Favorite "WOW" moment
"The favorite "wow" moment was our view from out hotel in Lauterbrunnen. Looking out over the valley, waterfall and at the alps!"
Rosalie
Anthem, AZ
Tour: 06/18/18
Overall rating:
Our 3rd RS Tour & 1st My Way. I think MW Tours should be marketed as ideal for 1st time travelers. Tho I appreciate the value of the redundant basic info delivered on the bus, its value to experienced travelers is minimal & borders on irritating. I would not have booked MW had I known this.
Favorite "WOW" moment
"Shilthorn emerging from the clouds! WOW on steroids! Tho we've hiked Switzerland several times...this was our 1st stay in the Lauterbrunnen Valley and it's my new Favorite Swiss place! So authentically Swiss! We hope to return. Close 2nd would be Monterosso. Our 1st visit to Cinque Terra and it did not disappoint!"
Gretchen
Shoreview, MN
Tour: 06/18/18
Overall rating:
We chose the My Way tour to have some independence and to be able to explore on our own. We were surprised by how much we enjoyed the other tour members and appreciated being able to go out for dinner or visit a site together on our own terms. The My Way tour is exactly what it promises and we had the time of our lives. Now that we've gotten a taste, we will go back and spend more time in our favorite locations.
Favorite "WOW" moment
"Schiltorn Mountain and Cinque Terre. Words don't do them justice."
Mark
Jackson, LA
Tour: 05/21/18
Overall rating:
Fantabulous experience! Simply loved the convenience and proximity of hotels to metros and attractions. Will ONLY do My Way type group tours in the future. The flexibility of re-scheduling individual events as needed made the trip so much more enjoyable and time saving.
Favorite "WOW" moment
"Swiss Alps"
Cheryl
Edmonds, WA
Tour: 05/21/18
Overall rating:
Amazing countries, food, people, the hotels were located in perfect areas to get to trains or walking tours. Our tour group was as if we had all been friends before, including the bus driver and tour manager .
Favorite "WOW" moment
"Hiking the Swiss Alps! Gorgeous!!"
Judy
Colorado Springs, CO
Tour: 05/21/18
Overall rating:
We were hesitant to take a 'tour' even though we have been guided by Rick's books and videos on other trips. This was a great way to 'stick our toes in the water', and we thoroughly enjoyed the experience. Our escort was exactly who you would want giving us the independence we desired while providing input when requested. She also gave us great tips on various things which enhanced our ability to do things 'our way'! Our group was fun and like minded!
Favorite "WOW" moment
"Switzerland and the Alps!"
Brian
Hinckley, OH
Tour: 05/21/18
Overall rating:
The tour was excellent. We had a great tour manager, bus driver and tour group. Had fun throughout the entire trip.
Favorite "WOW" moment
"Many "wow" moments, but looking out the 007 restaurant was probably the best."
Larry
Altoona, IA
Tour: 05/21/18
Overall rating:
We enjoyed making our own schedule. We had been on other trips which we appreciated the organization, but this was a pleasant change.
Favorite "WOW" moment
"It had to be Switzerland. The weather was perfect which helped."
Trudie
Kaysville, UT
Tour: 05/21/18
Overall rating:
I had a wonderful experience!! The set up of the MY WAY tour was perfect for me and my friend. We were nervous about traveling by ourselves for the first time which is why we picked this tour. We found it to be a happy medium between feeling safe and still having freedom to do what we preferred. I would recommend this tour to anyone!
Favorite "WOW" moment
"There were so many! -Seeing the Arc De Triomphe and realizing we were finally in Paris! -Feeling the mist of the Trummelbach falls in Lauterbrunnen -Playing in the Mediterranean Sea in the Cinque Terre -Soaking in all the noises and smells in the Hofbräuhaus in Munich"
John
Durham, NC
Tour: 09/18/17
Overall rating:
Just unbelievable. Love the "My Way" tour format. Tim and driver Michele were both a wealth of knowledge and a ton of fun to hang out with!!
Favorite "WOW" moment
"The most memorable views for us was hiking in Cinque Terre. Coming off the ridge down into a town that's so colorful will be a memory we will never forget."
Kim
Eagan, MN
Tour: 09/18/17
Overall rating:
This was my first trip to Europe and first tour. I was pleasantly surprised how much I enjoyed Europe. Taking the My Way eased my mind of figuring out an itinerary, finding hotels and transportation. Our tour manager went above and beyond to make our experience the best it could be. We had a good group of people.
Favorite "WOW" moment
"Seeing historical landmarks in person that I learned about and have seen on tv."
Debra
Eagan, MN
Tour: 09/18/17
Overall rating:
I am still thinking about the tour - so I would say this was an experience I will always remember. This was my husband's and my first European trip and first tour. The My Way was everything we hoped it would be and more. The motor coach was comfortable, the driver was exceptional and interacted with everyone. Our tour manager was outstanding and the countries visited on this tour covered the major highlights to give us a taste of Europe and wanting more. We had a good group of people too!
Favorite "WOW" moment
"If I have to pick one - for me it was my first glimpse of the Alps in the distance. Seeing Switzerland and the Alps has been a dream of mine."
Judy
Andover, MN
Tour: 09/18/17
Overall rating:
I was pleasantly surprised at the makeup of this group.I really enjoyed being with people of all ages from 30's through late 60's. Everyone was polite, engaged, relaxed, and outgoing. I did not realize that the scenery as we traveled on the bus, would hold so many good views, castles, and other things. That was an added plus since we did spend several hours on the bus traveling between countries. I actually needed bus time to "relax" between the cities we toured.
Favorite "WOW" moment
"Lauterbrunnen view from our Hotel Staubbach!"
Vicki
Eugene, OR
Tour: 09/18/17
Overall rating:
This was my first trip to Europe and I wanted to experience safe navigation, lodging, dining and touring in several countries. I loved the opportunity to have all this with the independence to choose and explore each place on my own. The "My Way" tour was the perfect choice for me! Our tour guide, Tim and bus driver Michele were exceptional and made everyone feel comfortable and well-prepared prior to arriving in each location. Variety of cities, countryside, hamlets, history and more!
Favorite "WOW" moment
"Being prepared to experience each place with confidence and ease, there were many wows- Swiss Alps, walking through historic Paris and Rome, eating dinner with the locals in Beaune, and enjoying Octoberfest with a local German family and other world travelers. The Cinque Terre villages, terrain and food were incredible. All deepened my passion to commit my future to travel."
Tyree
Frederick, MD
Tour: 09/18/17
Overall rating:
Tim was wonderful and provided so much information. A little too much bus time although he and Michaela made the trip very informative.
Favorite "WOW" moment
"Hiking the Swiss Alps"
Gary
Stanwood, WA
Tour: 09/18/17
Overall rating:
This was our second My Way Tour and our seventh trip to Europe. We travelled with friends who had never been to Europe. Taking a My Way was an excellent opportunity to introduce them to Europe without all of the transportation and accommodation headaches/planning. We enjoyed the various stops but felt like we never had enough time in any one spot. Even though we stayed overnight by the time we got to our destination it was late in the afternoon. We enjoyed the company of all the tour members
Favorite "WOW" moment
"Revisiting Lauterbrunnen and staying in the same hotel that we stayed in on our first My Way tour in 2004. We also visited with our daughter's friend who lives in Wengen. We had never met him and only learned about him about a half hour before we left to catch the train. We found him by the tennis courts and he gave us a brief tour and history of the town."
Nancy
Penticton, BC
Tour: 09/18/17
Overall rating:
Overall, our experience was terrific, a large part due to Tim, our Tour Manager and our coach driver, Michel. Tim's personality, friendliness, welcoming everyone and every question, comment, concern with utmost sincerity and real interest was truly impressive. Tim worked constantly to include everyone, communicate clearly what was happening for lunch stop, bathroom breaks, great points of interest, history and scenery comments along the trip were greatly appreciated!
Favorite "WOW" moment
"So, so many wow moments, but probably, two, were the Lauterbrunnen area of Switzerland and coming into Cinque Terre. Wow - beautiful moments that we would re-create and re-do in a heartbeat."
Vickie
Kane, PA
Tour: 09/18/17
Overall rating:
Our my way Europe trip was wonderful. Not one thing negative to report. Our tour leader Tim was excellent. I loved his personality . He was knowledgeable, professional but lots of fun. Our driver Michele was awesome. A great safe driver and professional and also lots of fun. The team of Michele and Tim was a great connect. It was the first time they had worked together but you would think they had been friends for years. Our hotels were in great locations. Close to mass transit and restaurants.
Favorite "WOW" moment
"Everything was a wow moment...my first trip to Europe and everything was such an awesome experience."
Sharon
West Melbourne, FL
Tour: 09/18/17
Overall rating:
Everything about this experience was incredible. We especially loved our tour guide, Tim. He was friendly, welcoming, and was a great historical story teller.
Favorite "WOW" moment
"Lauterbrunnen was easily our favorite place we visited. The hike from Murren to Grutschalp was breathtaking and was definitely my favorite "wow" moment."
Charles
Goleta, CA
Tour: 09/11/17
Overall rating:
Excellent guide......professional, informative and accessible!!Lead with a firm hand when needed but in a very positive mmaaner
Favorite "WOW" moment
"ALPS ?? Once in a life time experience!!"
Patricia
Isanti, MN
Tour: 09/11/17
Overall rating:
Our tour guide Lisa, really made the trip. She was very knowledgeable and great fun. It was a good trip to find where I would like to return and extend my visit.
Favorite "WOW" moment
"Cinquetera"
Paul
Lubbock, TX
Tour: 09/11/17
Overall rating:
It turns out the My Way is the format for me! Our escort did, in my opinion, a perfect job of keeping us informed and helping us know how to best capitalize on our time in each location while honoring the My Way format. This tour gave me an introduction to some of the highlights of Europe from which I can decide where I wish to explore further.
Favorite "WOW" moment
"That's difficult, to answer, but likely the Lauterbrunnen Valley in Switzerland was the greatest surprise and possibly my favorite stop on the tour. The rhythm of the tour was great in that we seemed to switch between big cities and more relaxed locales at just the right time, and when we pulled into that lovely town, I knew it was perfect timing for me. It was the most peaceful, serene and BEAUTIFUL place I've seen in a long time."
Debra
Fort Wayne, IN
Tour: 09/11/17
Overall rating:
I love the fact that this trip included so much diversity! From the food to the music to the physical setting of each destination. Amazing to look back on the absolute variety of activities and places we had access to on this trip. World class museums to hiking in the Alps and along the seashore in Cinque Terre; markets in cities and small towns; so many food choices--every day something new to look forward to.
Favorite "WOW" moment
"Happening across the cow parade in Lauterbrunnen was a huge highlight. It was just a quaint, local tradition that was fun and unexpected....and along with that is just the introduction to regional agriculture. Another was the town of Beaune. There was a lot here left for the next trip....the town at night with all the light shows on the architecture, dining in a wine cave, fabulous shopping area....would loved to have biked or hiked here."
Kevin
Seattle, WA
Tour: 09/11/17
Overall rating:
The trip was a great sampler of some of the best locations in Europe. Exactly what I was hoping for. I'm very glad I chose a "My Way" tour, as it allowed me the freedom to approach each location as I wanted, and move freely and quickly on my own, dodging the cumbersome tour groups that clog the major attractions. The Audio Europe app came in handy several times, allowing me to avoid the extra charge at museums for their guide, or as a convenient orientation walking guide.
Favorite "WOW" moment
"In Switzerland I took the train up to Jungfraujoch. From the Sphinx, I noticed a trail heading up the glacier to a Saddle, and thought to myself "I gotta get there." Ordinarily I would not hike on a glacier above 11,000 ft without crampons and an ice axe, but the Swiss have definitely tamed their mountains more than we have in Washington State. My "wow" moment was getting to the Oberes Mönchsjoch to find another striking view...and a chalet with beer and sausages!"
Susan
Wenatchee, WA
Tour: 09/04/17
Overall rating:
Our overall experience was excellent. The itinerary was very good, our guide, Jodie was wonderful and the people on the tour were friendly and fun to be with. We have traveled extensively but not usually with a tour. We were not disappointed.
Favorite "WOW" moment
"I had many wonderful experiences but it would be hard to top the view from Schilthorn of the Eiger, Monch, and Jungfrau! We had a clear sunny day and the 360 degree view was amazing!"
Nancy
Fort Collins, CO
Tour: 09/04/17
Overall rating:
This tour was very well organized. Our tour guide Jody and bus driver Michele made the experience wonderful. Jody provided excellent information, orientations and help throughout the tour. Michele's driving was excellent- especially his parking in Bern. Together, they also provided great entertainment (the "Jody & Michele Show") that made the travel days fun. Hard to believe this was their first time working together. The sites and cities we visited were the perfect taste of Europe.
Favorite "WOW" moment
"Lauterbrunnen, Switzerland was stunningly beautiful. It was such a privilege be able to hike this gorgeous valley. My 2nd wow was Beaunne. I hadn't expected such a pretty medieval city in this wine country of France."
George
Calgary, AB
Tour: 09/04/17
Overall rating:
We are experienced global travellers, used to making all our own arrangements, and so were a little apprehensive about what a 'My Way' tour might bring. We were very pleasantly surprised. The pace was fast but somehow seemed unhurried, so that visits didn't feel like whistlestops. Crucially, we had a fabulous multi-lingual guide and a wonderful driver which, I think, helped the group 'gel' very well. The trip very much became a shared experience amongst friends.
Favorite "WOW" moment
"'Don't have a "wow" moment, per se - and would respectively suggest that this is not, for many people, a germaine question. One might after all have a wow moment, but still have a poor trip overall! Rather, we were very fortunate that the whole tour was a succession of unforgettable sights and those shared experiences - like the inexpensive but excellent meals and get-togethers that our guide thoughtfully arranged along the way. Nothing too cloying...just great comraderie."
Pat
Lakeville, IN
Tour: 09/04/17
Overall rating:
We have done both independent travel, fully guided RS tours, and a combination of the two and IMHO the My Way concept is without a doubt the best of both worlds! We had the benefit of an excellent tour manager, a great driver, and a group of like minded travelers to share experiences and ideas with. Jody was there for us to bounce ideas off or get advice, but we were still able to personalize this tour more than any of our past tours. We were also able to "experience" more by sharing.
Favorite "WOW" moment
"Always a difficult one because truly there has never been a day on any of our RS tours that I didn't find myself saying "Wow". This trip was our bucket list trip hitting places that we had not been as well as revisiting places we wanted to see again, thus the Best of Europe. But without a doubt the entire time we spent in Switzerland was "WOW"! I think because it was so unexpected. One of our tour members summed it up so well when she said "I didn't even know I wanted to go to Switzerland!""
Paul
Seattle, WA
Tour: 09/04/17
Overall rating:
As a mid-30's couple, we were worried going into the tour that we'd be stuck with a bunch of retirees for 2 weeks. We were happy to see we weren't the youngest couple on the tour, and while we were definitely bringing the average age down, everyone was active and fun to be with. We liked the MyWay format of being able to venture out on our own in each city, but still get some suggestions on things to see/do.
Favorite "WOW" moment
"Hiking the alps in Lauterbrunnen - we had the perfect weather conditions for that day and picturesque views exceeded my expectations. Coming back down from the mountain and waiting for the bus back to town, we saw a BASE jumper fly and land about a block away from us."
Paul
Newton Falls, OH
Tour: 09/04/17
Overall rating:
This tour was great. It exceeded our expectations in every way. Maybe it was just luck but we couldn't have hand picked a better group of traveling companions. Our tour guide and bus driver were fantastic. The "my way" tour gave us the flexibility we wanted for this trip. The time at each location is short but the exchange for this is seeing a greater number of places. The bus rides were not as bad as we anticipated. In fact, it was a welcome rest from the non-stop activity at each location
Favorite "WOW" moment
"Everything in Lauterbrunnen, Switzerland. This is a country we definitely want to return to."
Margot
Seattle, WA
Tour: 09/04/17
Overall rating:
We had a really great time. Our tour manager was fun and upbeat without ever being annoyingly chipper. Our driver was fantastic (and really skilled, parallel parking on a curved hill in Bern) and willing to join the fun. Our group got on very well after we got to know each other over the first few days. Every city we stopped or stayed in was interesting and had something different to offer. It never felt like "oh, more Italy", but rather "oh wow, a different part of Italy!". Fantastic!
Favorite "WOW" moment
"Lauterbrunnen was stunningly, shockingly beautiful. And the higher up the mountains you went, the more beautiful it became. The very air was special. And as a special treat we were lucky enough to see a BASE jumper (our tour manager had told us about them) successfully land. Switzerland seemed very much like western Washington, until we came to the valley of Lauterbrunnen. It's like no where on Earth."
Ken
Fort Collins, CO
Tour: 09/04/17
Overall rating:
We are very independent and reasonable savvy travelers but doing a My Way trip was greatly enhanced our experience. Not having to deal with transportation was relaxing and having so access to so much more information about each location (provided by Jody) was invaluable.
Favorite "WOW" moment
"Switzerland and Cinque Terre were the two highlights for us but how can you really [INVALID] from such a great variety of locations. Each had wow moments!"
Lori
North Olmsted, OH
Tour: 09/04/17
Overall rating:
Great travel companions + Super bus driver + Spectacular tour guide = One unforgettable and amazing vacation!
Favorite "WOW" moment
"The entire trip was one big WOW! Swittzerland though is my favorite spot and we had Chamber of Commerce weather the full day we were there. It was spectacular !"
John
Rocky River, OH
Tour: 09/04/17
Overall rating:
Great time.group very compatible. couples did homework for each stop.Bus ride fairly long but views interesting. Cities fun till tour boat customers arrive, then crowded.
Favorite "WOW" moment
"St Peters breath taking. Have been to Swiss alps before, Brenner pass has great views. Suprised how small heart of Paris and Rome were within walls of old cities"
Randy
North Olmsted, OH
Tour: 09/04/17
Overall rating:
We were hesitant to book this trip. We had been to Europe several times before, and we thought traveling on a bus with people we did not know would be an unpleasant experience. We were wrong. Our group was very diverse. There were retirees, middle aged couples, young couples, children and a solo traveler. There were people from all across the U.S. Traveling with them made the trip better than we anticipated. We are already planning another trip next year.
Favorite "WOW" moment
"Entering St. Peter's Basilica in Rome."
Victoria
Indianapolis, IN
Tour: 07/17/17
Overall rating:
I enjoyed my trip quite a bit. I liked the additional time in Bern on the way to the Lauterbrunnen Valley (could have used more time there, actually). Even for being as hot as it was in late July, the cities and towns were still beautiful and active and enjoyable. Rome was admittedly harder than expected (a lot of hilly, uneven streets at the end of a long vacation), but was still enjoyable. I would recommend this tour to anyone wanting to get a taste of Europe.
Favorite "WOW" moment
"My "wow" moment was opening up the doors to my balcony (!) at our hotel in Switzerland to see the beautiful Lauterbrunnen Valley, mountain peaks, and an amazing waterfall, all right there in one picturesque view."
Jason
Woodinville, WA
Tour: 07/17/17
Overall rating:
This was the ideal way for our family to travel. All the hassles of getting from city to city was turned into a pleasant drive with frequent stops and helpful tips from Travis. The one day after the tour when we added our own leg from Italy back to Germany was a real hassle after having our deluxe treatment with Hilde's bus. We spent pretty much all day that day getting from Rome to Heidelberg.
Favorite "WOW" moment
"First night in Lauterbrunnen Valley. Simply wow! The view from our hotel room was magnificent."
Grace
Mansfield, OH
Tour: 07/17/17
Overall rating:
This tour was amazing. As someone who hasn't seen much of Europe, it was a great way to visit some of my 'bucket-list' places on a relatively short trip. I was also surprised by the places that weren't necessarily on my list, but ended up being my favorite spots. (Lauterbrunnen, Switzerland and Cinque Terre, Italy.) Our group was fun and friendly, the transportation and lodging went smoothly, and our guide Travis was really helpful.
Favorite "WOW" moment
"There were a few, but it has to be hiking in Lauterbrunnen Valley and looking up at the Swiss Alps. That view left me speechless."
Kelly
Woodinville, WA
Tour: 07/17/17
Overall rating:
Our tour was fantastic, from start to finish. The diversity in the locations (e.g. getting to experience the large city of Paris, then compare it with rustic Beaune) was the most interesting part. I felt like I got to experience a little slice of Europe in several distinct categories, all in 1 trip! The best reason for taking this tour, rather than going on our own, was our exceptional Tour Guide. Travis's random bus chats about European culture made 100% of the difference in our experience.
Favorite "WOW" moment
"Lauterbrunen valley in Switzerland. The first word out of most of our group's mouths when getting off the bus was "Wow", followed by more "Wowww". The hiking, fresh cheese, friendly locals, and amazing 360 views made it just perfect."
Kellie
Cincinnati, OH
Tour: 06/26/17
Overall rating:
I do not know where to begin. From the time I met our guide and our group I knew it was going to be an amazing experience. From the bus rides to our hotels and all the fun we had in between was something that I will never forget. Our bus driver Yost was absolutely a top notch guy. Jesse was over the top with not only his knowledge of each of the places we visited but his kind, heartfelt personality absolutely made the trip. Our group was fantastic and we quickly became friends.
Favorite "WOW" moment
"Pulling up to our hotel in Lauterbrunnen Valley and seeing it nestled in the mountains was the first amazement. Then the excitement of climbing the Swiss Alps in the Gondala and reaching the top to step out and see the snow covered Alps. What an amazing rush I felt and the view was over the top. Experiencing the Thrill Walk was breathtaking."
Charlie
Cincinnati, OH
Tour: 06/26/17
Overall rating:
This is the first time my wife and I did a vacation like this. I have been a Rick Steve's fan for several years and we just thought it was the best. We took the tour with another couple and we continued to say how much we enjoyed how we were able to do it our way. From day one till the very last day from Paris France to Roam Italy we were able to explore new cities and experience new cultures with a great group of people (we now call our friends) and a wonderful escort.
Favorite "WOW" moment
"This is a very hard question to ask because every country or town we were in had something special. If I had to choose one it would be Switzerland. We were so amazed about the town we stayed in, the hotel and the absolutely beautiful sights/water falls and views of the alps and the towns we hiked through."
Jason
Louisville, KY
Tour: 06/26/17
Overall rating:
This is the first guided tour we have ever taken and we were a little cautious and unsure of what to expect. Our guide, Jesse was absolutely phenomenal and added immeasurable value to the experience. His knowledge, personality, sense of humor, and beautiful hair were all unparalleled.
Elissa
Millbrae, CA
Tour: 06/26/17
Overall rating:
We picked a MyWay tour because the autonomy we'd have over our own sightseeing and not feel bound to a group for the entire trip. Well, we all enjoyed each other so much that we ended up hanging out throughout the trip with our new found friends. The MyWay tour also took the stress of arranging transportation and finding hotels off our shoulders with the added bonus of a knowledgeable guide to discuss sightseeing ideas and give us advice from where to eat and where to shop...invaluable!
Favorite "WOW" moment
"There were many "wow" moments but if I had to narrow it down, I'd say opening up the patio doors and seeing Staubach Falls from our hotel balcony, as well as sitting in St Marks Square drinking in the ambience were just 2 of my favorite "wow" moments."
William
Cincinnati, OH
Tour: 06/26/17
Overall rating:
This was our first commercial tour. We had previously done a few family tours that we had planned. I was hesitant to do a group tour because I am not who does well following a group as I tend to stray off on my own. The My Way tour was perfect for us since we didn't have to be concerned with arranging accommodations and transportation and we had the freedom to explore on our own. Our trip leader and bus driver were extremely competent at their jobs.
Favorite "WOW" moment
"There were many "wow" moments but my favorites were seeing my wife get so excited hearing and seeing the Swiss cattle with their bells next to our Lauterbrunnen hotel and as we hiked along the trails as we descended from Schilhorn . I could see reflections of her inner child in her excitement. Priceless!"
Jari
Cincinnati, OH
Tour: 06/26/17
Overall rating:
Not enough characters to fully rave about how fabulous this trip was! The "My Way" experience was the perfect blend of allowing us to do what/when we wanted to do things, while removing the stress of finding lodging and transportation. We were skeptical at first about the long bus rides, but honestly the bus was so comfortable and allowed for much needed rest between cities/countries. Our guide, Jesse, was also outstanding (and a blast)! His passion and knowledge of Europe were extraordinary.
Favorite "WOW" moment
"Hands down, Lauterbrunnen Valley(Alps)!!! No words can describe the breathtaking beauty we experienced. The hotel and village were straight out of a movie...doesn't get much better than opening your window in the morning and hearing/seeing a roaring waterfall, tolling church bells, and clanging of bells around cows necks!"
Carol
Bay Village, OH
Tour: 06/19/17
Overall rating:
We had the opportunIty to visit a mix of European city and country locations that I had always wanted to see. Our tour manager Travis was very knowledgeable and helpful. Our bus driver Hilda got us everywhere efficiently, safely and on time. I travelled with my husband, daughter and son in law. The My Way format gave us the flexibility to do exactly what we wanted in each location. Our fellow tour members were a lot of fun and we enjoyed running into them at different sights and restaurants.
Favorite "WOW" moment
"This whole trip was one wow moment after another. Going up in the Eiffel Tower in Paris, taking in the view at the top and inside and out as we walked down. In Switzerland taking train and gondola rides up the mountains, enjoying a picnic lunch with a breathtaking mountain view and hiking down and wandering through picturesque Gimmelwald and Murren. Our gondola ride in Venice and Mass at St Peter's Basillica in Rome were special."
Lauren
Potter Valley, CA
Tour: 06/19/17
Overall rating:
The tour itself was great. The destinations were gorgeous, the other travelers on the tour were so nice, & our guide couldn't have been better!
Favorite "WOW" moment
"My favorite "wow" moment was walking into St. Marks square in Venice & hearing my favorite opera song being played by an orchestra. It was very overwhelming in the best way possible!"
Flora
Turner, OR
Tour: 06/19/17
Overall rating:
I had a wonderful time. Our group was very friendly and Travis was an awesome guide.
Favorite "WOW" moment
"Switzerland."
Autumn
Green Bay, WI
Tour: 06/19/17
Overall rating:
Loved the "my way" tour and ability to design our own itinerary. Traveling by bus was perfect: able to relax and enjoy the scenery. Our driver, Hilde, was fantastic and her bus clean, comfortable, and spacious (with just 28 tour buddies). Tour manager, Travis, gave interesting country introductions and really helpful city orientations and rest stop guidance. All stops were engaging in their own way, good diversity. Loved hanging out with new travel buddies. All around high five tour.
Favorite "WOW" moment
"Wow moments: Eiffel Tower glittering at night, Paris city bike tour, and chocolate croissants. Monterosso/Cinque Terre seascape and hiking, and seafood and gelato, yum. And especially the magnificent Lauterbrunnen Valley."
Gregory
Bay Village, OH
Tour: 06/19/17
Overall rating:
I'd never been to Europe for vacation before so I wanted to see and do as many things as possible. Not so much museums, but just get a feel for different places. So the My Way tour was the perfect way to do it. 7 places in 15 days without having to worry about how to get from place to place and where to stay. It was fun having a group to travel with, the bus was great and not too crowded, and it was great having a tour manager to look out for us.
Favorite "WOW" moment
"Seeing the Eiffel tower and how it was constructed. It was a lot different than I imagined. What I really liked though was arriving at the Eurostar train station in Paris and being hit with instant chaos. It was very exciting. Also, walking around the Eiffel tower at night and taking a boat ride down the Seine river at night and seeing so many people sitting on the lawn and river bank eating and drinking wine and playing music."
Erin
Reading, PA
Tour: 06/19/17
Overall rating:
This was my 10th tour with Rick Steves, but my first MY WAY tour. While a completely different experience, it was still fabulous. I feel that the tours, My Way or Guided, allow us to use our time wisely, avoiding crowds when possible, having us stay in great locations, and we always have an EXCELLENT time. Our tour manager, Travis, was fabulous. We enjoyed his stories and enthusiasm for travel. Rick and his team provided us with the tools for yet another fabulous European trip!
Favorite "WOW" moment
"My favorite thing about taking a Rick Steves Tour is that EVERYDAY is a WOW! Everyday there is something that takes your breath away. Some days it might be a small thing like the view from the McDonald's rest stop in Austria. Other days it might be something bigger like seeing Venice for the first time."
Hannah
Potter Valley, CA
Tour: 06/19/17
Overall rating:
My overall experience with this tour was amazing! Travis was excellent on giving advice and recommendations for upcoming stops and when we arrived there. The orientation walks he gave to give an overall of our stops we're such a great idea to help us learn where important sights were. For my first time to Europe this was a great way to do it giving us freedom to do things as well as guidance!
Favorite "WOW" moment
"My favorite "wow" moment would have to be going up in the mountains when we were in Lauterbrünnen, Switzerland!"
Tim
Chicago, IL
Tour: 06/19/17
Overall rating:
My tour experience was incredible. The "My Way" was perfect for those who do not want to be held down by a strict schedule.
Favorite "WOW" moment
"Driving into Lauterbrunnen Valley, Switzerland."
Juliana
Houston, TX
Tour: 06/19/17
Overall rating:
It was really fun and cool and just pretty chill overall????????
Favorite "WOW" moment
"When I first saw the Eiffel Tower I got super excited and freaked out so yeah that."
Steve
Dripping Springs, TX
Tour: 06/19/17
Overall rating:
Although we were a bit skeptical at riding on a bus all over Europe, the trip turned out to be such a joy. The 55 passenger bus was only filled with 28 people, making it very very comfortable. We stopped enough to make it very bearable (about every 2 hours). The cities we visited were really awesome. The tour manager (Travis) was first class. Hotels were great for the most part (some had no or very weak A/C, and we happened to be there during a heat wave... But we survived it.
Favorite "WOW" moment
"Hard to pick just one. Our entire trip was just perfect. The bus was a comfortable surprise. I guess seeing the Eiffel tower light up at 10PM was pretty cool. Seeing the ancient history come alive in Rome. and on and on. We used the Rick Steves Best of Europe guide book to plan our "My Way" tour and it was awesome."
Alix
Madison, WI
Tour: 05/22/17
Overall rating:
As a twenty-something, traveling with their parents, I will admit that I was worried, not only that I would be the only person my age, but also that I wouldn't have as much fun on the "tour" parts of the My Way. I was wrong. While the tour group did end up mainly consisting of people much older than me, it never really bothered me. At least in my opinion, Rick Steves travelers are pretty darn cool.
Favorite "WOW" moment
"Switzerland is amazing. We took a tour since most of my family had never been to Europe and we wanted an overview experience so that my brother and I would feel more comfortable coming back on our own. While I would gladly go back to most of the places we went to, Switzerland was far and away my favorite. It's a beautiful country away from all the big cities, and the hiking was incredible."
Weather

France / Paris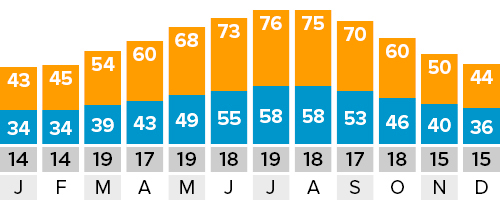 ---
Switzerland / Bern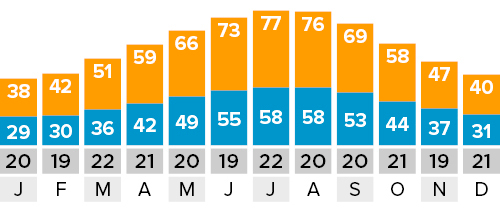 ---
Germany / Munich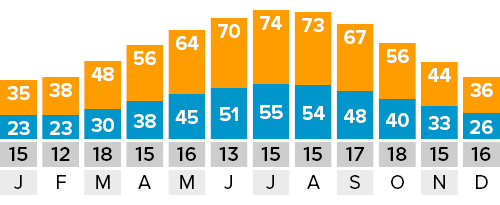 ---
Italy / Venice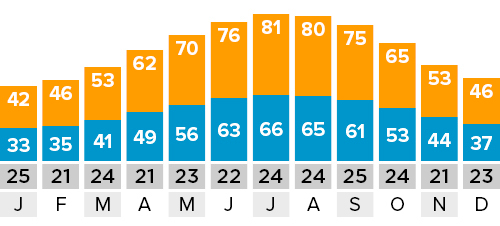 ---
Italy / Rome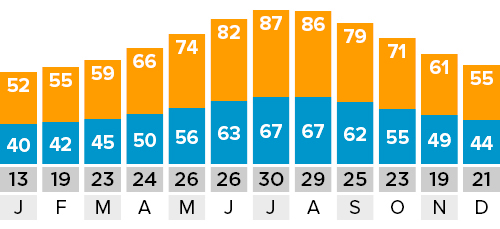 Hotels & Flights
Tour Hotels
In case you wish to book pre- or post-tour hotel accommodations, the contact information for the tour's first and last hotels is included in your tour confirmation email, as well as in your online customer account. About one month prior to the tour departure, in your customer account you'll find the directions to your first tour hotel and a complete list of hotels where we'll be staying while on tour.
Flights
Our tours don't include airfare, so your flight arrangements are completely up to you.
Most tour members arrange to fly into Paris and out of Rome ("multicity" on flight-booking websites). Booking round-trip to one city will require a connecting flight, train trip, or additional overnight stay in Europe.
We suggest arriving a day or two before your tour begins to allow ample time to get over jet lag and be well-rested for the first few days of your tour. For more information about transportation options for getting to and from your tour, see Rick Steves Best of Europe guidebook.