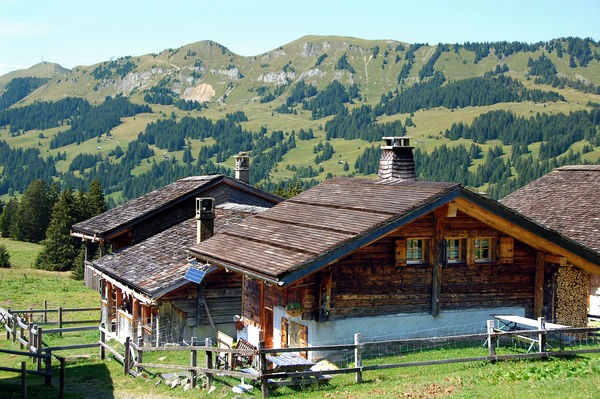 By Rick Steves
Even those who know a Rocky Mountain high find something special about the Alps. In the Alps, nature and civilization mix it up comfortably, as if man and mountain shared the same crib. You can hike from France to Slovenia, finding a hut or remote village each night, and never come out of the mountains.
Imagine walking to the long, legato tones of an alpenhorn. Then, just when you need it most, there's a mechanical lift to whisk you silently and effortlessly — but not cheaply — to the top of that staggering ridge or peak, where your partner can snap a photo of you looking ruggedly triumphant. You'll pass happy yodelers, sturdy grannies, and dirndled moms with apple-cheeked kids.
While the most famous corners are now solidly in the domain of tour groups, much of the best alpine charm is folded away in no-name valleys, often just over the ridge from the Holiday Inns and the slap-dancing stage shows.
Here are a few places that will make your alpine adventures more than a scenic hike.
Log-Cabin Villages
Both Switzerland and Austria have isolated log-cabin villages, smothered with alpine goodness, set in a flower-speckled world of serene slopes, lazy cows, and musical breezes. While both Taveyanne and Fallerschein are barely accessible by car, they're worth circling on the map if you suspect you may have been Kit Carson in a previous life.
The village of Taveyanne is in the French-speaking part of Switzerland, two miles off the road from Col de la Croix to Villars (or take the footpath from Villars). It's just a jumble of log cabins and snoozing cows stranded all alone at 5,000 feet. The only business in town is the Refuge de Taveyanne, where the Siebenthal family serves hearty meals (great fondue and a delicious croûte au fromage avec oeuf) in a rustic setting. Who needs electricity? There's a huge charred fireplace with a cannibal-sized cauldron, a prehistoric cash register, low-beamed ceilings, and well-hung ornamental cowbells. For a memorable experience — and the only rentable beds in the village — rent one of five mattresses in their primitive loft.
The similarly remote village of Fallerschein is in western Austria, 4,000-foot-high in a flower-speckled world of serene slopes and cowbells. Thunderstorms roll down the valley like it's God's bowling alley, but the pint-size church on the high ground, blissfully simple in a land of Baroque, seems to promise that this huddle of houses will survive, and the river and breeze will just keep flowing. The couples sitting on benches are mostly Austrian vacationers who've rented cabins here. Many of them, appreciating the remoteness of Fallerschein, are having affairs. The village, at the end of the 1.25-mile Berwang Road, is near Namlos and about 45 minutes southwest of Reutte. You'll find a parking lot at the end of the road, leaving you with a two-mile walk down a drivable but technically closed one-lane road.
Hinterhornalm in Tirol
The same mountains that put Innsbruck on the vacation map surround Hall. For a lazy look at life in the high Alps around these towns, drive up to 5,000-foot Hinterhornalm and walk to a remote working farm.
Begin your ascent in Gnadenwald, a chalet-filled village sandwiched between Hall and its Alps. Pay the toll, pick up a brochure, then corkscrew your way up the mountain. Marveling at the crazy amount of energy put into such a remote road project, you'll finally end up at the rustic Hinterhornalm Berg restaurant. Hinterhornalm is a hang-gliding springboard. On good days, it's a butterfly nest.
From there, it's a level 20-minute walk to Walderalm, a cluster of three dairy farms with 70 cows that share their meadow with the clouds. The cows — cameras dangling from their thick necks — ramble along ridge-top lanes surrounded by cut-glass peaks. The ladies of the farms serve soup, sandwiches, and drinks (very fresh milk in the afternoon) on rough plank tables. Below you spreads the Inn River Valley and, in the distance, tourist-filled Innsbruck.
Ebenalp in Appenzell
Switzerland's Appenzell is a region whose forte is cow culture rather than staggering peaks. Its only famous peak, Säntis, is a modest 8,200 feet high. For a fun angle on alpine culture, go five miles south of Appenzell town to Wasserauen and ride the lift to the top of nearby Ebenalp. From its summit, enjoy a sweeping view of a major chunk of Switzerland. Then hike down about 15 minutes to a prehistoric cave home (its tiny museum is always open). Wander in and through until you reach a narrow, sunny ledge. Perched here is the Wildkirchli, a 400-year-old cave church that housed hermit monks from 1658 to 1853.
Nearby is Berggasthaus Aescher, a 170-year-old guest house built precariously into the cliff. Originally a hut housing farmers, goats, and cows, it evolved into a guest house for pilgrims coming to the monks for spiritual guidance. Today, Berggasthaus Aescher welcomes tourists, offering cheap dorm beds and hot, hearty plates of Rösti. The guest house has only rainwater and no shower. Friday and Saturday nights sometimes have great live music, but are often crowded and noisy, with up to 40 people, and parties going into the wee hours. Monday through Thursday you'll normally get a small, woody dorm to yourself. The hut is actually built into the cliff; its back wall is the rock itself. From the toilet, you can study this alpine architecture. Sip your coffee on the deck, sheltered from drips by the gnarly overhang 100 feet above. A fun drawer is filled with an alpine percussion section, and the piano in the comfortable dining/living room was brought in by helicopter. Leave a note in the guest book, which goes back to 1940. It's run by Claudia and Beny Knechtle-Wyss and their five adult children. They also keep 35 sheep, 20 rabbits, five chickens, three pigs, and a dog.
From Ebenalp's sunny cliffside perch, you can almost hear the cows munching on the far side of the valley. In the distance, below Säntis, an hour's walk away, is the Seealpsee lake and Wasserauen. Only the parasailors, like neon jellyfish, tag your world as 21st-century.