Rambling Through the Ruins of Europe's Castles
By Rick Steves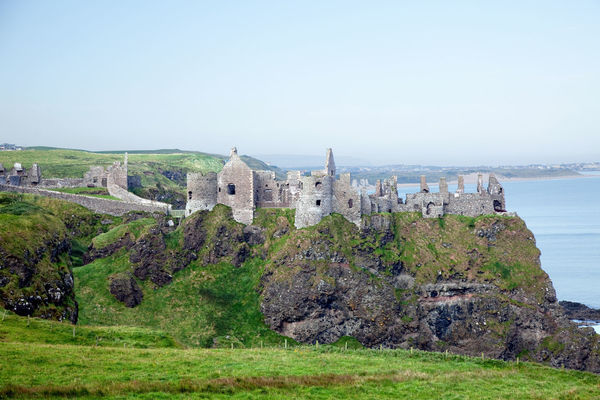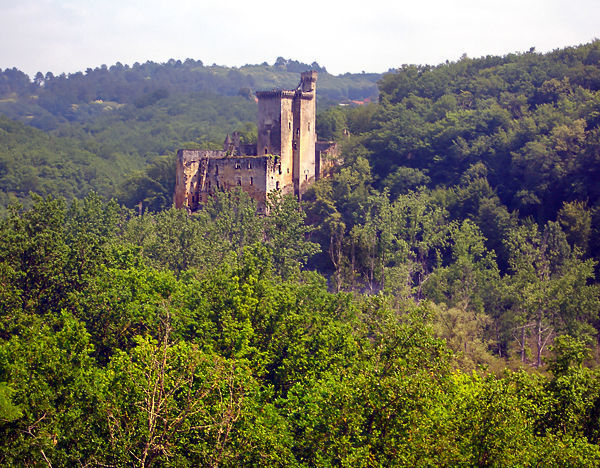 Most of Europe's castles have long been discovered by travelers. These can be fun, offering battle re-enactments, sound-and-light shows, catapult demos, dress-up costumes, fake garden parties, wagon rides, medieval banquets, tourist accommodations, and even Disney-esque amusement park rides.
But beyond the touristy castles are the ones I prefer — the forgotten ones. These are evocative, stony husks without plaster or furnishings — where you'll see broken stairways and open skies rather than rooftops. Their massive chunks of stone no longer guard anything from anyone. The lichen grows on walls seemingly to cushion stones for a fall they've been expecting for centuries.
Castle ruins invite you to fill-in-the-moat, ramble the ramparts, and let your imagination roam. Climbing through waist-high weeds on rubble corralled by surviving walls, you can break off a spiky frond and live a sword-fern fantasy.
In France's Dordogne region, I like to hike to Château de Commarque near Sarlat-la-Canéda. It's a 20-minute walk through a forest of chestnut trees to a clearing, where the mostly ruined castle appears like a mirage. The owner, Hubert de Commarque, bought the castle in 1968 and has been digging it out of the forest ever since.
Along Italy's Amalfi Coast in Ravello, the ruins of the 13th-century Villa Rufolo impressed Richard Wagner enough to place the second act of his opera Parsifal in a setting inspired by the villa's magical gardens. With its commanding coastline view, the ruins create an operatic experience that doesn't even need music.
In the scenic foothills of the French Pyrenees lies a series of surreal, mountain-capping castle ruins. Like a Maginot Line of the 13th century, these sky-high castles were strategically located between France and the Spanish kingdom of Roussillon. The most spectacular is Château de Peyrepertuse, where the ruins seem to grow right out from the narrow splinter of cliff. The views are sensational — you can almost reach out and touch Spain.
Along the coast of Northern Ireland, the romantic remnants of Dunluce Castle
perch dramatically on the edge of a rocky headland. On a stormy night in 1639, dinner was interrupted as half of the kitchen fell into the sea — taking the servants with it. That was the last straw for the lady of the castle, who packed up and moved inland. Ever since, the forces of nature have had their way.
Thanks to invading French armies, there are lots of ruined castles in Germany's Rhineland. One massive edifice, Rheinfels Castle, sits like a dead pit bull above the village of St. Goar. It withstood a siege of 28,000 French troops in 1692. But in 1797, the French Revolutionary army destroyed it. Once the mightiest of Rhine castles, it offers the best ruined-castle experience on the famous river.
I've clambered through Rheinfels, climbing a dark spiral staircase, as bat dung drifted softly down around me. Standing gingerly at the top of the stairs, I looked out at empty space instead of a floor. Across the expanse was the most finished element of the castle: the still-tidy square holes into which hand-hewn floor beams had been stuck. What became of the beams and all they supported?
Light filtered from slits in the wall. Archers used these narrow breaks to shoot at invaders. Peering out, I surveyed the overgrown terrain beyond the castle; green and brushy today, but once shaved clean to create a no-man's land, where no enemy could find cover as he approached.
At Rheinfels and some other castles, you can crawl through (claustrophobic) underground tunnels leading away from the shell of the castle. This is where explosives would be packed, ready to surprise invading forces and blow them to smithereens if they dared approach the walls.
Ruined castle appreciation isn't for everyone. Some might say it's a guy thing...to peer, wonderstruck, over the shoulder of a guide who lowers a lamp on a rope into a dungeon that has only one way in or out — a mean-spirited hole in the ceiling. Stories of knights sleeping in wooden boxes filled with hay in dank, ground-floor rooms evoke an era when life was nasty, brutish, and short (like a lot of the people).
The advent of powerful cannons — near the end of the Middle Ages — changed the very architecture of castles. Cannon balls were great levelers. Instead of soaring tall (and vulnerable), castles had to be built squat and stocky. But whether you like your castles intact or in rubble, what's always free to soar is your imagination. And when that kicks in, then humble and forgotten ruins can rival Europe's great and famous castles.