Dordogne River near Beynac
Dordogne
The Dordogne River Valley is a delicious brew, blending natural and man-made beauty. Walnut orchards, tobacco plants, sunflowers, and cornfields carpet the valley, while stone fortresses patrol the cliffs above. The joys of the Dordogne include rock-sculpted villages, fertile farms surrounding I-should-retire-here cottages, memory-card-gobbling vistas, lazy canoe rides, and a local cuisine worth loosening your belt for. It also boasts an amazing cache of prehistoric artifacts. Limestone caves decorated with prehistoric artwork litter the Dordogne region.
Places
At a Glance
The Dordogne's Prehistoric Sights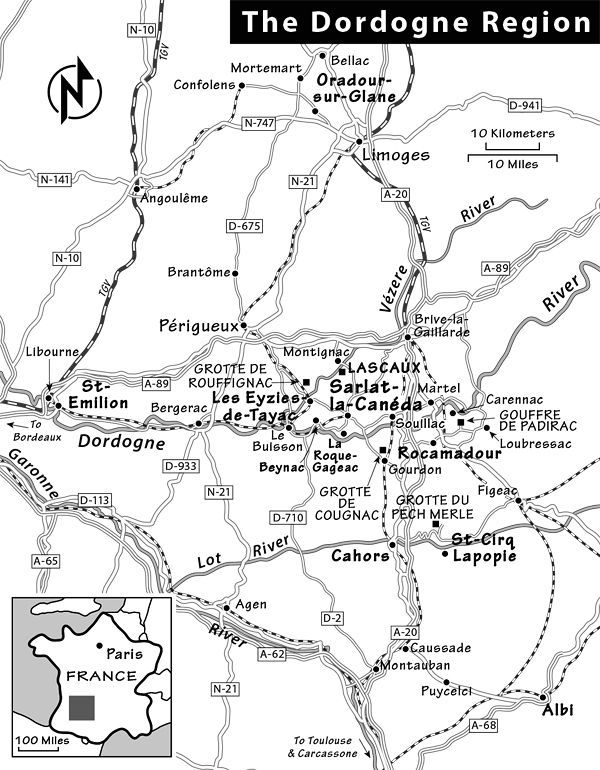 ▲▲▲ Grotte de Font-de-Gaume Last prehistoric multicolored paintings open to public, with strict limits on the daily number of visitors.
▲▲ International Center for Cave Art at Lascaux Exact replica of the world's most famous cave paintings, and interactive center on cave art.
▲▲ Grotte de Rouffignac Etchings and paintings of prehistoric creatures such as mammoths in a large cave accessed by a little train.
▲▲ Grottes de Cougnac Oldest paintings (20,000–25,000 years old) open to public, showing rust-and-black ibex, mammoths, giant deer, and a few humans, on a tour more focused on cave geology than art.
▲▲ Grotte du Pech Merle Brilliant cave art of mammoths, bison, and horses, plus Cro-Magnon footprint, about an hour south of the Dordogne in the Lot River Valley.
▲ National Museum of Prehistory More than 18,000 well-displayed artifacts in Les Eyzies — good preparation for your cave visit.
▲ Abri du Cap Blanc 14,000-year-old carvings that use natural contours of cave to add dimension, but no cave paintings.
▲ La Roque St-Christophe Terraced cliff dwellings where prehistoric people lived.
Prehistory Welcome Center Free, good intro to region's important prehistoric sites, in Les Eyzies.
Plan
Photos
Watch
Read
Listen