Taking Your Taste Buds on a European Tour
By Rick Steves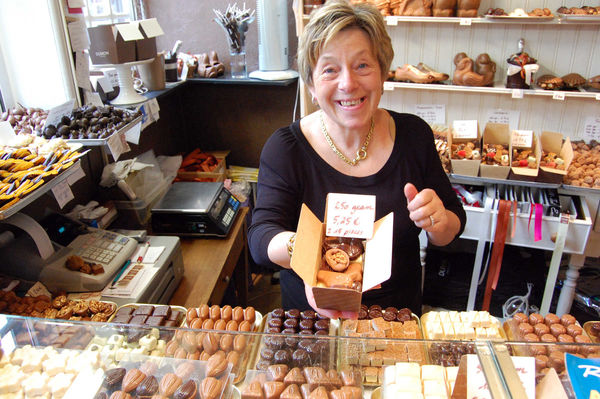 Eating and drinking in Europe is sightseeing for your taste buds. Every country has local specialties that are good, memorable, or both. Here are many of the fun experiences that stick in my mind after several decades of travel. Seek out any of these on your next trip.
In the Netherlands, try a rijsttafel ("rice table"), the ultimate Indonesian meal, with as many as 36 delightfully exotic courses, all eaten with rice. One meal is plenty for two, so order carefully. An even more memorable experience you owe your tongue in Holland? Slurping down raw herring at an outdoor herring stand.
Belly up to the bar in a neighborhood pub in Scotland's Edinburgh and drink not beer, but whisky. Ask a local what he likes best and why — you'll find that whisky is as refined as wine — and suddenly you feel like an expert taster. One of my favorite spots in Edinburgh is Leslie's Bar, with its huge whisky selection listed on a six-page menu.
Nobody does chocolate like the Belgians. There's something elegant about dropping in on the most expensive chocolate-maker in town — there's one in every Belgian burg. Find a place that's family-run, where locals buy their chocolate fresh, and people expect the shop to close on hot days because quality chocolate can't survive the heat. In Brussels, try Galler, just off the city's Grand Place; in Bruges I like Dumon, near Market Square.
Germany's Wurst is the best anywhere, and Kraut is not as sauer as the stuff you hate at home. Only a tourist puts the sausage in a bun like a hot dog. Munch alternately between the meat and the bread ("that's why you have two hands"), and you'll look like a local. Generally, the darker the weenie, the spicier it is.
In Portugal's fishing towns, you'll find boiled percebes (barnacles) sold on the street; these are the Portuguese answer to beer nuts. Let a local show you how to strip and eat one.
Many abhor the French passion for la gavage — the force-feeding of geese for foie gras. To learn about the tradition, go to the Dordogne region, walk through the idyllic French farmland, and be surrounded by a hundred happy geese, dragging their enlarged livers like loaded diapers. On your visit, feel the rhythm of life for a goose...taste a slice of that glorious foie gras...and be thankful you're tops on the food chain. The Elevage du Bouyssou is a goose farm a short drive from Sarlat-la-Canéda that gives tours in English on request.
The French city of Beaune is surrounded by the hallowed vineyards of Burgundy. Its venerable Marché aux Vins (wine market) welcomes serious wine buyers and tourists into a subterranean, candle-lit world, where fine wines sit seductively in bottles atop old oak kegs, just waiting to be tasted. Pick up a tastevin (shallow, stainless-steel tasting dish) and a shopping basket, descend into the dimly lit caverns, and work your way through the proud selection. Sampling a world of $100 bottles in the company of people who live for their fine wine can be both inspirational and intoxicating.
In northern Spain, León and Burgos are great old towns with awe-inspiring cathedrals and plenty of colorful tapas bars. Find the Spanish twin to Scottish haggis (an assortment of oats and sheep organs stuffed into a chunk of sheep intestine) — it's called morcilla and comes without the skin. You'd think a dog got sick on your plate. Smear it on toast with a fine red wine. It's quite tasty...if you like haggis (which I do).
Greek food is simple...and simply delicious. The four Greek food groups are olives (and olive oil), salty feta cheese, tasty tomatoes, and crispy phyllo dough. You're welcome to go into the kitchen and point to the dish you'd like. This is a good way to make some friends, sample from each kettle, get what you want (or at least know what you're getting), and have a truly memorable meal. Be brave.
In Italy, sip wine with college students at an outdoor bar in Padua's market square. Pour some fine olive oil on a dish, season with salt and pepper, rip a long strip from your bread, dip it, and bite. The last time I was there, a student explained I was "making the scarpette" — the little shoe. Soaking up the oil along with the conversation, we travelers become human scarpette, sopping up culture as we explore Europe.
Wherever you travel, it's fun to meet people over food and drink. It's part of understanding the culture of a country. Take the initiative not to just see your destination, but to experience it.