Warsaw Reborn
By Rick Steves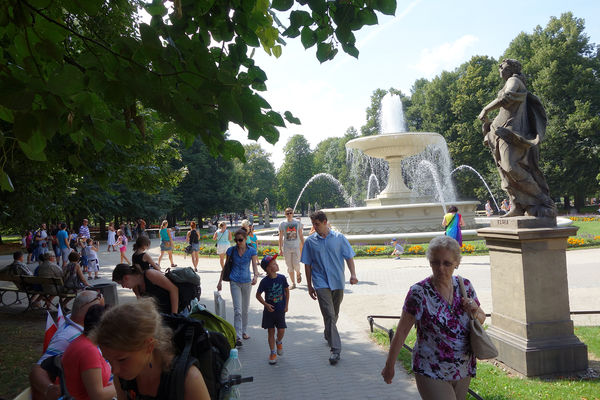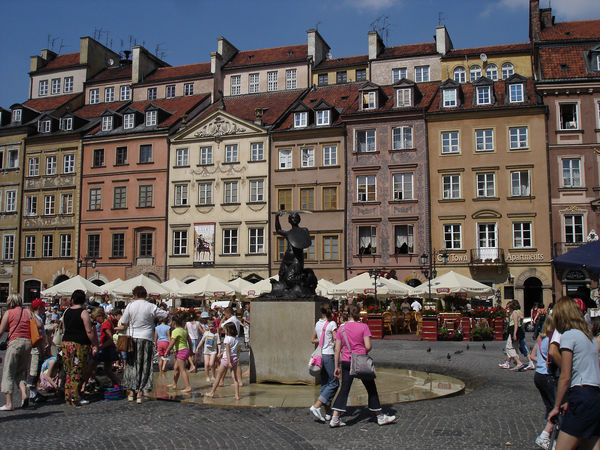 Warsaw, the capital of Poland, doesn't appear at the top of many European travelers' wish lists. But that's just one reason you may want to visit. With evocative sights, an epic history, and low prices, Warsaw is a diamond in the rough.
Warsaw has almost none of the cobbled medieval charm that makes Kraków and Gdańsk so inviting. But if you want a place to look 21st-century Poland frankly (but no less enjoyably) in the face, make time for Warsaw. Huge, famous, and important, Warsaw is the country's cosmopolitan business hub.
Warsaw has good reason to be a city of the future: The past hasn't been very kind. Since becoming Poland's capital in 1596, Warsaw has seen wave after wave of foreign rulers and invasions — especially during the last hundred years.
But in this horrific crucible, the enduring spirit of the Polish people was forged. As one proud resident told me, "Warsaw is ugly because its history is so beautiful."
The city's darkest days came during the Nazi occupation of World War II. First, its Jewish residents were forced into a tiny ghetto. They rose up…and were slaughtered. Then, its Polish residents rose up…and were slaughtered. In retaliation, Hitler ordered the block-by-block destruction of the city.
While the Nazis destroyed the city, the approaching Soviets sat across the river, watching and waiting. As the smoke cleared and the Nazis retreated, the Red Army marched in and claimed the pile of rubble that had once been Warsaw. It would be another 45 years before the Soviets would leave and the Poles could freely govern their capital and their country.
After the war the Poles almost gave up on re-creating old Warsaw, but ultimately they decided to rebuild, constructing a city of contrasts, with painstakingly restored medieval lanes, pedestrian-friendly parks, and sleek skyscrapers.
Today's Warsaw is safer, wealthier, and happier than ever. You'll encounter stylishly dressed locals, sophisticated shopping boulevards, and thoughtful museums covering World War II, Jewish history, hometown composer Frédéric Chopin, and Polish art.
The city has two historic districts: the 13th-century Old Town and the 15th-century New Town. Both are nearly complete 20th-century reconstructions, right down to the higgledy-piggledy charm of the colorful buildings. Just two generations after the war, it is amazing to see vacationing Germans and Russians stroll through the Old Town Square — joking, enjoying ice cream cones, and snapping photos.
The countless restaurants in the historic district provide a good introduction to Polish cuisine — and the national drink, vodka. Many traditional dishes — herring, cold cuts, pickles, steak tartare — pair naturally with chilled vodka. I learned that Poles don't sip their vodka. It's bottoms up (that way it only stings once on the way down).
For me, the pleasure of Warsaw is just connecting with its big-city people, who are as warm and charming as small-town folk. My impression is that most Poles love Americans — I often get the sense that many see us as brothers and sisters from across the Atlantic. When the communist government gave the people a small shot at representative government in 1989, the "get out the vote" poster showed Gary Cooper from High Noon — holding not a gun, but a voting card.
Remnants of Warsaw's earlier magnificence show up in the huge, idyllic Łazienki Park. It's sprinkled with Neoclassical buildings, peacocks, and young Poles in love. Poland's very last king built the park in the 18th century for his summer residence and as a place for his citizens to relax.
A monument to Chopin, Poland's great Romantic composer and favorite son, graces the park's rose garden. Even though Chopin left Warsaw for Paris, his final wish was to have his heart brought back to his native Poland. And so it was, after his death in 1849. It now lies buried in a pillar in Warsaw's Holy Cross Church (the rest of him is interred at Paris's Père Lachaise Cemetery).
Locals still proudly celebrate the composer's music. On one visit, I attended an informal Chopin salon — an intimate evening of beautiful music, wine, and cheese hosted by my bed-and-breakfast. Joining a group gathered around a shiny grand piano, listening to young artists performing Chopin's études, felt very Warsaw.
On that same visit, I noticed that eating apples had also become a patriotic act. Reacting to international sanctions brought on by the conflict in Ukraine, Russia had halted fresh produce imports from the European Union — including Poland. Poland was soon awash in apples grown for export to Russia. Standing on Warsaw's Old Town Square, knowing how the Red Army had watched from across the river as the Nazis leveled the city, it was particularly poignant to see feisty Poles eating apples to piss off Putin.
The resilience of Poland's culture and the warmth of its people inspire me. Thankfully, these are good times in Poland, a nation with a rich past and an exciting future.