My Favorite Beach Hideaways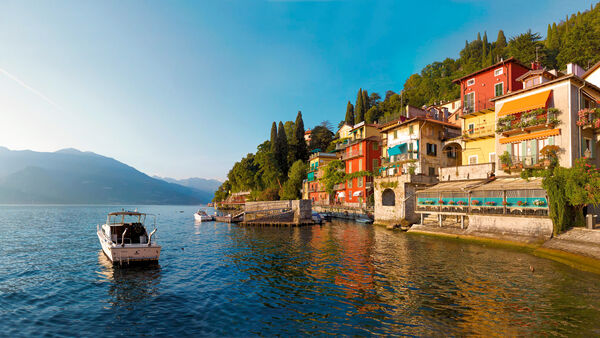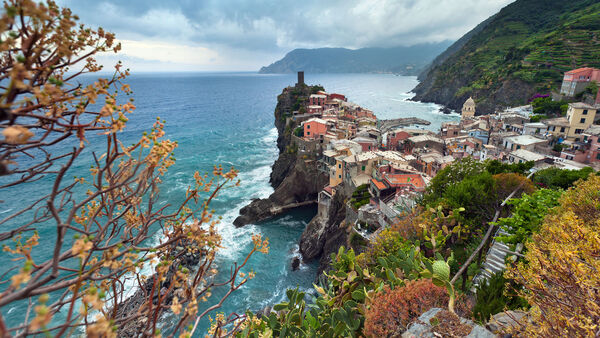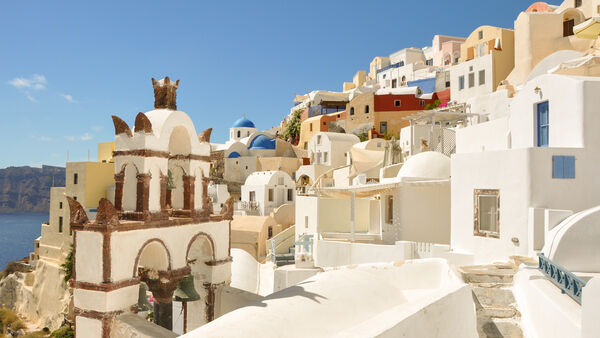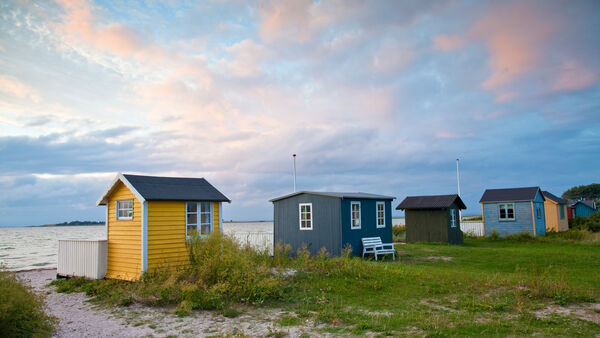 By Rick Steves
Here are my picks for coastal spots to take a vacation from your vacation. Stretching from the Mediterranean all the way north to Ireland and Scandinavia, each of these mixes maximum natural and cultural charms, with minimum condos and concrete (and all are huge hits with our tour groups).
Varenna on Italy's Lake Como
Of all the lakes of north Italy, Lake Como, lined with elegant 19th-century villas, crowned by snow-capped mountains, and buzzing with ferries, is our favorite. With all the charm and none of the intensity of points further south, this is Italy for beginners.
Bellagio, elegantly arcaded to protect poodles and their tourists from the mid-day sun, is the most famous Lake Como resort. But Varenna, with a romantic promenade, a tiny harbor, and narrow lanes, whispers luna di miele (that's Italian for honeymoon).
Savor a lakeside cappuccino or aperitivo. As ferries come and go, ponder the point where Italy is welded to the Alps. Listen to the volume go down with the sun. After dark, Varenna's passerella (lakeside walk) is adorned with lovers pressing silently against each other in the shadows.
Salema, on Portugal's Sunny South Coast
Once-upon-a-time Salema is the last of the fairy-tale Algarve. Tucked away on Portugal's southwestern tip, Salema has a split personality: part whitewashed old town and part tourist haunt. Tractors pull in the fishing boats, two-year-olds toddle in the waves, topless women read German fashion mags, and old men really do mend the nets. While happy visitors laze in the sun, locals grab the shade.
Sun-drenched Salema is my kind of beach resort: five restaurants specializing in fresh fish and vinho verde (the crisp, refreshing "green" wine) and an inviting beach. It's being quietly discovered by British, German, and Back Door connoisseurs of lethargy.
Cinque Terre: Italy's Traffic-Free Riviera
The Cinque Terre, meaning "five lands," is five villages clinging to the most inaccessible bit of coast on the Italian Riviera. Established as pirates' hideouts centuries ago, the towns are still hideaways, virtually inaccessible by car. The Cinque Terre, between Pisa and Genoa, is now a government-protected national park. No new building is allowed. Villagers have almost no choice but to go about their business as if the surrounding vineyards were the very edges of the earth.
Vernazza is my favorite of the Cinque Terre villages. Its one street connects the harbor with the train station before melting into the vineyards. Like veins on a grape leaf, paths and stairways connect this watercolor huddle of houses with Main Street. Every day is a rerun in this hive of lazy human activity. A rainbow of laundry flaps as if to cool the old men who hold down the bench. Like fat barnacles filling ancient doorways, local grandmothers watch life drift by. Little varnished boats are piled peely everywhere and sailors suckle at salty taverns. Kids play soccer on the breakwater while the sun sets unnoticed — except by visitors enjoying an evening vino from the terrace under the old castle.
Italy's Amalfi Coast
Wedged on a ledge, perched over the Mediterranean, and spritzed with lemon groves, Sorrento is an attractive resort of 20,000 residents. This gateway to the Amalfi Coast has an unspoiled old quarter and a lively shopping street. Without a hint of rough-and-tumble Naples (an hour to the north), it's a handy springboard for regional sightseeing and an ideal home base for the region.
The bungee jump of a bus ride from Sorrento along the Amalfi Coast will leave your mouth open and your film exposed. You'll gain respect for the Italian engineers who built the road — and even more respect for the bus drivers who drive it. As you hyperventilate, notice how the Mediterranean — 500 feet straight down — really twinkles. Cantilevered hotels and villas cling to the vertical terrain, and uppity coves tease from far below.
Positano, a seductive gathering of name-brand boutiques and sand-splashed cafés, grabs the most spectacular stretch of the coast. There's little to do but window-shop, enjoy the beach, and practice your Italian: E ricco e singolo? (Are you rich and single?)
Hydra and Spetses, Just Off Greece's Peloponnese Peninsula
The islands of Spetses and Hydra are just a few hours from Athens but feel a world apart. There's nothing like free time on a sleeping Greek Isle. While lunch cooks, practice your Greek with new friends over backgammon on the town square. For a smile and a few euros, ride a taxi (a pick-up truck with a bench out back) to your own private beach. Set lazy afternoons free, as wavelets tickle your toes and skin that's never seen the sun gets a private initiation. The swimming is fine…even in October.
Village cuisine in Greece is lip-smacking predictable: fresh seafood, Greek salad, and retsina wine. Choose a restaurant. Settle the legs of your chair into the sand. Within splashing distance of your table, young Greek men, in swimsuits the size of a rat's hammock, gather around a bucketful of just-caught octopuses. They tenderize the poor things to death by whipping them like wet rags over and over on a big flat rock. They'll be featured momentarily on someone's dinner plate — someone else's.
French Riviera: Antibes and Collioure
For over a hundred years, celebrities from central and northern Europe and Russia flocked to the French Riviera to escape the drab, dreary weather at home. Some of Europe's most stunning scenery lies along these beaches. Unfortunately, so do millions of sun-worshiping tourists. Even so, outside of July and August, the French towns of Antibes and Collioures offer a laid-back Riviera ideal for anyone working on a slower pulse.
Antibes' interesting old town faces its sandy cove. The fine Château Grimaldi, overlooking the beach and tiny harbor, was once the home of Monaco's ruling family and today houses a Picasso museum. Antibes's glamorous port glistens with luxurious yachts and quaint fishing boats. You're welcome to browse. The old-city area of Antibes is quaint in a sandy-sophisticated way.
The well-worn resorts of the French Riviera line the beach like floozies on bar stools, promising tourists a good time. But Collioure, just before the Spanish border, aims its charms at its own people. It's the ideal small-town-without-the-glitz antidote to condo-city Riviera. Like an ice cream shop, Collioure offers 31 flavors of pastel houses and six petite scooped-out beaches — sprinkled lightly with beachgoers. This sweet scene, capped by Collioure's winking lighthouse, sits under a once-mighty castle in the shade of the Pyrenees.
Ireland's Dingle Peninsula
The Dingle Peninsula is green, rugged, and untouched — and Ireland's westernmost point. While nearby Killarney and the famous "Ring of Kerry" bustle with noisy tourists, Dingle ages peacefully.
Lilting Dingle Town is textbook Irish. A commotion of handmade business signs and a weather-beaten friendliness will cheer you down High Street.
Pedal a rented bike 20 miles around the peninsula where cloverleafs come in emerald, not concrete. Chat with the chatty Irish you'll meet along the roadside. An elfin, black-clad man might tell you a joke or sing you a song. When I asked a local if he was born here, he breathed deeply and said, "No, it was about six miles down the road." When I told him where I was from, he gazed at the horizon with a faraway smile and sighed, "Ah, the shores of Americay."
Inch Strand, east of Dingle Town, is shaped like a sandy half moon and was made famous in 1970 by the movie Ryan's Daughter. It's rated a "Blue Flag" beach for its clean water and safe swimming, and usually has a lifeguard in summer.
Bicycle to Ceann Sleibhe (Slea Head), the point in Europe closest to America. The rugged coastline offers smashing views of the treacherous black-rock cliffs, crashing surf, distant boats, and the countryside — lush and barren all at once. Sheep graze, bored, as clouds quietly cover and uncover the hills.
Ærø, Denmark's Ship-in-a-Bottle Island
Few tourists even notice Ærø, a tiny island on the south edge of Denmark. Ærø has a salty charm. Its tombstones say things like, "Here lies Christian Hansen at anchor with his wife. He'll not weigh until he stands before God." It's a peaceful and homey island, where farmhouse porches are lined with baskets of new potatoes, for sale on the honor system.
Ærø's capital, Ærøskobing, is well-preserved, and seems to exist on a slighly miniature scale. Wander down lanes right out of the 1680s, when the town was the wealthy home port of over 100 windjammers. The post office dates to 1749, and cast-iron gas lights still shine each evening. Windjammers gone, the harbor now caters to German yachters while Danes live it up in pint-sized beach cabins that line the strand. On midnight low tides, you can almost hear the crabs playing cards.
Sicily's Cefalù
Cefalù, on Sicily's north coast, has it all. It's the perfect combination of sand, sun, and culture. A salty fisherman's village full of narrow alleys invites exploration. Delightful seafood restaurants offer the chance to dine on local specialties like spaghetti alla Norma and grilled swordfish while gazing at bobbing boats in the harbor. A magnificent 12th-century Norman cathedral looms over the café-filled main square. Step inside the church to see its jewel: a glittering mosaic of Christ. Climb the hill above the town to find the castle ruins and spectacular views. For many the highlight is the sandy beach that invites hours of la dolce far niente. Grab a gelato and join the locals as they stroll along the beachfront promenade. Yes, life is good in Cefalù, and many travelers find it a hard place to leave.