Vernazza
Cinque Terre
Along a beautifully isolated six-mile stretch of the most seductive corner of the Italian Riviera lie the Cinque Terre — five (cinque) small, traffic-free towns gently and steadily carving a good life out of difficult terrain. Each village fills a ravine with a lazy hive of human activity. Calloused locals and sunburned travelers enjoy the area's unique mix of Italian culture and nature. There isn't a Fiat or museum in sight — just sun, sea, sand (well, pebbles), wine, and pure, unadulterated Italy. While the region is now well-discovered and can get jam-packed, I've never seen happier, more relaxed tourists.
At a Glance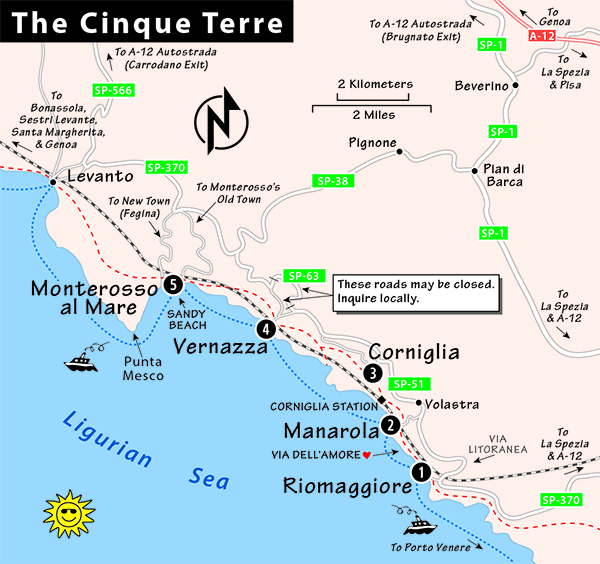 ▲▲ Vernazza The region's gem — the most touristy and dramatic — crowned with a ruined castle above and a lively waterfront cradling a natural harbor below.
▲▲ Monterosso al Mare Resorty, flat, and spread out, with a charming old town, a modern new town, and the Cinque Terre's best beaches, swimming, and nightlife.
▲▲ Manarola Mellow, hiking-focused waterfront village wrapped in vineyards and dotted with a picturesque mix of shops and cliff-climbing houses.
▲ Riomaggiore The most workaday of the five villages, with nightlife, too.
▲ Corniglia Quiet hilltop village known for its cooler temperatures (it's the only one of the five villages set above the water), fewer tourists, and tradition of fine wines.
Plan
Photos
Watch
Read
Listen