Vernazza
Cinque Terre
Tucked between Genoa and Pisa, along a mountainous and seductive six-mile stretch of the Italian Riviera, lie the Cinque Terre — five (cinque) traffic-free villages carving a good life out of difficult terrain. Each village fills a ravine with a lazy hive of human activity. Calloused locals and sunburned travelers enjoy the area's unique mix of Italian culture and nature. There isn't a Fiat or museum in sight — just sun, sea, sand (well, pebbles), wine, and pure, unadulterated Italy. While the region is now well-discovered and can get jam-packed, I've never seen happier, more relaxed tourists.
At a Glance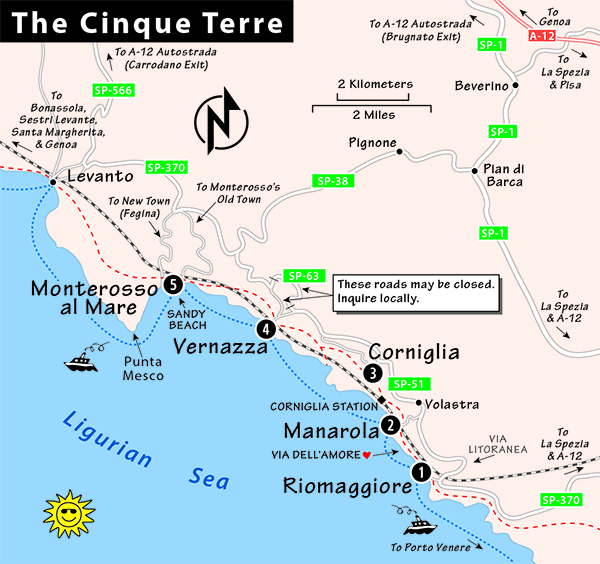 ▲▲▲ Vernazza The region's gem — the most touristy and dramatic — crowned with a ruined castle above and a lively waterfront cradling a natural harbor below.
▲▲ Monterosso al Mare Resorty, flat, and spread out, with a charming old town, a modern new town, and the Cinque Terre's best beaches, swimming, and nightlife. It has the most restaurants, and the most comfortable hotels.
▲▲ Manarola Mellow, hiking-focused waterfront village wrapped in vineyards and dotted with a picturesque mix of shops and cliff-climbing houses.
▲ Riomaggiore The most workaday of the five villages, with nightlife, too.
▲ Corniglia Quiet hilltop village known for its cooler temperatures (it's the only one without a harbor), fewer tourists, and tradition of fine wines.
Plan
Photos
Watch
Read
Listen