By Rick Steves
So much to see, so little time. How to choose? To help you get started, I've listed my top picks for where to go in Portugal, my plan for your best two-week trip, and tips on when to go.
Depending on the length of your trip, assuming you're using public transportation, and taking geographic proximity into account, here are my recommended priorities.
3 days: Lisbon, Sintra
6 days, add: Algarve (Salema, Lagos, Cape Sagres)
8 days, add: Coimbra, slow down
10 days, add: Nazaré and nearby sights (Óbidos, Alcobaça, Batalha, Fátima)
12 days, add: Porto
14 days, add: Évora, Douro Valley
More time, add: Tavira, slow down
Portugal's Best Two-Week Trip (by Car)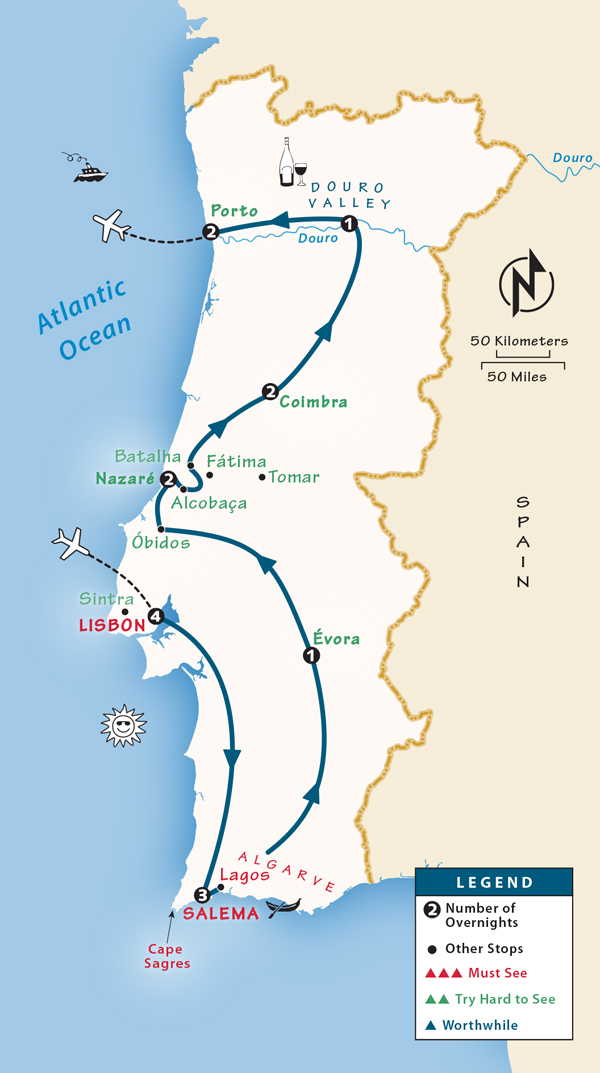 Day 1: Arrive in Lisbon (sleep in Lisbon)
Day 2: Lisbon (sleep in Lisbon)
Day 3: Side-trip to Sintra (by train) (sleep in Lisbon)
Day 4: More time in Lisbon; afternoon/evening, pick up car and drive to Salema (sleep in Salema)
Day 5: Beach day in Salema (sleep in Salema)
Day 6: Side-trip to Cape Sagres and more beach time (sleep in Salema)
Day 7: To Lagos (30 minutes), then Évora (3 hours) (sleep in Évora)
Day 8: Morning in Évora; afternoon to Nazaré via Óbidos (2.5 hours) (sleep in Nazaré)
Day 9: Nazaré (sleep in Nazaré)
Day 10: To Coimbra (1.5 hours) with stops in Alcobaça, Batalha, and Fátima (sleep in Coimbra)
Day 11: Coimbra (sleep in Coimbra)
Day 12: To Douro Valley (2.5 hours) (sleep in Douro Valley)
Day 13: To Porto (2 hours), drop off car (sleep in Porto)
Day 14: Porto (sleep in Porto)
Day 15: Fly home
Notes:
Driving times are estimates and could be longer in bad traffic.
Try to avoid being in Lisbon or Porto on a Monday, when many major sights are closed.
If, after touring Portugal, you're continuing to the Spanish destinations of Salamanca or Madrid, it's better to visit Porto and the Douro Valley before Coimbra.
Drivers who prefer to fly home from Lisbon can park their car while in Porto, then drive it back to the Lisbon airport (about 3 hours).
By Train and Bus
This itinerary designed for a car can also be done by train and bus. To use public transportation, take the bus to and from Salema with a change in Lagos. To get from Évora to Nazaré, you'll have to change in Lisbon. See the sights near Nazaré by bus, using Nazaré as your home base (consider adding an extra night there to fit everything in) — then take the bus straight to Coimbra. From Coimbra, catch the bus or train to Porto; you can skip the Douro Valley or, if you love wineries and scenery, you can side-trip to the valley from Porto (or even spend the night).
When to Go
Spring and fall offer the best combination of good weather, light crowds, long days, and plenty of tourist and cultural activities.
Summer months are the most crowded and expensive in the coastal areas. Beach towns (such as Nazaré or along the Algarve) are packed with vacationers in July and especially in August — when rates go sky-high and it can be tough to find a room. Those same towns are a delight in shoulder season (mid-May–June and September–mid-October), when the weather is nearly as good and the crowds subside — but they're almost too quiet in the winter. While Portugal is not nearly as hot as Spain (except in the Alentejo region), an air-conditioned room is worth it in summer.
In the off-season, roughly November through March, expect shorter hours, more lunchtime breaks at sights, and fewer activities (confirm your sightseeing plans locally).