Chain Bridge, Budapest
Hungary
Sitting at the crossroads of Europe, quirky Hungary has managed to become cosmopolitan while remaining perfectly Hungarian. Classical music is revered here, and Hungarians have revived their elegant, Vienna-style café culture. In the countryside, even older traditions live on — and a renewed passion for winemaking thrives. Dive into a bowl of spicy goulash, then while away an afternoon over a delicate dessert at a genteel coffeehouse. Sip a sweet local wine as you try to wrap your head around Hungary's colorful history…and your tongue around its idiosyncratic language.
Places
At a Glance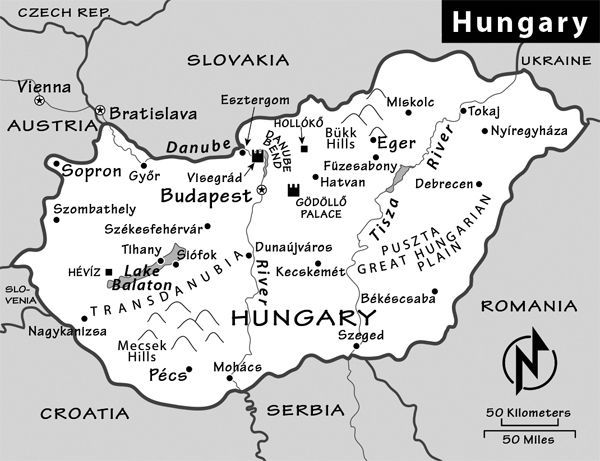 ▲▲▲ Budapest Unique metropolis at the heart of a unique nation, stuffed with elegant cafés, rich architecture, and great sightseeing.
▲▲ Eger Appealing mid-sized town with gorgeous Baroque architecture, one of Hungary's most historic castles, quirky museums, excellent wines, and fine thermal baths. Doable as a day trip from Budapest, but worth an overnight.
▲▲ Pécs Medium-sized city in southern Hungary featuring a rich history, surprisingly good museums, and beautiful buildings slathered with colorful local tiles.
▲▲ Gödöllő Palace Summer palace of the Habsburg monarchs — the best place in Hungary to get to know the "royal and imperial" couple, Franz Josef and Sisi.
▲▲ Esztergom Basilica Hungary's biggest and most important church, packed with history, and looming above the Danube; combines well with other Danube Bend sights (Szentendre and possibly Visegrád).
▲ Szentendre Colorful, Balkan-feeling artist colony — the easiest (and most touristy) small town to visit from Budapest.
▲ Lázár Lovaspark Entertaining demonstration of traditional Hungarian equestrian arts; a visit here combines well with nearby Gödöllő Palace.
▲ Sopron Sleepy, picture-perfect little Baroque town that makes a great half-day stop-off between Budapest and Vienna, with a a charmingly well-preserved Old Town peppered with dusty museums and historic buildings.
▲ Hollókő Intriguing village-meets-open-air-folk-museum hiding in the middle of nowhere an hour and a half northeast of Budapest (visit only if you have a car).
Visegrád The least engaging of the Danube Bend sights, but offering a small riverside palace museum and a dramatic hilltop castle with fine views over the Bend.
Great Hungarian Plain Hungary's "Big Sky Country," boasting cowboy shows, the bustling cultural capital of Szeged, colorful Kecskemet, the wild Organic architecture of Makó, and an easy side-trip to Subotica, Serbia.
Lake Balaton The freshwater "Hungarian Riviera," with lots of beach resorts, the historic hill-capping town of Tihany, the unique thermal lake of Hévíz, and the Herend porcelain factory.
Plan
Photos
Watch
Read
Listen