Rosenborg Castle
Denmark
Though it's by far the smallest of the Scandinavian countries, Denmark once ruled all of Norway and much of southern Sweden. Before then, it was home base for fierce Viking warriors. Modern Danes, however, are remarkably well-adjusted — organized, yet easygoing, with a wry sense of humor. From Copenhagen to tiny ship-in-bottle islands, the Danish landscape is equally mellow, with rolling hills, thatched-roof farmhouses, beech forests, and whitewashed churches with stairstep gables…and none of it more than 30 miles from the sea.
Places
At a Glance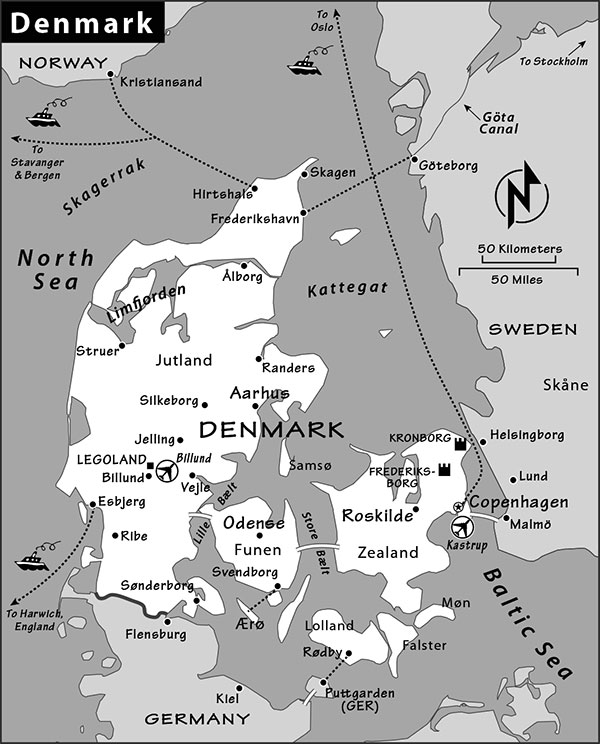 ▲▲▲ Copenhagen Vibrant Danish capital city, with The Little Mermaid, old-time Tivoli Gardens amusement park, excellent National Museum, Renaissance King Christian IV's Rosenborg Castle, delightful pedestrian Strøget, and eye-opening hippie enclave at Christiania.
▲▲ Ærø Peaceful isle that's perfect for a loop tour by bike or car — and home to Denmark's best-preserved 18th-century village, Ærøskøbing.
▲▲ Aarhus Denmark's second-largest city, with stroll-able pedestrian center, ARoS art museum, and Den Gamle By open-air folk museum.
▲ Day trips north of Copenhagen Frederiksborg Castle — the "Danish Versailles" — in Hillerød, the Louisiana Art Museum in Humlebæk, and Kronborg Castle in Helsingør.
▲ Odense Busy town with the Hans Christian Andersen's childhood home and the nearby Funen Village open-air folk museum.
▲ Roskilde Former capital, just west of Copenhagen, with Viking Ship Museum and Royal Cathedral.
▲ Central Jutland Family-friendly region with Legoland kids' adventure park, and the tiny village of Jelling with historic rune stones.
Plan
Photos
Watch
Read
Denmark

Ærø

Aarhus

Copenhagen
Listen