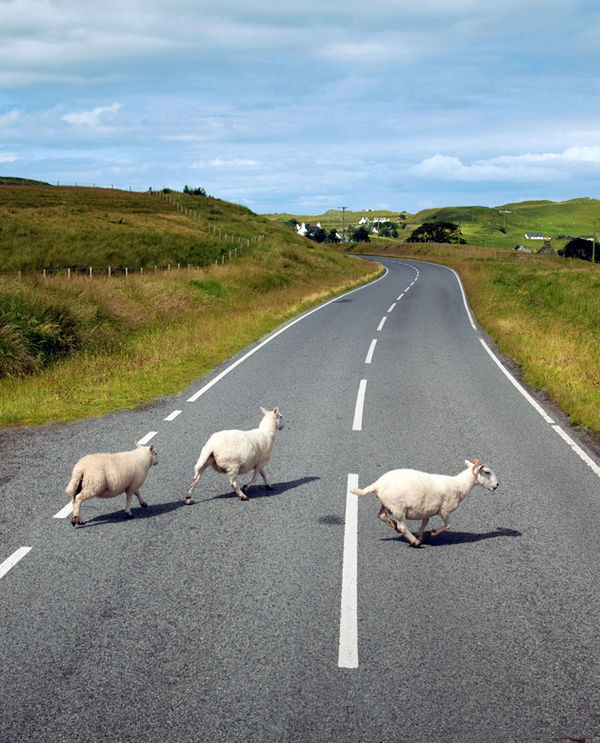 By Rick Steves
So much to see, so little time. How to choose? To help you get started, I've listed my top picks for where to go in Scotland, my plan for your best two-week trip, and tips on when to go.
Depending on the length of your trip, and taking geographic proximity into account, here are my recommended priorities:
3 days: Edinburgh
5 days, add: Glasgow, Stirling
7 days, add: Oban, Glencoe
9 days, add: Inverness, Loch Ness, Culloden
11 days, add: Isle of Skye
13 days, add: St. Andrews, Mull/Iona/Staffa
15 days, add: Your choice of sights near Stirling or in Eastern Scotland
17 days, add: Orkney
21 days, add: More sights near Stirling, Wester Ross and the north coast, and slow down
If you're traveling here in summer, check schedules for Highland Games in the areas you're visiting, and plan your time accordingly.
Build your itinerary to match your interests. Golfers make a pilgrimage to St. Andrews; nature lovers add extra time for hiking in Glencoe; whisky aficionados appreciate Speyside and Pitlochry; royalists tour Balmoral and Glamis castles; prehistorians prioritize Orkney, Kilmartin Glen, and Clava Cairns; and those interested in Scotland's industrial heritage check out the Caledonian Canal, Falkirk Wheel, and excellent museums in Dundee.
Scotland's Best Two-Week Trip (by Car)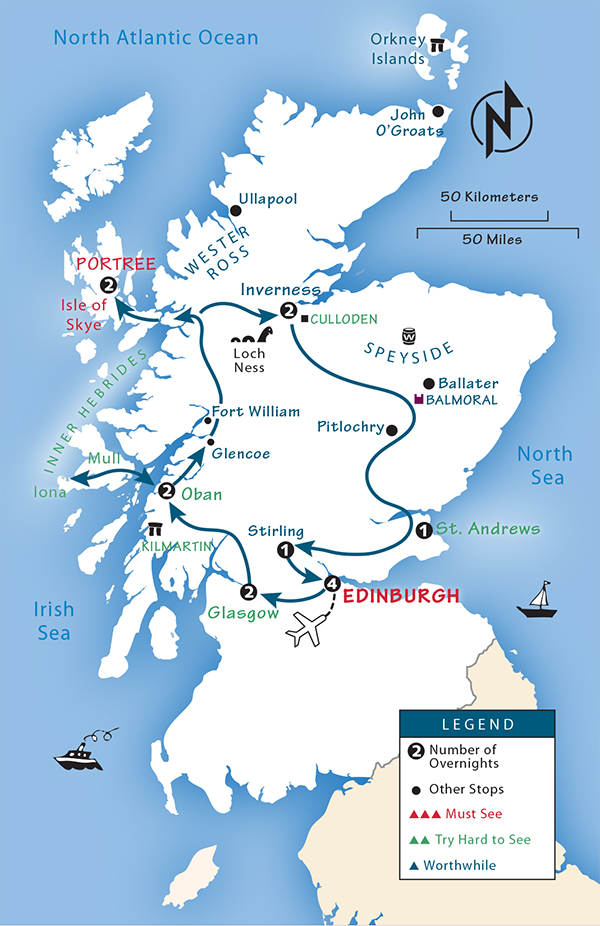 Day 1: Arrive Edinburgh (sleep in Edinburgh)
Day 2: Edinburgh (sleep in Edinburgh)
Day 3: Edinburgh (sleep in Edinburgh)
Day 4: More time in Edinburgh, then train to Glasgow (sleep in Glasgow)
Day 5: Glasgow (Glasgow)
Day 6: Pick up car, drive to Oban (sleep in Oban)
Day 7: Side-trip to Mull and Iona (sleep in Oban)
Day 8: Drive through Glencoe this morning, then to Isle of Skye (sleep on Isle of Skye)
Day 9: Isle of Skye (sleep on Isle of Skye)
Day 10: Drive along Caledonian Canal and Loch Ness to Inverness (sleep in Inverness)
Day 11: Inverness and side-trip to Culloden and other sights (sleep in Inverness)
Day 12: Head south, enjoying your choice of sights in Eastern Scotland or St. Andrews (sleep in Pitlochry, Ballater, or St. Andrews)
Day 13: More Eastern Scotland or St. Andrews sightseeing; spend evening in Stirling (sleep in Stirling)
Day 14: Stirling Castle and nearby sights (sleep in Stirling)
Day 15: Drive to Edinburgh for your flight home
If cities aren't your thing, consider skipping Glasgow (or doing it at the end, as a side-trip from Stirling) to make more time for the countryside.
With more time, slow down and linger — or enjoy additional scenery by looping around the north of Scotland: Wester Ross, the north coast, and the Orkney Islands.
By Public Transportation
While this two-week itinerary is designed to be done by car after leaving Glasgow, most connections can be done by bus with a few modifications: You may want to rent a car for your day on Skye; consider a package tour for Highland side-tripping from Inverness; and at the end, go from Inverness straight to Stirling (skipping Eastern Scotland sights, which are out of the way by public transit).
When to Go
In most of Scotland, July and August are peak season — with very long days, the best weather, and the busiest schedule of tourist fun. (Edinburgh is especially swamped throughout August, the city's festival season.) While it never quite feels "crowded" here, Scotland has a finite number of B&Bs and restaurants — and they are jam-packed in July and August.
Travel during "shoulder season" (May, early June, September, and early October) is easier and can be a bit less expensive. In fact, many travelers' favorite time to visit Scotland is May and June: smaller crowds, the full range of sights and tourist fun spots, and the ability to grab a room almost whenever and wherever they like — often at a flexible price. Even in the peak of summer, Scotland's damp and chilly climate means that sunny weather is far from guaranteed — you may do just as well in shoulder season.
Winter travelers find absolutely no crowds and soft room prices, but sightseeing hours are shorter and the weather is reliably bad. Some attractions open only on weekends or close entirely in the winter (November through February). The weather can be cold and dreary, and nightfall draws the shades on sightseeing well before dinnertime. While rural charm falls with the leaves, city sightseeing is fine in the winter.
Plan for rain no matter when you go. Just keep traveling and take full advantage of bright spells. The weather can change several times in a day, but rarely is it extreme. As the locals say, "There is no bad weather, only inappropriate clothing." Bring a jacket and dress in layers. Temperatures below 32°F cause headlines, and days that break 80°F — while more frequent in recent years — are still rare in Scotland. While sunshine may be rare, summer days are very long. The midsummer sun is up from 6:30 until 22:30. It's not uncommon to have a gray day, eat dinner, and enjoy hours of sunshine afterward.