Croatia, Slovenia, Bosnia-Herzegovina & Montenegro Itinerary
By Rick Steves and Cameron Hewitt
So much to see, so little time. How to choose? To help you get started, we've listed our top picks for where to go in Croatia, Slovenia, Bosnia-Herzegovina, and Montenegro, as well as our plan for your best two-week trip.
Depending on the length of your trip, and taking geographic proximity into account, here are our recommended priorities.
3 days: Dubrovnik
7 days, add: Korčula or Hvar (for a relaxing island experience); Montenegro's Bay of Kotor (for dramatic scenery); or Sarajevo (for a more in-depth look at Bosnia)
8 days, add: Plitvice Lakes
10 days, add: Lake Bled and the Julian Alps
12 days, add: Ljubljana, more time for Dalmatian islands
14 days, add: Istria
16 days, add: Whatever you skipped on day 7 (Korčula/Hvar, Montenegro, or Sarajevo)
18 days, add: The Karst, Zagreb
21 days, add: More mountains (Logarska Dolina) or coastal villages (Piran, Mljet)
More time, add: Ptuj, Opatija, and even more islands and coastal villages
As you plan your trip, don't underestimate the long distances. (For example, Lake Bled and Dubrovnik are a full day's drive apart.) If you have a week or less, focus on either the south (Dalmatian Coast — Dubrovnik, Split, and the islands — plus Mostar and Montenegro) or the north (Slovenia, Istria, and Zagreb). The worth-a-detour Plitvice Lakes are midway between these two areas, but reachable from either one (easiest by car, possible by bus). Sarajevo also requires a detour (2.5 hours beyond Mostar) — but those who make the trek won't regret it. (Frequent and affordable flights between Sarajevo and Zagreb make it more convenient than it seems.)
Rick's Best Two-Week Croatia/Slovenia Trip (by Car)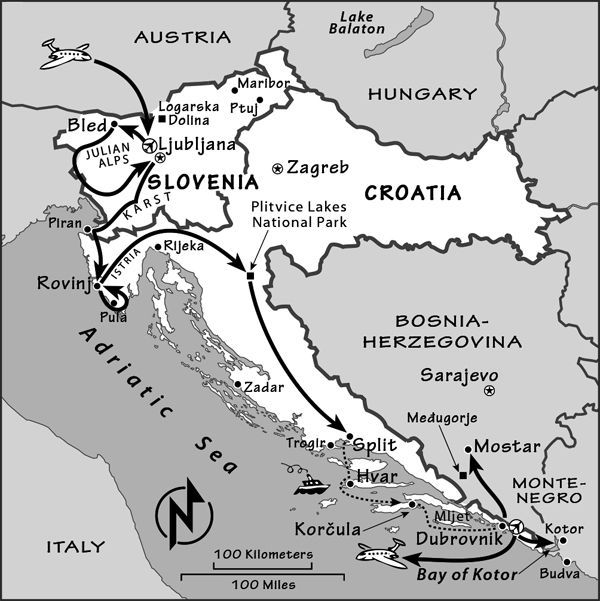 Day 1: Arrive at Ljubljana's airport, go to Lake Bled (sleep in Lake Bled)
Day 2: Relax at Lake Bled (sleep in Lake Bled)
Day 3: Pick up car, drive through Julian Alps, end in Ljubljana (sleep in Ljubljana)
Day 4: Ljubljana (sleep in Ljubljana)
Day 5: Drive through the Karst and Piran to Rovinj* (sleep in Rovinj)
Day 6: Tour Istria (sleep in Rovinj)
Day 7: Drive to Plitvice Lakes via Istria's hill towns (sleep in Plitvice)
Day 8: Hike the lakes, then drive to Split and drop car (sleep in Split)
Day 9: Split (sleep in Split)
Day 10: To Hvar or Korčula (sleep in Hvar/Korčula)
Day 11: Relax on Hvar or Korčula (sleep in Hvar/Korčula)
Day 12: To Dubrovnik (sleep in Dubrovnik)
Day 13: Dubrovnik (sleep in Dubrovnik)
Day 14: Rent a car or hire a driver to day-trip to Mostar or to Montenegro's Bay of Kotor (sleep in Dubrovnik)
* To save the substantial extra cost of picking up your car in one country and then dropping it off in another, come up with a strategy for turning in your rental car in Slovenia and then taking public transportation to Croatia, where you can pick up a different rental car for your time there. For example, you could take the bus from Ljubljana or Portorož (near Piran) to Rovinj, then pick up a rental car in nearby Pula or Poreč; or take the train from Ljubljana to Zagreb or Rijeka, then pick up your rental car in one of those cities.
By Public Transportation
This itinerary can be done entirely by public transportation, with a few modifications. Skip (or hire a driver for) the Julian Alps, and take the bus from Lake Bled to Ljubljana. Skip Istria; instead, take the train from Ljubljana to Zagreb, see that city, then take a bus to Plitvice. The bus connects Plitvice to Split, and from there, you'll continue down the Dalmatian Coast by boat or bus.
Even if you're using public transportation, seriously consider periodically renting a car for the day; this is most useful to reach the Julian Alps, Istria, Mostar, and Montenegro's Bay of Kotor.
Where to Go in Croatia: A Few More Tips
The perfect Croatian vacation is like a carefully refined recipe — a dash of this, a pinch of that, a slow simmer…and before long, you've got a delicious feast. Here's our tried-and-true recipe for how to prioritize your time:
Begin with the biggies. Dubrovnik is a must, period. If you like big cities, Split is entertaining. Plitvice Lakes National Park, while difficult to reach, rarely disappoints. The bustling capital city, Zagreb — while far from Croatia's famed beaches — is vastly underrated, and much appreciated by urbanites.
Fold in one or two seafront villages. Adriatic coastal towns are all variations on the same theme: A warm stone Old Town with a Venetian bell tower, a tidy boat-speckled harbor, ample seafood restaurants, a few hulking communist-era resort hotels on the edge of town, and sobe and apartman signs by every other doorbell. Of course, each town has its own personality and claims to fame. Beach bums, sightseers, yachters, historians, partiers — everyone you'll talk to has their own favorite town. Don't trust this advice blindly, and don't sweat the decision too much. If a beach vacation is your goal, you can barely go wrong.
Sprinkle liberally with Slovenia. You won't regret splicing Slovenia into your itinerary. Its spectacular mountain scenery, colorful capital (Ljubljana), Germanic efficiency, and extremely friendly natives are a pleasant contrast to Croatia. In hindsight, most travelers cite Slovenia as the biggest pleasant surprise of their itinerary — and wish they'd budgeted more time there.
Add some spice. After you've been to one or two of the coastal resorts, you could head for another one...or you could use that time for something completely different. Some of these options are easy and convenient: the Roman ruins of Pula, the hilltop hamlets of the Istrian interior, the imported-Austrian-resort feel of Opatija. But our favorites involve crossing borders and broadening horizons: the cities of Mostar and Sarajevo, in Bosnia-Herzegovina; and Montenegro's spectacular Bay of Kotor. A year after your trip, you'll barely remember the difference between all those little seaside towns you toured. But you'll never forget the mosques of Mostar.
---
Cameron Hewitt is co-author of the Rick Steves Croatia & Slovenia guidebook.